The Sky's the Limit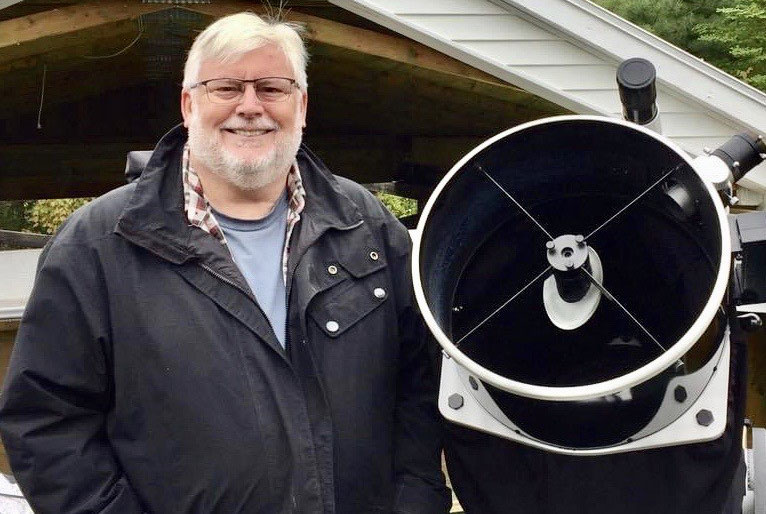 Amateur astronomer David Chapman, MSc, gives to Saint Mary's University to "pay it forward."
"I wouldn't have been able to go to university and get a degree in physics without financial support," David said. "Establishing the David M. F. Chapman Bursary for Astrophysics at Saint Mary's is my way to give back locally and make a difference. I wouldn't want someone to miss university education because of financial need."
David's relationship with Saint Mary's began years ago through his connections in the Department of Astronomy and Physics. This year, when David and his wife Christine were planning their estate, donating to the university quickly came to mind. "I had some money that my mother left me and I had already been using it for charitable causes," David said. "We were looking at the bequests in our wills, and my wife suggested, 'Why wait? Do good with it now'. That's how the idea of creating a bursary at Saint Mary's came up." Starting in 2020, the David M. F. Chapman Bursary for Astrophysics is awarded annually to a full-time undergraduate student who has successfully completed two years of study in astrophysics and has demonstrated financial need.
"I thought that creating a bursary would be appropriate," David explains. "I was thinking about my friend who studied at Saint Mary's, earned her astrophysics degree, and now teaches high-school physics and astronomy. Reflecting on her circumstances, I saw a great opportunity to support students studying astrophysics. I want the bursary to make a difference to a young person and enable them to pursue their dreams."
For the past 57 years, David has been an amateur astronomer and is a retired acoustics research scientist and a Fellow of the Royal Astronomical Society of Canada (RASC). He is very involved in the local astronomical community through the RASC, having served as Halifax Centre President, Vice-President, and Librarian. Ten years ago, he was part of the team that founded the first RASC Dark-Sky Preserve in Nova Scotia at Kejimkujik National Park and National Historic Site.
David's contributions to astronomy and the bursary at Saint Mary's University will leave a legacy for future generations.
Charitable registration: # BN11918 9900 RR0001