A Man Who Made a Difference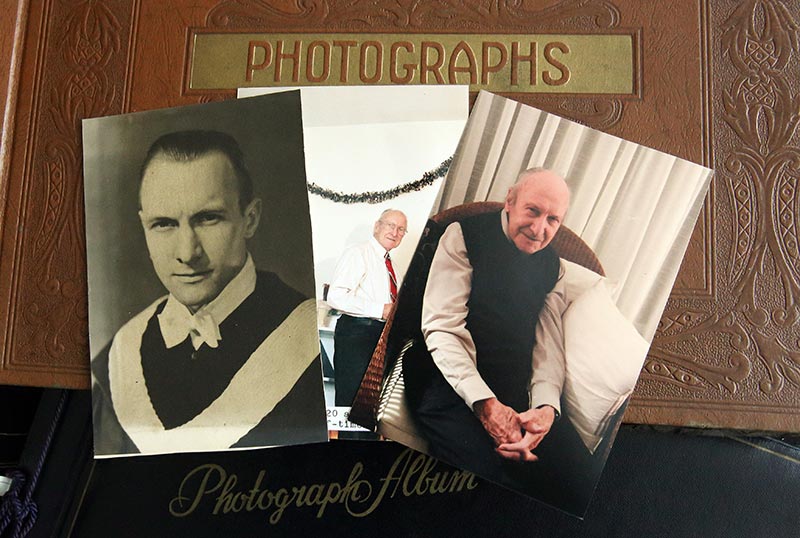 Colleen Murphy and her many cousins will never forget their cherished uncle, Sydney Reginald Vaughan (1922 – 2015), a proud Santamarian who passed away on November 24, 2015.
"Sydney was a confirmed bachelor," recalls Colleen, "but he loved spending time with his family. During the summer months, he would load up his spacious station wagon with his parents, nieces and nephews and head out on road trips around the province. These adventures were always much anticipated and greatly appreciated."
A life-long resident of Halifax, Sydney Vaughan attended Saint Mary's High School and Saint Mary's College, graduating in 1946 with a Bachelor of Commerce degree. The citation in his yearbook speaks to a busy time during his university years, with involvement in activities such as freshman and senior debating society, the Journal, interfaculty football, interfaculty baseball, and intercollegiate hockey. During the war years, he was also a member of the Canadian Officers Training Corp (C.O.T.C.), serving from 1942 to 1945 and making the rank of Sergeant.
After graduating from Saint Mary's, Sydney embarked on a 40-year career as an accountant. Fulfillment came from his profession, from close ties with family and his role as beloved uncle, from his faith community, and from his enduring love of sport, both as an athlete and a coach. In addition to playing softball and local minor league hockey, he enjoyed skiing, skating, hiking, camping and swimming. He also enjoyed cultivating a love of sport in others, and devoted many hours of his free time to coaching the Monarchs' Minor League Baseball Team during the 1940s and 1950s.
Those who knew Sydney Vaughan remember him as a gentle, principled man who loved all kinds of music and made it his business to support worthwhile causes. Fortunately for the University, Saint Mary's was one of those causes. Sydney made annual donations to the University for more than 30 years and left a generous gift in his will. In the same way that his prized photo collection is a legacy of love for his family, his kind bequest is a legacy of learning for students at Saint Mary's.
Charitable registration: # BN11918 9900 RR0001