Generous Scholarship Rewards Hard Work
‌The Beth Medjuck-Benjamin Marketing Scholarship couldn't have come at a better time for Ross Arsenault (pictured), a Marketing and Entrepreneurship major in his final year at the Sobey School of Business.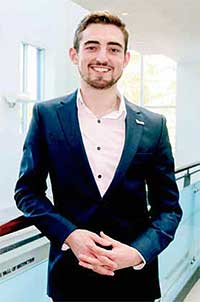 "After graduating with my Bachelor of Commerce in the spring of 2017, I plan to go directly into graduate studies," says Ross, who was born and raised in Dartmouth. "This award makes a world of difference."
One of Ross's greatest achievements so far at Saint Mary's is becoming Co-President of Enactus, the University's chapter of an international non-profit organization that encourages students to use entrepreneurial action to effect social change. In addition to leadership duties for the team, Ross recently ran a skill development project for at-risk youth in Halifax.
"By the end of the eight week classroom portion, the youth we trained were running their own social enterprise in support of mental health," he says. "Seeing them use the skills we had taught them was the most rewarding thing I have ever experienced."
Ross says it's a special honour to be the inaugural recipient of the Beth Medjuck-Benjamin Marketing Scholarship and he takes pride in
having the grades to qualify.
"Since joining Enactus in my second year, I have dedicated almost as much time to extracurricular activities as I have to my studies, yet I've managed to maintain an A+ average. I'd like to let the Medjuck family know that I am incredibly thankful for their generous support. It's truly wonderful to see my hard work rewarded."
Charitable registration: # BN11918 9900 RR0001