A Legacy of Learning
The Harrison McCain Scholarship is one of the most prestigious and generous awards for students at Saint Mary's University, and we are grateful to the Harrison McCain Foundation for its generosity and loyal support.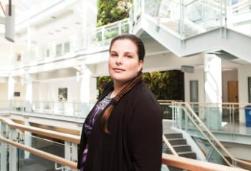 The late Harrison McCain, CC, one of the founders of McCain Foods and a great supporter of higher education, created the Harrison McCain Award Program to make post-secondary education in Atlantic Canada more affordable for deserving students. Since 2006, Harrison McCain's generosity and passion for learning have touched the lives of 16 Saint Mary's students through scholarships he established.
These scholarships help to make university education more accessible and allow students to concentrate on their studies without the distraction of part-time jobs or the worry of a growing debt load. Our thanks go to the Harrison McCain Foundation and other donors who help to make a university education possible for so many students.
Scholarship is a Lifeline
The Harrison McCain Scholarship is a lifeline," says Claudia Covalciuc, a fourth-year arts and honours student who is majoring in Criminology and Sociology. "Without it, I don't know whether I would have been able to attend university."
Charitable registration: # BN11918 9900 RR0001