A Life of Learning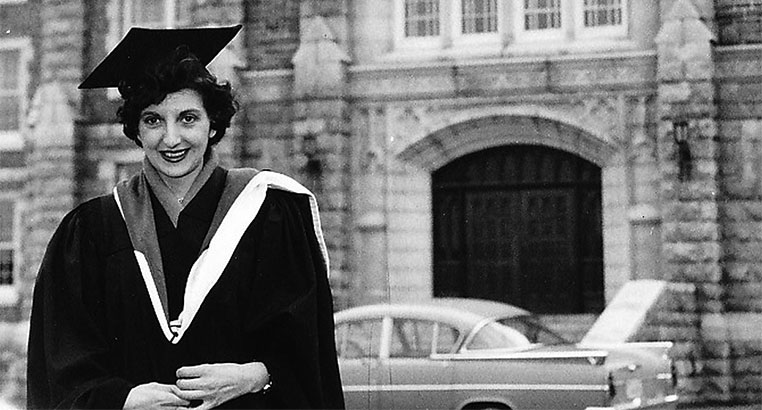 There was no one more committed to education and self-improvement than Marian Peters, a Saint Mary's alumna who earned four university degrees.
"Marian was the consummate life-long learner," says Ruby Theriault, a friend and colleague of Ms. Peters and co-executor of her estate. "She was always studying."
Born and educated in Halifax, Marian Peters worked as a stenographer, secretary and court reporter before attending Saint Mary's University. While completing a Bachelor of Arts, she distinguished herself by placing fourth in a worldwide poetry contest sponsored by an American magazine called "The Lyric".
After graduating from Saint Mary's with a Bachelor of Arts (summa cum laude) in 1962 and a bachelor's degree in education (cum laude) in 1964, Marian accepted a teaching position in the academic upgrading program at HMCS Stadacona. While employed there, she completed her Master's Degree, devoting her thesis to the poet Kahlil Gibran. Her passion for the Lebanese American philosopher and pride in her own Lebanese heritage earned Marian an invitation to Boston in 1975 for the dedication of a Kahlil Gibran monument and a subsequent speaking engagement at the Boston Public Library.
Teaching took Marian from coast to coast in both Canada and the United States. Retirement afforded her the time to earn a Fine Arts degree from the Nova Scotia College of Art and Design (BFA'03). "She was in her late 80's when she graduated," recalls Ruby Theriault.
An enthusiastic artist, prolific writer, and proud member of the Class of '64, Marian passed away in August 2014, leaving a generous bequest to Saint Mary's University. What better way for a life-long learner to recognize the importance of her own education and, at the same time, create educational opportunities for others?
Charitable registration: # BN11918 9900 RR0001