A Family Connection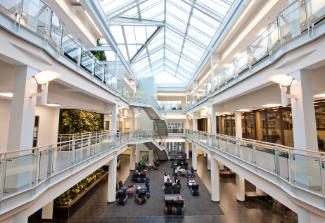 ‌The Sobey family's support for Saint Mary's is visible in every corner of our campus. From our light-filled Atrium (pictured) and Global Learning Commons to the Sobey School of Business, the Sobey family's philanthropy and commitment to education have made an enduring mark and inspired our students with generous gifts for campus infrastructure, academic programs, and student financial aid.
Established in 2006, Sobey Scholar Awards continue to attract the best and brightest students to our Sobey School of Business; and Sobey Leadership Awards, also initiated in 2006, guide 12 outstanding Sobey business students to excellence each year, both in and out of the classroom. As well, 18 Sobey School of Business students have been honoured as recipients of the prestigious Frank H. Sobey Award for Excellence in Business Studies, established in 1989 as a hallmark of recognition for Atlantic Canada's most promising business students.
When Saint Mary's students graduate, whether as accountants, entrepreneurs, film makers, forensic scientists or astrophysicists, their futures are made brighter by the University's long connection with the Sobey family.
Charitable registration: # BN11918 9900 RR0001