New Scholarship Celebrates Diversity Excellence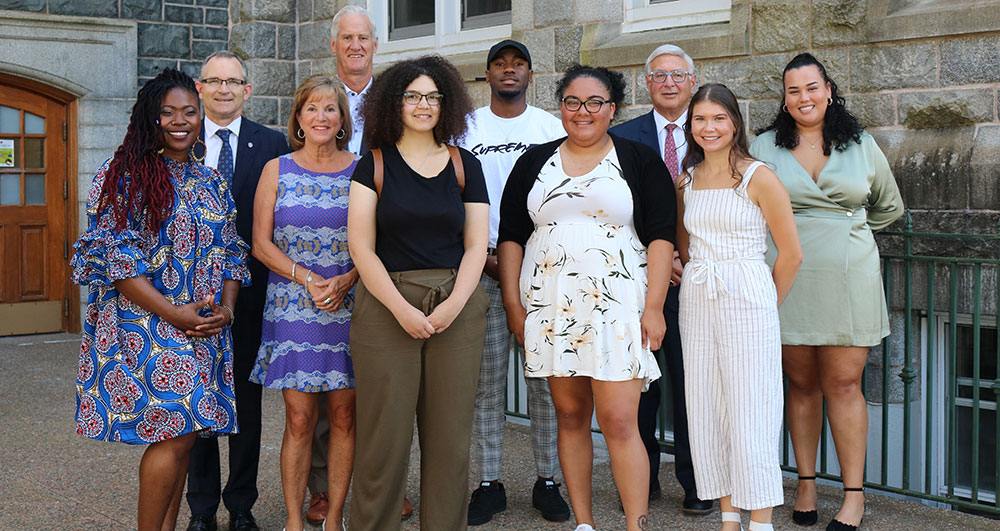 Saint Mary's University is proud to announce a new scholarship for Black and Indigenous students – the Scott McCain and Leslie McLean Diversity Excellence Award.
Made possible by a $500,000 gift from philanthropists Scott McCain and Leslie McLean, the awards are available to full-time undergraduate Indigenous or Black students with financial need. This generous investment was made to Saint Mary's most ambitious campaign in history - A World Without Limits: The Campaign for Saint Mary's University, bringing the total amount of funds devoted to diversity excellence scholarships and bursaries to over one million dollars.
"Saint Mary's University celebrates the importance and impact of diverse perspectives," says Saint Mary's University President Dr. Robert Summerby-Murray. "This new scholarship is about creating space for possibility and potential, and it does so through increasing access to post-secondary educations for Black and Indigenous communities. I want to thank Scott and Leslie for their generous gift that will support students from these communities in attending and thriving at Saint Mary's as we work together toward a World without limits."
"Leslie and I both recognize the importance a high-quality education can make in the lives of Canadians, and we want to help reduce barriers to post-secondary education," says Scott McCain.
Every year, eight students will receive the Scott McCain and Leslie McLean Diversity Excellence Award of $2,500 each, which is renewable up to and including the student's fourth year of study. Students can be enrolled in any faculty or program at Saint Mary's. Students must be Canadian citizens or permanent residents of Canada, with a preference for students who are from Atlantic Canada.
"Saint Mary's University has shown a commitment to ensuring access and support to post-secondary learning for Black and Indigenous students, and this award will help further that commitment by providing direct assistance to students," says Leslie McLean.
First-year psychology student Teannah McMullen is one of the recipients of this year's award. "Without this support, I wouldn't have been able to afford university or had the opportunity to attend Saint Mary's," says Teannah. "Thank you, Scott and Leslie, for helping me make my dream of studying at Saint Mary's come true."
Charisma Grace Walker, the African Nova Scotian/Black Student and Community Liaison at Saint Mary's University, is grateful for the new diversity awards, which will help increase access to education for Black and Indigenous students. "Receiving a diversity excellence award can truly change a student's life," says Walker. "Awards like this one can break down barriers to university and create a sense of community and support on campus. It can also alleviate financial worries for students, which enables them to focus on their studies and achieve their goals."
Charitable registration: # BN11918 9900 RR0001