Giving Back and Life-Long Learning Are Key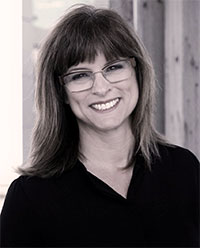 Having a father in the military meant lots of traveling for Lisa Haydon. When she arrived at Saint Mary's University (SMU) as an 18-year-old undergrad, she was overwhelmed. Lisa recalled, "I arrived in Halifax from Virginia where my father was stationed. The first day in Halifax, I went to my dorm and my roommates invited me out to see the city." Lisa remembers that she received lots of support from people at SMU when she first arrived.
That support helped Lisa graduate with a Bachelor of Commerce in 1988. She then went to work in the banking sector for both Royal Bank and RBC Capital Markets. While working at Royal Bank, she returned to SMU part-time and received her MBA in 2002. "Going back to school while working full time was very demanding. Being a mature student and getting your MBA is a challenge, but again, I was supported greatly by my classmates".
The support that Lisa received while at SMU is why she lends support to others in many ways. She often writes about giving back. She has demonstrated this through her work with organizations such as ShEO and Junior Achievement Nova Scotia. As a monthly donor to the Santamarian Fund, she helps current students in need. She also serves as a mentor for students in the MSc Computing & Data Analytics program. Lisa explains, "I want to support my alma mater. Getting my MBA as a mature student gave me new insight into my professional career—I wouldn't be where I am without my MBA."
Currently, Lisa works with EY as the Market Executive, Atlantic Canada. She is also a Business Development Coach with EY and has a successful private executive coaching practice. Even though Lisa has a busy schedule, she still makes time for the friends she made at SMU. She says it's "a bond that started 30 years ago and still lives on today. Some have moved to other provinces, and even other countries, but we're still in touch. We're all getting together next year—people are coming from as far away from the Caribbean!" Lisa's connection with SMU has proven to be a journey of learning and friendships that will last a lifetime.
Charitable registration: # BN11918 9900 RR0001