Helping Students with Disabilities
Saint Mary's University's reputation for accessibility, and tradition of removing barriers to education, have found a committed champion in Dr. Fred Smithers, O.C., a long-serving member of Saint Mary's Board of Governors.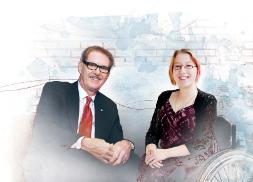 "Many high school students do not have access to a university education because of physical or learning difficulties," says Dr. Smithers, whose generous gift to the Hearts & Minds campaign supports Saint Mary's the Fred Smithers Centre for Student Accessibility, a facility that has pioneered disability access since 1985.
Pictured with Dr. Fred Smithers is fourth-year French student Nicole Durand, one of approximately 400 students to benefit each year from generous support for Saint Mary's Atlantic Centre of Research, Access and Support for Students with Disabilities.
The almost $2 million raised for the Atlantic Centre through Hearts & Minds allows us to provide critical learning resources such as a full-time interpreter for the deaf and alternate formatting and accommodations for about 2000 exams each year.
---
Inspiring Others
Dawson Wambolt was unsuccessful in his studies at two other institutions before arriving at Saint Mary's in 2007. Supports through the Atlantic Centre (now the Fred Smithers Centre for Student Accessibility), and a diagnosis of ADHD, took him from failing student to class valedictorian.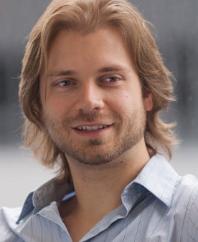 After graduating from Saint Mary's with an Honours B.A. in Psychology, Dawson completed a Masters program in Counselling Psychology at the Adler School of Professional Psychology in Vancouver. Today, he has a growing practice as a registered psychologist in Halifax, volunteers as the director of the board for HRM's Youth Project, and is trying his hand at Olympic weightlifting.
"If it wasn't for Saint Mary's and the Atlantic Centre, I'd never be where I am today," says Dawson. "My goal is to some day teach at Saint Mary's. I'd like to inspire others in the same way that the people at Saint Mary's have inspired me."
Charitable registration: # BN11918 9900 RR0001