Our Lady of Sorrows Church
On the Feast of the Seven Dolours of the Blessed Virgin Mary in September, 1843, Holy Cross Cemetery was consecrated by Bishop William Walsh, and the new chapel on the hill overlooking the graveyard was named "Our Lady of Sorrows". While the clearing of the burial ground was a major undertaking by the Irish Catholic community of Halifax, the crowning achievement was unquestionably the construction of the chapel (also known as Our Lady of Dolours).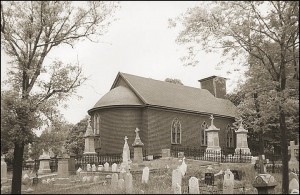 It was well known that Bishop William Walsh intended the mortuary chapel to be the centerpiece of the new cemetery, and he wasted no time convincing carpenters and masons to offer their labour free of charge. On 31 August 1843, with the foundation of the church already laid, a procession of labourers, complete with "pomp and ceremony", marched from St. Mary's Cathedral to Holy Cross and began to construct the chapel. In a single day, the frame was raised, and the structure roofed, lathed, boarded, shingled, and painted in both exterior and interior. Finishing work (plaster, etc), of course, continued for some time by local tradesmen. "It was" the Register newspaper reported, "the miracle of the day". The first Mass in the chapel was celebrated on 17 September 1843.
According to Peter Morris, many of the "chief material suppliers and workmen's names" were recorded:
"Messrs. Bowes(?), Daniel Ellis, W. Finlay, Thomas Adams, Edward Lawson, James Sutton, Jeremiah Conway (timber, shingles and pickets); Messrs. Tobin (shingles); Mr. Conroy (carpentry); Peter Grant (gates); James Wallace and Patrick Walsh (ironmongery); W. Dillon (lime, whitewashing, etc); Manuel Defraytas (painting and glazing); John Callaghan; Michael Powers (spruce) and Conroy and McDonagle (carpentry)."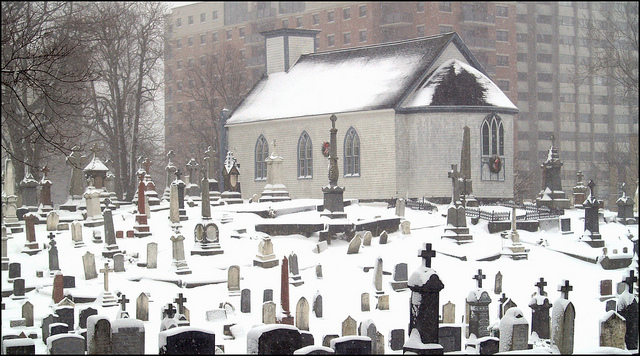 The chapel is representative an early Nova Scotian expression of Gothic revivalism. Inside the church the furnishings are sparse and like the building's design, quite modest. However, it is distinguished by its noteworthy statuary and stained glass. The altar reliefs have already received national recognition, and as Peter Morris has noted the chapel is "surely a nationally significant ancient collection of stained glass".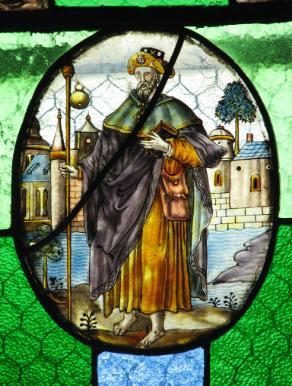 [Peter Morris Photo]
Bishop Walsh is credited with the procurement of much of the art in the chapel. Walsh's collecting activities on his European travels in support of furnishing the churches under his administration are well-documented, and his cultured taste extended to the antique and precious, including mediaeval statuary and manuscripts.