Irish Military Families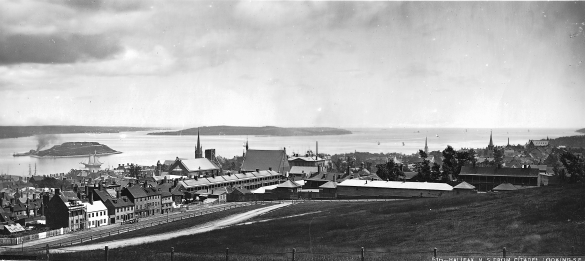 In 1713, the Treaty of Utrecht awarded all of mainland Nova Scotia to Britain, forcing French forces to remove to Isle Royale (Cape Breton Island). In 1749 English settlers began to clear a site at Chebucto harbour for a settlement that became Halifax. The new town quickly became an important strategic fortress, first to counter the French at Louisbourg, and later as the warden of the north Atlantic. The military presence in the city meant that soldiers from across Britian would, at one time or another, call Halifax home.
By 1828, military officials decided that the Martello towers and seaside fortifications were not sufficient and began construction on a massive stone citadel on a hill overlooking Halifax harbour. In the early years, soldiers were garrisoned in either the North or South Barracks. According to Cameron Pulsifer, in 1835 the North Barracks accommodated 38 officers and 699 rank and file, while the South Barracks billeted two officers and 548 other ranks. In 1852, officials contracted a Quebec firm, headed by Simon and Henry Peters, to construct the Wellington Barracks.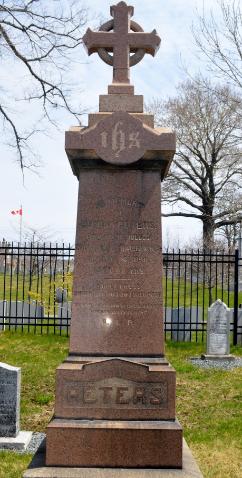 [Gravestone of builder Henry Peters]
Roman Catholics in the British Army and Canadian Militia stationed at Halifax attended local churches and, as part of the congregations, often utilized the burial ground at Holy Cross. The records indicate that at least seventy-seven servicemen are interred in the cemetery, many after 1860. Although the vast majority of privates and non-commissioned officers were natives of Ireland, there are soldiers from Scotland and England interred as well.
Most of the soldiers buried in the graveyard died of the common medical issues of the nineteenth-century. For instance, John Byrnes (Co. Tyrone) lost his life to consumption, an illness that claimed the lives of many in the period. Edward Mulhall of Queen's County (Laois) expired from "disease of the kidney," Thomas Condon (Co. Tipperary) died of a "hernia", and John Burns of Scotland perished from "inflammation of the lungs."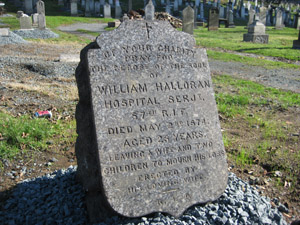 Some of the men stationed at the citadel died while carrying out their obligations. John Nichols of the Royal Engineers suffered 'asphyxiation' in the "line of duty", Thomas Rielly (Co. Monaghan) died in an '"accident", while James McHugh of County Tyrone was killed in the summer of 1868 when the cannon he was operating at the citadel prematurely exploded.
Other soldiers that could not avoid the hazards of nineteenth-century garrison life died through suicide or acts of violence. In 1869 William Stevens of Devonshire shot himself inside the citadel, and a short time later Richard Long of Cork did the same. In 1895, John Hogan, a Sergeant Major with the Royal Engineers, shocked his colleagues when he poisoned himself in his Gottingen Street Residence. Other unfortunates died from "intemperance" and other issues related to the gin and rum shops. James Quirk of Galway, for example, died after suffering severe frostbite, having been exposed to the winter cold. In 1871 Peter Kavanagh died of the "effects of violence," while John Gleeson of Tipperary actually "drowned" in the citadel.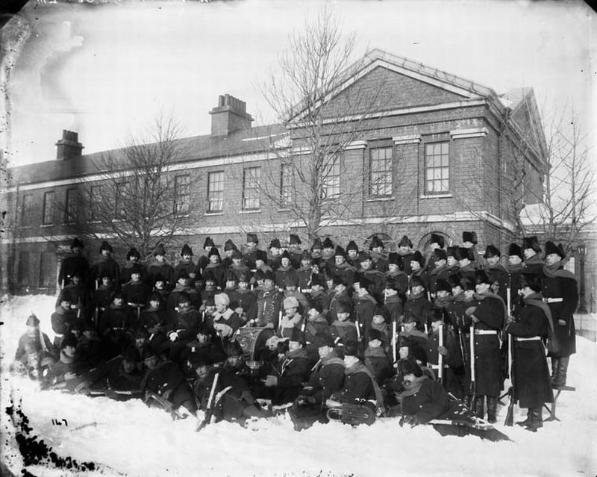 [King's Liverpool Regiment at the Wellington Barracks. c.1890]
Many of the young children born in the barracks lived a mere month or two. Conditions were not ideal and they succumbed to the usual illnesses. During the restoration of the graveyard (2007-2015), volunteers unexpectedly unearthed a gravestone in the children's section of the cemetery. It belonged to young William Edward Fisher, aged two years and nine months, who died of the "croup," an acute viral infection of the upper airway, in the autumn of 1870. Born at Quebec, William's father, Robert, was stationed in Halifax as a member of the King's Royal Rifle Corps (60th Rifles). In 1870, the elder Fisher had taken part in the "Wolseley expedition" to confront Louis Riel and his Metis force during the Red River Rebellion. The small stone simply read: "Sleep on sweet babe, And take your rest, God called you home, He thought it best."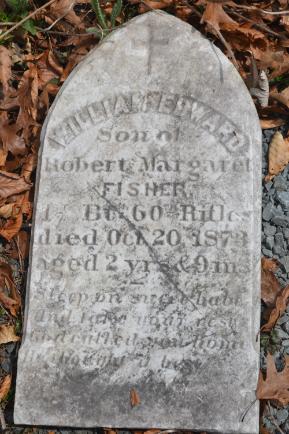 The soldiers that comprised the garrison of Halifax were a vibrant feature of Halifax society. Despite the poverty and disorderly atmosphere of "Barrack street" (now Brunswick Street), many men from the citadel raised families during their stay in Nova Scotia. These men and women contributed greatly to the Catholic community and to Halifax in general. The markers of military personal, their wives and their wee children that now rest in Holy Cross are a permanent reminder of this essential contribution.
A List of Soldiers buried in Holy Cross Cemetery
Michael Corbit (Ireland), 40, buried 7 January 1862
Philip McManus (Fermanagh), 44, buried 6 June 1862
Michael Hossett, (Unknown), 22, buried 26 August 1862, [62nd Regiment]
James Allen (England), 20, buried 6 February 1863
Michael Lacy (Limerick), 36, buried 11 May 1863
Daniel Syren (Liverpool), 35, buried 26 May 1864
Martin Emily (Cork), 51, buried 21 December 1864
Robert May (Ireland), 27, buried 18 August 1865
Colour Sergeant Langley (or Langhy) (Ireland), 25, died 10 October 1885
John Murphy (Tipperary), 21, died 9 June 1866
Thomas Farrell (Ireland), 38, died 17 June 1868, 'consumption' (Wellington Barracks)
James McHugh (Tyrone), 28, died 1 July 1868, 'accidently killed by premature explosion of cannon' (Citadel)
William Stevens (England), 26, died 2 January 1869, 'shot himself' (Citadel)
John Byrnes (Antrim), 36, died 21 February 1869, 'consumption' (Citadel)
James White (Ireland), 27, died 9 December 1869, 27, 'death by being gagged' (Wellington Barracks)
Edward Mulhall (Laois) 49, died 9 December 1869, 'kidney disease'
Henry McCaulay (England), 32, died 11 October 1870, 'disease of the heart' (Military Hospital)
Lawrence Burns (Wicklow), 23, died 3 January 1871, 'intemperance' (Main Guard)
Patrick McAulay (Belfast), 36, died 11 April 1871, 'apoplexy' (Engineers Barracks)
John Burns (Scotland), 33, died 26 April 1871, 'inflammation of lungs' (Wellington Barracks)
Peter Kavanagh (Ireland), 29, died 11 December 1871, 'effects of violence' (Military Hospital)
John Riordam (Cork), 36, died 3 April 1872, 'dysentery' (Wellington Barracks)
Thomas Condon (Tipperary), 45, died 31 July 1872, 'hernia' (Citadel)
George Gannon (Dublin), 31, died 11 October 1872, 'disease of the heart' (Military Hospital)
Thomas Maddigan (Cork), died 21 Feb 1873, 'erysipelas' (Military Hospital)
Timothy Darcey (Kilkenny) buried 31 March 1873, (No Information)
Patrick Hewatt (Galway) buried 23 April 1873
John Laudon (Cork), 35, 'Inflammation of lungs' (Military Hospital)
John Gleeson (Tipperary), 23, died 23 June 1873, 'drowned at the citadel' (Citadel)
Cornelius Driscol (Cork) 38, died 22 June 1893, 'consumption' (Military Hospital)
Edward C. Terry (Armagh) 23, died 24 June 1873, 'consumption' (Military Hospital)
Thomas Rielly (Monaghan), 26, died 26 July 1873, 'accident' (Bedford)
Ross Kentish (England), 31, died 4 October 1873, 'heart disease' (South Barrack)
James Hyland (Laois), 25, died 25 October 1873, 'heart disease' (Wellington Barrack)
John Daly (Waterford), 35 (33?), died 9 December 1873, 'heart disease' (Wellington Barrack)
James Quirk, (Galway), 30, died 19 February 1874, 'frost bitten' (Military Hospital)
Michael Bowes (Kilkenny), 26, 21 March 1874, 'dropsy' (Wellington Barrack)
William Halloran (India), 37, died 16 February 1874, [Hospital Sergeant 87th regiment]
Patrick Jones (Kildare), 39, died 13 September 1874, 'kidney disease' (Military Hospital)
Richard Long (Cork), 28, died 29 September 1874, 'suicide' (Citadel)
Thomas Byrnes (Ireland) 31, died 19 November 1874, 'pneumonia' (Melville Island)
Thomas Byrnes (Cork), 34, buried 27 January 1875
Matthew Gleeson (Ireland), 32, buried 20 October 1875
Patrick Kline (Mayo), 20, buried 16 November 1875
George Skully (Tipperary), 33, buried 9 December 1875
James Scott (Dublin), 22, died 17 July 1876, 'killed' (Wellington Barracks)
Michael Cullen (Lancashire), 43, buried 19 July 1877 [Royal Artillery]
James Griffin (Dublin), 51, died 30 March 1877, 'consumption' (Poors Asylum)
William Hughes (England), 34, buried 16 January 1879
William Maset (Tyrone), 48, buried 22 March 1880
Thomas Kelly (London), 39, buried 28 March 1880
Robert Williams (England), 28, buried 7 October 1880
John Doyle (Limerick), 35, buried 23 May 1881
J. Kirby, 25, buried 6 July 1881
Daniel Donovan, 29, buried 28 January 1882
John McEvoy, 38, buried 17 July 1883
John Kearney (Ireland), 22, buried 14 September 1883
John Calanan (Ireland), 30, buried 23 November 1880
John Martin (Dublin), 35, buried 5 February1884
John Delaney (Ireland), 24, buried 24 February 1884
William Egan (Dublin), 37, buried 28 May 1884
John Egan (Dublin), 22, buried 11 June 1884
Bernard Deery (Ireland), 53, buried 8 August 1884
Edward Pollard (Sussex), 29, buried 4 November 1885
Henry Kenny, 62, buried 30 March 1886
Bernard O'Brien (Belfast), 21, buried 18 April 1886
Thomas Fitzpatrick (England), 38, buried 30 November 1886
Richard Guinsey (Ireland), 27, buried 14 February 1887
Patrick Malloy (Ireland), 54, buried 4 June 1887
John Ryan (Ireland), 57, buried 21 February 1888 [Poors Asylum]
John Egan (Ireland), 36, buried 12 April 1888 [Poors Asylum]
James Glancey (England), 22, buried 2 October 1888
John Nichols (Devonshire), 27, died 19 August 1890, 'asphyxiation' (South Barracks) [40th Royal Engineers. "Died in the execution of his duty"]
James Nowlan (Ireland), 24, died 11 March 1891, 'apoplexy' (Station Hospital) [Lancashire Regiment]
William Neill (Carlow), 27, died 19 May 1891, 'pericarditis' (Station Hospital) [Gunner, Royal Artillery]
John Walsh (Manchester), 25, died 1 April 1894, 'diabetic pulmonary' (Cogswell Street) [King's Liverpool Regiment]
John Hogan, (Ireland), 30, died 16 April 1895, 'suicide' (16 Gottingen Street) [Company Sergeant Major, Royal Engineers]
Further Reading:
Alexander Bubb, The Life of the Irish Soldier in India: Representations and Self-Representations, 1857–1922," Modern Asian Studies, 46, 4 (2012): 769-813.
Brian Cuthbertson, Halifax and Its People 1749-1999 (Halifax: Nova Scotia Archives and Records Management, 1999).
Brian Cuthbertson, Melville Prison & Deadman's Island: American and French Prisoners of War in Halifax 1794-1816 (Halifax: Formac, 2009).
Julian Gwyn, Ashore and afloat the British navy and the Halifax naval yard before 1820 (Ottawa: Ottawa University Press, 2004).
Thomas E. Jordan, "Queen Victoria's Irish Soldiers: Quality of Life and Social Origins of the Thin "Green" Line," Social Indicators Research, 57, 1 (Jan., 2002): 73-88 (View Jordan Article)
S. Karly Kehoe, "Accessing Empire: Irish Surgeons and the Royal Navy, 1840–1880," Social History of Medicine, 26, 2 (2012): 204–224 (View Kehoe Article)
Derek Oddy, "Gone for a Soldier: The Anatomy of a Nineteenth-Century Army Family," Journal of Family History, 25, 1 (2002): 39-62. (View Oddy Article)
Harry Piers, "The Evolution of the Halifax Fortress, 1749-1928 (Halifax: Public Archives, 1947).
Cameron Pulsifer, "'Something More Durable. . .': The British Military's Building of Wellington Barracks and Brick Construction in 19th-century Halifax," Acadiensis, XXXII (2002): 50-68. (View Pulsifer Article)
Thomas Raddall, Halifax: Warden of the North (Toronto: McClelland & Stewart, 1948).