Domestic Labourers
The Irish were prominent in every aspect of Halifax's economy in the nineteenth-century. Members of the community served in the military, laboured on the docks, worked in manufacturing and others accumulated great wealth through business and trade. Perhaps no one worked harder than the Irish women of the city, and for those girls who wanted to enter the paid labour force, domestic service was usually the only option. Census materials reveal that hundreds of Halifax-Irish women worked as servants, cooks, maids and cleaners within the hotels, boarding houses and grand residences of the city. They laboured, typically behind the scenes, in the homes of every prominent Halifax family and hotel in the city.
Although hundreds of women buried in Holy Cross worked as domestic servants or housekeepers at some point in their lives, the burial records list only eighteen that died in service in the nineteenth-century. Very little is known about these women, but like others in the cemetery they had fascinating narratives. One of the markers in the cemetery belongs to Kuwicunda Spiegel, who immigrated to Halifax from Bavaria Germany. She not only possessed a unique christan name, but the unknown story of her journey from Europe to Nova Scotia presents many questions. It does seem likely that her name was misspelled on her tombstone. In Spiegel's hometown of Bamberg, there is a staute to Saint Cunigunde, the wife of the Holy Roman Emperor Saint Henry II. It seems very possible that Cunigunde was anglicised or mispronounced as Kewicunda.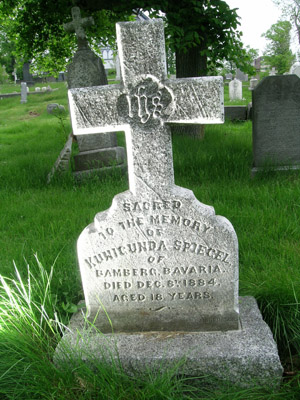 [Gravestone of Baveria, Germany, native Kuwicunda Spiegel]
Women that died serving as domestics in the nineteenth-century:
Julia Calahan, Buried December 21 1844, (Aged 32), A native of County Donegal
Mary Laffin, Buried 4 June 1859, (Aged 24), A native of Armagh
Catherine McLenan, Buried 3 July 1859, (Aged 24), A native of Antigonish
Margaret Tobin, Buried 30 July 1859, (Aged 25), A native of Sydney
Mary Delhaunty, Buried 28 September 1859, (Aged 54), A native of County Kilkenny
Ann Carbery, Buried December 9 1859, (Aged 35), A native of County Wexford
Mary Cochran, Buried 6 December 1883, (Aged 60), A native of Sambro
Mary Comfort, Buried 12 May 1884, (Aged 24), A native of Kerry
Kuwicunda Spiegel, Buried 10 December 1884, (Aged 18), A native of Germany
Bridget Noonan, Buried 13 October 1885, (Aged 23), A native of Halifax
Mrs. Power, Buried 29 July 1887, (Aged 35)
Mary Jane O'Leary, Buried 5 January 1889, (Aged 52)
Ann Foley, Buried 11 April 1889, (Aged 38), A native of Newfoundland
Mary Tibberett, Buried 18 November 1889, (Aged 71), A native of County Waterford
Ann Roche, Buried 13 December 1889, (Aged 34), A native of Halifax
Bridget Skerry, Buried 19 December 1889, (Aged 56), A native of Halifax
Julia Kenny, Buried 22 January 1890, (Aged 92), A native of Ireland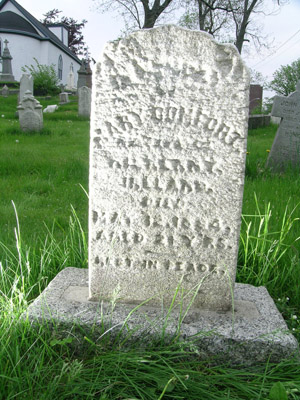 [Marker of Co. Kerry native Mary Comfort who died in 1884]
Each of these women had a unique story. One narrative that we have been able to piece together, is that of Bridget Lowrey (Lowry). Sir Edward and Ann Kenny owned an elegant property near the downtown, on what was then called Pleasant Street (now Barrington). The biographer of their daughter, Sister Ellie Kenny, wrote that their home always had "two or three domestics". One of the women labouring at the Kenny home in 1871 was twenty-five-year-old Lowrey. Unlike the Kennys, whose lives and careers are well documented, we know very little about their servants.
Like many Irish Catholic girls staffing prominent Halifax homes in the nineteenth-century, Bridget came from the colony of Newfoundland. The daughter of a fisherman, she was born in 1846 to John and Bridget Pierce in St. John's. She and her sister, Catherine, crossed the Cabot Strait around 1868 and Bridget promptly found employment with the Kennys. Her sister Catherine was not as fortunate and she was forced to spend some time in the Halifax Poor Asylum. The duties at the Pleasant Street home kept Bridget very busy; her work fatiguing and often menial. Employed by such a prominent family, the monotony of her obligations was occasionally broken by the fascinating social world of the Halifax-Irish elite. The social customs of this community have been described as "thoroughly English", and Bridget would have arranged afternoon teas, prepared bedrooms for visiting Canadian politicians, and eavesdropped on the tales of military officers who "called" in the afternoons. Behind all the political meetings (Sir Edward served in the Canadian Senate), extravagant dinners and lavish balls laboured Bridget and her fellow servants.
Interestingly, although many domestic servants were married, they generally continued to reside with their employers. In 1869, Bridget wed Austen Lowrey (Lowry), a native of Ireland and solider in the Halifax garrison. In the early years of their partnership the young solider remained garrisoned with his regiment, while Bridget kept her room (and her job) at the Kenny residence. Sometime in the late 1870s, the couple moved to California to seek new opportunities. Like many other labourers in the Maritime Provinces, "Uncle Sam's land" represented an opportunity to "rise in life". Their time in California proved challenging. An economic recession hit the United States in the 1870s and California was particularly affected. In 1877 a daughter, Mary was born, and in October 1882, Austen and Bridget welcomed a son, William. Sadly, by the mid-1880s Austen was dead and Bridget had to return to Nova Scotia.
As a widower with small children, life in Halifax was challenging. Bridget returned to the domestic labour force, working more often as a "cook" as opposed to a "servant". These were skills that were very much in demand. In the summer of 1889, the Acadian Recorder lamented "Every year the exodus of good servants to 'the states' has been growing, and this year, it is said, there is scarcely a good cook, housemaid, butler or footman left in Nova Scotia." Bridget quickly found lodgings in a large "hotel", and likely also worked in the establishment.
Initially Bridget had a difficult time looking after her children once they returned to Halifax and sent them to live with her brother-in-law, Charles Webber, and her niece Mary Futcher, who lived on Creighton Street in the north end of the city. Webber, a dockyard foreman, had married Bridget's sister Catherine in 1871, but he was widowed in 1890 (Catherine was buried in Holy Cross Cemetery). By 1901, most of the family (Pierces, Futchers and Webbers) moved to the "Boston States", but Bridget, employed as a "cook", was finally able to share a residence with her nineteen-year-old William, who was employed in a local firm as a clerk.
Sadly, most of Bridget Lowrey's story (and that of her extended family) has not yet been recovered. In early January, 1907, she fell and fractured her thigh while residing (and likely also working) at the Queen Hotel. Within weeks she was dead from complications relating to the injury. Her burial took place at Holy Cross Cemetery on January 11, 1907. We don't have a picture of Bridget Lowrey, and her grave (like so many others at Holy Cross) is unmarked. Yet this hard-working woman represented the lifeblood of Halifax-Irish society. She and the thousands of women like her, now lost to time, built our community in the nineteenth-century and left a lasting legacy.
Further Reading:
Marilyn Barber, "The women Ontario welcomed: Immigrant domestics for Ontario homes, 1870–1930," Ontario History, 72, 3 (1980): 148–72.
Betsy Beattie, Obligation and Opportunity: Single Maritime Women in Boston, 1870–1930 (Montreal and Kingston: McGill-Queen's University Press, 2000).
Edward Higgs, "Domestic Servants and Households in Victorian England," Social History, 8, 2 (1983): 201-210. (View Higgs Article)
Diane M. Hotten-Somers, "Relinquishing and reclaiming independence: Irish domestic servants, American middle-class mistresses, and assimilation, 1850–1920," Eire-Ireland 36 (2001): 185–201.
Kevin James, "Sources for Further Research: Irish Female Domestics in Canada: Evidence from the 1901 Census Sample," Canadian Journal of Irish Studies, 31, 1 (2005): 86-89. (View James Article)
Claudette Lacelle, Urban Domestic Servants in Nineteenth-Century Canada (Ottawa: Environment Canada, 1987)
Eric W. Sager, "The Transformation of the Canadian Domestic Servant, 1871-1931," Social Science History, 31, 4 (Winter 2007): 509-537. (View Sager Article)