Bishop's Row
The path that leads to "Our Lady of Sorrows" Chapel is known as "Bishop's Row," and is the final resting place for the archbishops of Halifax and many of the clergy. The Irish in Halifax were overwhelmingly Roman Catholic, and the Church and its clergy played a central role in the formation of nineteenth-century Nova Scotian society. Since the creation of the Diocese of Halifax in 1844 (it was raised to an archdiocese in 1852), the Roman Catholic leadership held tremendous religious authority over their flock, both in Halifax and also throughout the Maritime Provinces.
In the mid nineteenth-century, Irish Catholic elites such as Michael Tobin Sr. petitioned both the Roman Curia and also the Irish College in Rome for Hibernian religious leadership in Nova Scotia. By 1841 there was mounting resentment among the Irish toward their Highland Scottish co-religionists in the eastern counties and Cape Breton. Most of the antipathy was directed at their bishop, William Fraser, who not only resided hundreds of miles away in Antigonish, but also refused to comply with many of their petitions, condemning at least one letter "to the flames."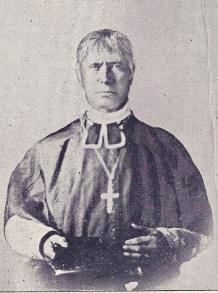 [Bishop William Fraser (1778-1851) had a difficult relationship with the Irish in Halifax]
In 1842, the Irish community succeeded, through the aid of the prominent Irish churchman Msgr. (later Cardinal) Paul Cullen, in having William Walsh, pastor of Kingstown, Ireland (now Dun Laoghaire), appointed as coadjutor bishop to Fraser. In 1844 Walsh (1804-1858) was instrumental in compelling Rome to divide the ecclesiastical province of Nova Scotia into two, one part (Halifax) for the Hibernians and the other portion (Arichat) for the Highlanders.
The establishment of the Diocese of Halifax was a watershed moment for Catholicism in the port city. Not only did it permit the Irish Catholics to focus on institutional and educational development in their own community, but it also guaranteed that Halifax, like Newfoundland, would preserve its religious connections with Ireland. Bishop Walsh's appointment also ensured that Halifax was no longer an overlooked episcopal outpost, but was rather an integral part of what Colin Barr has described as the "Hibernio-Roman" Catholic Empire in the new world.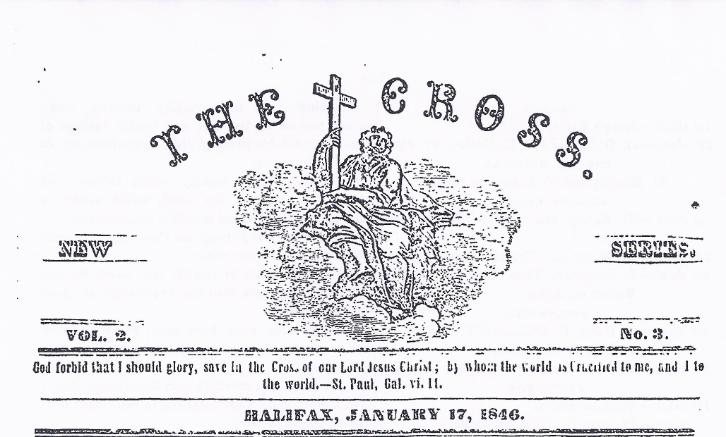 [The Cross was an important newspaper for Irish Catholics in Halifax between 1843-1850]
When Archbishop Walsh died in 1858, he was succeeded by his former secretary, Thomas Louis Connolly. The Cork-born Connolly (1814-1876), was ministering at the Capuchin Mission House in Dublin (although a diocesan priest) when he was asked to accompany Walsh, to Nova Scotia. Although a great friend of his predecessor, he had a different style of governance and objected to certain prevalent dogmas such as papal infallibility. After his elevation to Halifax, Connolly aimed to build on Walsh's legacy and took an active role in the religious and secular life of his flock. Connolly was a man of great tolerance and could arguably be called a "father of confederation" due to his vigorous support of Canadian confederation in a province that was decidedly against the scheme.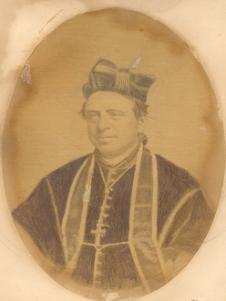 [Archbishop Thomas Louis Connolly, c., 1860]
After Connolly's death in 1876, the tradition of appointing Irish-born prelates to Halifax continued with the elevation of the County Limerick native Michael Hannan (1821-1882). Yet, although Hannan did not arrive in Nova Scotia until 1840, in many ways he was a product of the Halifax Catholic community, and epitomized the mounting capacity of Halifax to educate its members for the priesthood. Not only did he complete his studies at the fledgling Saint Mary's College, he was also ordained locally. After his consecration, Hannan took an active interest in various causes. Although he occasionally ran afoul of his flock (he had a protracted and bitter feud with the Sisters of Charity), he was a relentless promoter of education among his flock.
The last archbishop consecrated for Halifax in the nineteenth-century was also the first Canadian to hold the office. Cornelius O'Brien (1843-1906) was a native of New Glasgow, Prince Edward Island, and a gold medal recipient for academic excellence at the Urban College in Rome. An effective administrator and educator, O'Brien was made archbishop of Halifax in 1883, and began to implement policies designed to create a "self-contained network of social and educational institutions through which the needs of the Catholic population could be met..."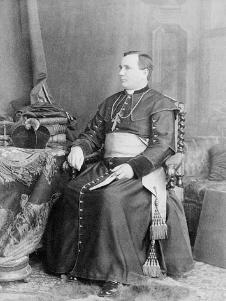 [Archbishop Cornelius O'Brien, c., 1890]
In the twentieth-century, Edward Joseph McCarthy, Thomas O'Donnell, John Thomas McNally, Joseph Gerald Berry, James Martin Hayes, Austin-Emile Burke and Terrence Thomas Prendergast, carried on the work of their predecessors, and each generation would faced its own challenges. The work of the nineteenth-century prelates buried in "Bishop's Row" was instrumental in fostering the growth of Roman Catholicism in Halifax, but also ensuring that the Irish in the city had access to education and social programs.
Further Reading:
Colin Barr, "'Imperium in Imperio ' : Irish Episcopal Imperialism in the Nineteenth Century," English Historical Review, CXXIII, 502 (2008): 611-650. (View Barr Article)
J. E. Burns, "Archbishop William Walsh," N.S. Historical Society Collections, 25 (1942): 131–43. (View Burns Article)
David B. Flemming, "Connolly, Thomas Louis," DCB, 10 (1972).
David B. Flemming, "Hannan, Michael," DCB, 11 (1982).
David B. Flemming, "Walsh, William," DCB, 8 (1985).
J. B. Hanington, Every popish person: the story of Roman Catholicism in Nova Scotia and the church of Halifax, 1604–1984 (Halifax, 1984).
Katherine Hughes, Archbishop O'Brien: man and churchman (Ottawa, 1906).
A.A. Johnston, A History of the Catholic Church in Eastern Nova Scotia, 2 volumes (Antigonish: St. F.X. University Press, 1960, 1971).
A.A. Johnston, "The Right Reverend William Fraser Second Vicar Apostolic of Nova Scotia First Bishop of Halifax and First Bishop of Arichat," CCHA Report, 3 (1935/1936): 23-30.
C. M. Kelly, "William Walsh, first archbishop of Halifax (1804–1858)," Irish Ecclesiastical Record (Dublin), 66 (1945): 11–18.
Terrence Murphy, "O'Brien, Cornelius," DCB, 13, (1994).
Terrence Murphy, "James Jones and the Establishment of Roman Catholic Church Governance in the Maritime Provinces," CCHA Study Sessions, 48 (1981): 26-42.
Terrence Murphy, "Priests, People and Polity: Trusteeism in the First Catholic Congregation at Halifax, 1785-1801," in T. Murphy and C.J. Byrne (eds.) Religion and Identity: The Experience of Irish and Scottish Catholics in Atlantic Canada (St. John's: Jesperson Press, 1987): 68-80. (View Murphy Article)
Terrence M. Punch, Irish Halifax: the immigrant generation, 1815–1859 (Halifax, 1981)
Terrence M. Punch,Some sons of Erin in Nova Scotia (Halifax, 1980).
K. F. Trombley, Thomas Louis Connolly (1815–1876): the man and his place in secular and ecclesiastical history (Louvain, 1983).
Mason Wade, "Relations Between the French, Irish and Scottish Clergy in the Maritime Provinces, 1774-1836,"CCHA Study Sessions, 39 (1972): 9-33.
F. J. Wilson, "The Most Reverend Thomas L. Connolly, archbishop of Halifax," CCHA Report, (1943–44): 55–108.