Chemistry Program
Information for Prospective Students
Why study Chemistry?
Chemistry is the study of matter, including its properties and composition, and of the changes it can undergo. The many different fields of Chemistry include its core areas: analytical, biochemistry, inorganic, organic, physical and theoretical.
Working in pairs in the lab right away means you'll quickly meet people in your first year. Class sizes are rarely larger than 25 students, so professors and students alike can get to know you well in this friendly and inspiring learning environment.
---
The Saint Mary's approach
As a Chemistry major, you'll receive instruction in each of the core fields and also in courses such as green chemistry and environmental chemistry. This will give you a solid foundation in chemistry, and the skills and knowledge to address real-world, contemporary issues.
Our program is nationally accredited by the Chemical Institute of Canada. This means we meet their national standards of education and they promote the qualifications of our B.Sc Chemistry students.
---
Hands-on learning
Our professors rely on undergraduate research assistants to help carry out their projects. These paid positions are extremely valuable in providing hands-on learning opportunities. Our students have authored research papers, and regularly present talks and travel to local, national, and international conferences.
Sample courses offered:
Organic Synthesis
Green Chemistry
Instrumental Analysis
Organic Spectroscopy
Organometallic Chemistry
Polymers
Environmental Chemistry
Future career opportunities:
Lab technician
Art conservation scientist
Chemical patent lawyer
Environmental policy maker
Health Professional
---
Discovering hidden talents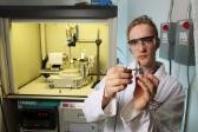 Recent Chemistry grad Art Hendsbee discovered a passion for crystallography while at Saint Mary's and had a remarkable 15 co-authored scientific research papers published as an undergrad. Thanks to Saint Mary's hands-on learning approach and access to research opportunities, students like Art often discover passions and talents they didn't know they had.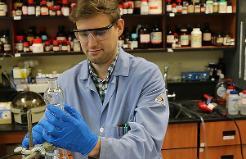 Kyle Awalt, who graduated recently with a B.Sc. in Honours Chemistry, received a prestigious scholarship to pursue a PhD in Medicinal Chemistry at the University of Monash in Melbourne, Australia. Kyle credits his success with the opportunities he gained as a research assistant in Dr. Singer's green chemistry lab, where he worked as an undergraduate.
"My success has been driven by the paper I published and my work in Dr. Singer's lab," says Kyle. "I don't think I would have had the same level of opportunity as an undergraduate at a larger school."