Support is never far away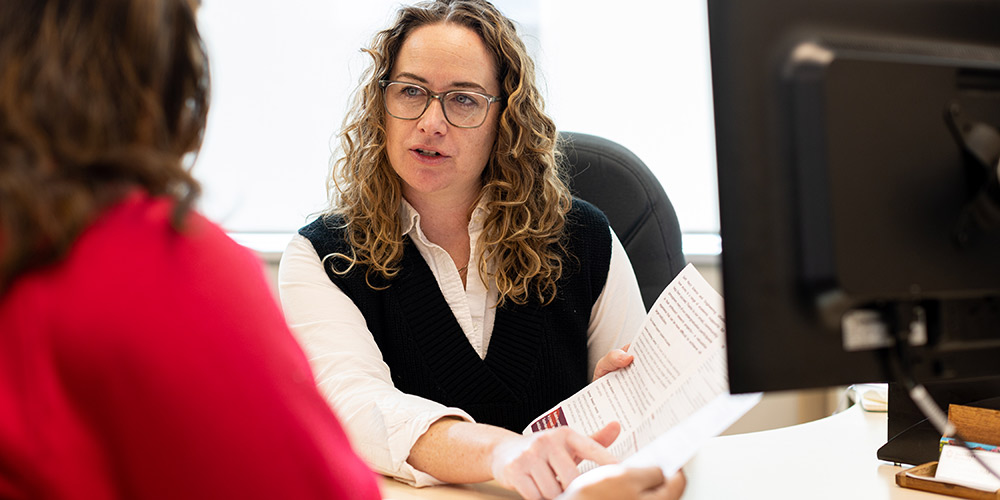 There are many support services offered on campus to help you succeed as a student at Saint Mary's and build for your future.
Undergraduate Program Advisors
Academic advisors are committed to providing a supportive environment that focuses on individual student needs and prioritizes your educational, professional, and personal development. As your advisors, we can help you identify your goals, strengths, and interests to help you make informed decisions.
Advisors can help with:
Planning your degree
Choosing your courses
Confirming program requirements
Understanding university regulations, policies and processes
Accessing student supports
Faculty grading schemes
Understand your transfer credits
Taking courses at other universities (letter of permission)
Professors who know you
With average introductory class sizes of just 30, you will not only feel connected to other students, but you'll also be able to get to know your professors.
Having a solid relationship with professors creates a supportive environment. Compared to large institutions with big classes, it's easier to ask questions, seek clarification, or even just have a friendly chat about the subject you love.
When professors know you well, they can provide invaluable advice and mentorship. They can recognize your strengths and weaknesses and help you navigate your academic journey more effectively. When it's time to apply for internships, jobs, or grad school, they'll be the ones who can write glowing recommendation letters that genuinely capture your potential.
Great professors make university life richer, more meaningful, and set you up for success beyond graduation.
Resources
Explore other resources available to help with student life on campus, doing well in your degree and various personal matters.
Academic Advisors in each faculty
Black Student Advisor
Indigenous Student Advisor
Student Success Centre
Peer Mentors
Career & Experiential Learning
The Counselling Centre
Digital Learning Services
Fred Smithers Centre for Student Accessibility
Student Health Clinic
Science Numeracy & Academic Proficiency (SNAP) Centre
Global Learning Services
International Student Centre
Patrick Power Library
The Studio for Teaching and Learning
The Writing Centre
JumpStart workshops to introduce students to academic expectations
Student Life Online
Once you are a student, you will have access to a wide range of news, events and other resources that will help enhance your education and social life.
Visit the Student Life landing page