Halifax is a great city
Welcome, Bienvenue, Pjila'si Halifax!

Embrace the energy of Halifax, Nova Scotia's cultural and entrepreneurial hub.
A seaside city that comes alive with student life. Immerse yourself in the charm of strolling along one of the world's longest downtown boardwalks or indulge in the rich experiences offered by the many museums, galleries and markets in the heart of the city. Get swept up in the excitement of the diverse food scene, cheering at a sporting event or enjoying live performances by your favourite bands. All while taking in the ocean breeze.
Saint Mary's University is in Mi'kma'ki
Halifax is known as K'jipuktuk in Mi'kmaw, which means "Great Harbour". Saint Mary's University is in Mi'kma'ki, the ancestral and unceded territory of the Mi'kmaq.
Indigenous Community at SMU
#1
The perfect student city
More than 30,000 students attend Halifax's seven post-secondary institutions each year. The continuous flow of bright minds from around the globe keeps the city vibe fresh, diverse and youthful.
#2
Must-see sites
When it's time for a study break, you'll have no shortage of cool places to explore (all within walking distance from campus). Check out the Halifax Public Gardens, Citadel Hill Historic Site, Halifax waterfront boardwalk, Point Pleasant Park, Halifax Central Library and more!
#3
Weather and climate
Nova Scotia has a temperate climate, with an average summer high temperature of 22°C (73°F). Winters are never too cold to enjoy great outdoor activities. Average temperatures during the winter months of December to March range from -5° to -1°C.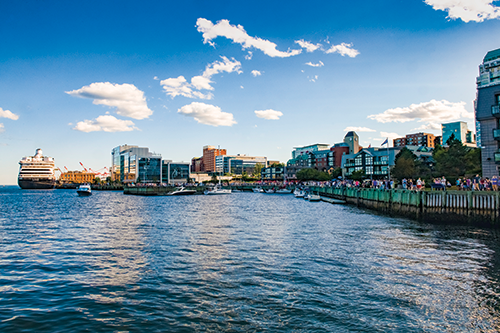 #4
Getting around
Halifax is a very walkable city, so exploring the neighbourhood is easy. But when you do want to go somewhere a little further, you can easily use your UPass to ride the public transit system. This handy pass is also valid for taking the Dartmouth ferry--a picturesque journey across the harbour!
#5
Local culture
There's an undeniable hospitality on the East Coast--a friendliness that makes moving to a new place easier. Halifax's lively food and drink scene provides great opportunities to sample both regional and international cuisines. No matter where you're from, you'll fit right in.
Things to do
The possibilities are endless, but here are some ideas to get you started: Rent skates for free at the Emera Oval, head to the historic Hydrostone District for lunch or coffee, watch a sports game or see a concert at the Scotiabank Centre, go shopping and explore the Spring Garden area, get tickets for a show at the Neptune Theatre downtown.