Young Alumnus of the Year Award
If you have graduated in the last 10 years, you may be eligible to receive the Saint Mary's Young Alumni Award.
This distinction is presented to young alumni who display outstanding achievements that may have earned them regional, national or international recognition through: service to humanity, their profession, volunteerism or community service, the advancement of knowledge, or service to Saint Mary's University.
This award is granted to Saint Mary's University alumni within 10 years of receiving a bachelor's degree or within five years of receiving a graduate degree. A maximum of three candidates per year will be granted the young alumni award.
Selection candidates are considered annually by the Saint Mary's University Alumni Association's Awards & Nomination Committee.
Timeline
The deadline to nominate a candidate for the Young Alumni of the Year Award is May 29, 2020. The award will be presented at the One World Alumni Awards Reception durng Homecoming.
Past recipients
2019 Young Alumni of the Year - Dr. Henry Annan BSc'14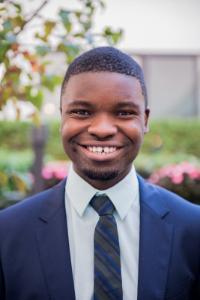 Henry Annan was born in Halifax and spent his childhood in Accra, Ghana. He chose Saint Mary's for his Bachelor of Science due to the learning opportunities in a small class, the modern lab facilities, and diverse nature of the SMU community.
As a student, he was involved with the Faculty of Science as member of the SMU Chemistry Society, Co-President of the SMU Biology Society, and research assistant in Dr. Zhongmin Dong's research lab. His research on Rhizobacteria produced his first publication after only a few years of undergraduate study.
In his final year at SMU, he helped organize a panel event entitled "Generation Y: Tomorrow Needs You Today" featuring Dr. Alex Dong, Dr. Jason Clyburne, Sarika Cullis-Suzuki and then-federal MP for Halifax, Megan Leslie. Henry is passionate about empowering youth and helping them find confidence in their skills and abilities. As a physician, he wants show underrepresented youth that they can aspire to a career in a field such as medicine.
After graduating summa cum laude in 2014 with a double major in Biology (Honours) and Chemistry, Henry attended Dalhousie medical school and has become highly involved in the medical community. As a medical student, he was involved with the Canadian Federation of Medical Students, where he advocated for a Universal Pharmacare program and for evidence-based solutions to the national opioids crisis in my capacity as the National Officer of Human Rights and Peace. He later became President of the Federation, doing a lot of work on federal health human resources and indigenous mental wellness. He served on the Board of the Canadian Medical Association for two years as well as on the Health Association of African Canadians. Currently, he serves on the Board of Réseau Santé Nouvelle-Écosse, a provincial organization which seeks to improve access to health services amongst Nova Scotia's francophone communities.


2019 Young Alumni of the Year - Sylvia Gawad BSc'14
Sylvia Gawad attended Saint Mary's as an International student, originally from Egypt. During her second year of study, her family had to flee Libya due to the outbreak of civil war. Sylvia remained at SMU, determined to complete her studies. She held a number of jobs on campus to support herself, including with Student Services and as a Chemistry Teaching Assistant.
During her time as a student, Sylvia launched Project 360, a non-profit organization with the goal of empowering newcomers through entrepreneurship. Throughout her career, and as a volunteer, Sylvia has dedicated much of her time and knowledge to helping newcomers and refugees in Halifax. Her care, compassion, and diplomacy has touched many. In 2019, Sylvia was named one of Canada's Top 75 Immigrants by RBC for her work with newcomers.
After completing her Bachelor of Science with a major in Biology in 2014, she attended McMaster University to earn a Masters in Global Health and Development. Now back in Halifax, Sylvia is working with Placemaking 4 G, a recruiting agency that connects Atlantic Canadian businesses with local talent through pipeline development and providing career experiences for students.
Not only is Sylvia an important figure in our local community, she continues to give back to Saint Mary's as a volunteer with our Alumni Council and Young Alumni Committee. She contributes to committees and represents SMU Alumni at a number of community and student events each year.
2018: Michael Brown BComm'14
2017: Harry Ezenibe BA'14
2016: Erica Sosnowski EMBA'15
2015: Heather MacDonald & Jeff Mitchell
2014: Chanda Chilanga and Beth Hamilton
2013: Scott Noddin
2012: Saeed El Darahali
2011: Jacob Deng and Jeff Lohnes
2010: Khalid Waleed Alkhudair
2009: Jeff Britton
2009: Jennifer Walker