Associate Alumnus of the Year Award
Associate Alumni Award
You don't have to be a Saint Mary's graduate to be recognized as a valuable member of our community. The Associate Alumni Award recognizes those who are not alumni but have shown dedication and support to the University and its endeavours. A maximum of three candidates per year will be granted this distinction, and given full Alumni Association privileges.
All University employees and members of the Saint Mary's University Alumni Association may submit a one-page letter of recommendation for a candidate, illustrating their suitability for this award. A completed Alumni Awards Nomination Form must accompany the letter.
Selection
Candidates are considered annually by the Saint Mary's University Alumni Association's Awards & Nomination Committee.
Timeline
The deadline to nominate a candidate for Associate Alumni of the Year is May 29, 2020. The award will be presented during the One World Alumni Reception at Homecoming.
Past Recipients
2019 Associate Alumni of the Year - Glen & Nancy Holmes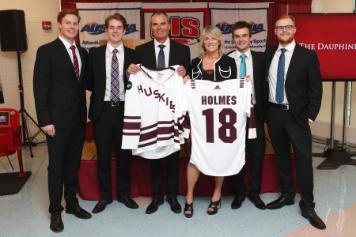 Local entrepreneurs Glen and Nancy Holmes, owners of the retail stores Pseudio, Samuel & Co. and Envy Clothing Company, are passionate advocates for Halifax and Nova Scotia. Raising four sons and building a successful national business in their hometown of Halifax, Glen and Nancy are active supporters of sports and community engagement.
Throughout the years of operating multiple successful businesses, the pair raised four sons, two of whom, Sam and Jacob attend Saint Mary's University. As residents of Halifax, their sons grew up attending SMU Huskies games and Huskies sport camps.
Glen attended Dalhousie University where he earned his Bachelor of Science and Commerce, as well as an MBA. Nancy attended Saint Mary's before leaving to pursue a position with RBC. In 1985, Glen established Pseudio, a popular clothing store which has grown into a national operations with 29 locations and hundreds of employees across Canada. It would be the first pursuit in the clothing industry for the family. In 1996, Nancy established Samuel & Co., and in 1999 established Envy Clothing Company. Prior to entering the retail sector, Glen also owned and operated the popular Halifax pub Your Father's Moustache for a number of years.
As entrepreneurs and partners, they are a formidable team. Deeply committed to their employees and customers, Glen and Nancy are tireless in their efforts to build an innovative Halifax-headquartered national business.
Over the years they have become vocal champions and active members of the Saint Mary's community, attending events and always available to provide advice and support.
Motivated by a desire to give back to Halifax, invest in Saint Mary's University and promote athletic and recreation activities for people of all ages, Glen and Nancy made a generous philanthropic gift of $2 million to support the construction of the Dauphinee Centre.
Their contributions have allowed for the Dauphinee Centre arena to be outfitted with a warming room overlooking the ice surface, named the Barbara Holmes Gathering Centre, named for Glen's mother. The Pseudio Link attaches the Dauphinee Centre to the Homburg Centre, connecting our key campus athletics and recreation facilities and allowing ease of access for athletes and fans. The Holmes Family Varsity Suite is comprised of incredible dressing rooms and spaces for our men's and women's varsity hockey teams – spaces that we can confidently rival the best junior hockey programs in the country.
For Glen and Nancy, their gift to Saint Mary's is also a gift to Halifax. They strongly believe in the value for Saint Mary's athletes, students, and fans to experience sports on campus in an updated facility. They are also strong believers in the importance of giving back to the Halifax community – Haligonians and visitors alike will be able to experience and enjoy both recreational and organized sport in the new arena for generations.
2018: Sheila Donahoe and Cathie Ross
2017: Dr. Patricia Bradshaw, Lawrence Freeman Q.C and Shirley Boudreau
2016: David Gauthier
2015: Lori Forbes
2014: Gary Schmeisser
2013: Wally Bowes
2012: John Landry
2011: Joe Chrvala Greg King
2010: Donna Filek
2009: Fred Smithers and Kathy MacFarlane
2008 Kathy Naulls and Dave Randall
2007 Tony Arab, Wadih Fares, Frank Matheson and Paul Sobey
2005 Carol MacLean and Jennifer E. Ozon
2004 Patricia Bishara and David J. Grace
2002 Blake Nill
2001 Trevor Stienburg, Elizabeth Colwell and Stephanie Babcock
2000 Gabrielle Morrison, Nicola M. Young and Mary Lou Gomes
1999 Jean Larsen and Paul Dixon
1998 Denis LeClaire and Bernadine Halliday
1997 Ann MacDonald, William H. McGrath and Frank P. Dougherty
1996 Toni P. Croft, Virginia Jackson and Gloria Jewers
1995 J. Colin Dodds and Christine MacGillivray
1994 Colin Howell, Joan Whitney, Philip MacDonald and Daniel G. Stone
1992 Geraldine Coll, Betty Jean Frenette and Paul Mason
1990 Fred Voeltz and Ralph Curran
1989 Randy Nesbitt
1987 Fred P. Laphen
1986 Jill Linquist
1985 Paula Glencross, M. Shields, Joseph Wilson, D. H. Gillis, J. Lynch, T. Wardell and Hermann F. Schwind
1984 David F. Zareski, William H. Richardson and Larry Uteck
1982 Dermot L. Mulrooney, Carol Markesino, Mary Sun, Peter Weal and Heinz M. Morstatt
1981 Kenneth L. Ozmon and Owen Carrigan
1980 John A. Mills
1979 Charles J. MacDonald, Richard W. Lowery and Belinda S. Gallagher
1978 Charles A. Vaughan, Doug Wright and Brian P. Heaney
1975 Michael A. Overington, Douglas Day, Anthony Farrell and Gordon MacLeod
1974 Keith G. Fillmore, Joseph Jabbra and Roy W. Clements
1973 John C. Young
1971 Elizabeth A. Chard
1970 Henry J. Labelle
1969 Roger A. MacDonald
1967 K. McKenna, Robert MacDougall and Verdon Creighton
1963 Henry Habib