New Grads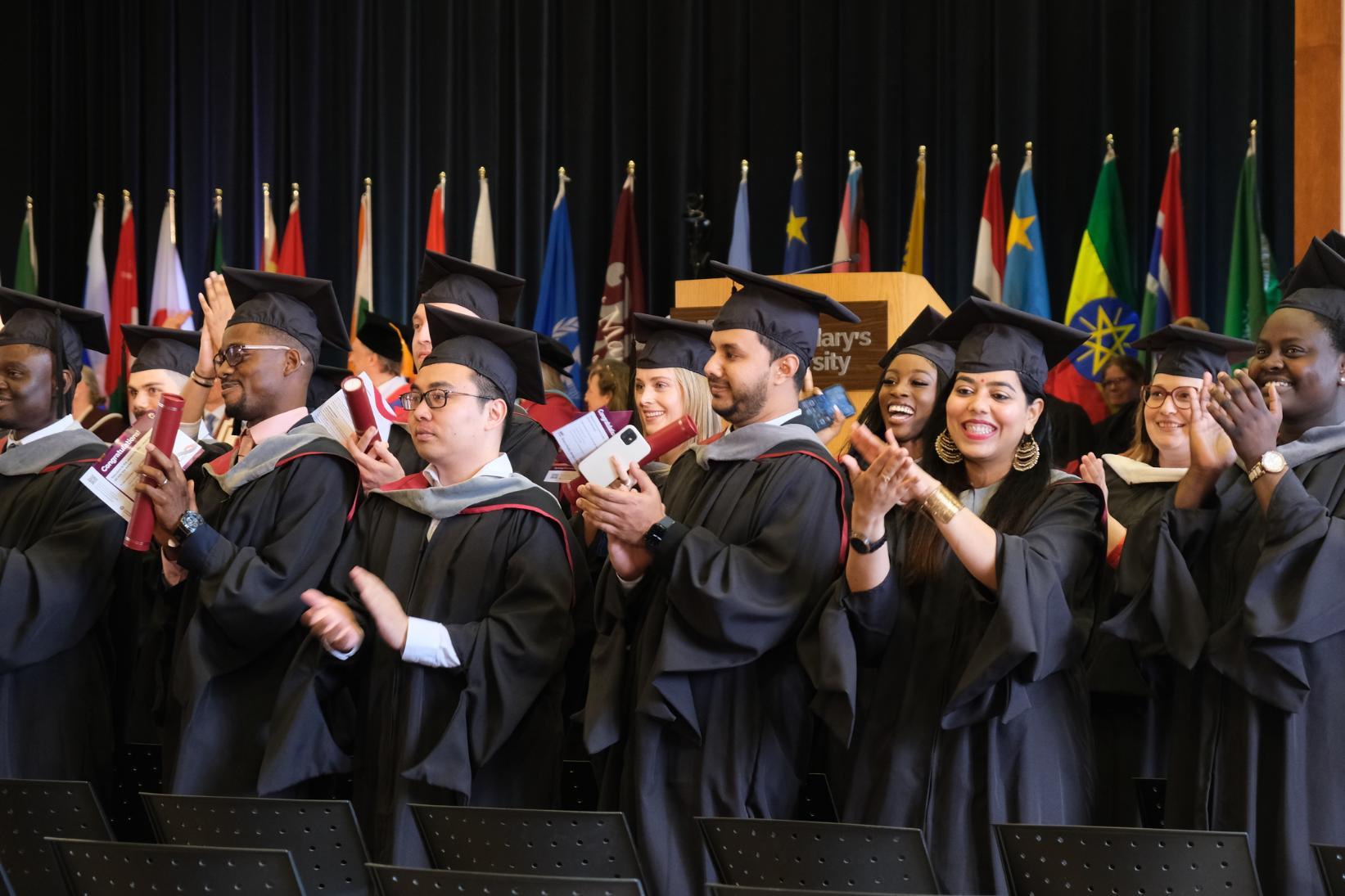 Welcome to the SMU Alumni family! You are now part of a community of more than 55,000 proud Santamarians living around the world, and part of the SMU Young Alumni (or #SMUYA) group. You may have left the classroom, but you will forever have a network of Saint Mary's friends, colleagues, and faculty members to count on. The Alumni Office is here to support your next steps, and we want to know the great things you do as a SMU alum!
---
Benefits and Services for Alumni
Did you know SMU grads receive exclusive benefits and perks? Your Alumni Card is a way to redeem discounts at businesses in the Halifax area and online. Your Alumni Card is free and can be used at a number of shops, restaurants, and travel partners. Simply request the card online and we will send it to you in the mail.
The SMU Café online networking program is powered by the Ten Thousand Coffees platform which matches alumni with students and recent grads for a career inspiring conversation over coffee (in person or online!).

Join this network to:

Help shape the careers of students and young alumni by sharing your career advice and experience
Develop your networking and mentoring skills through real-world practice
Build your network of other Saint Mary's University alumni and faculty based on your industry and interest

Insurance Benefits–SMU Alumni is proud to partner with TD Insurance Meloche Monnex and Manulife Insurance to offer preferred rates to alumni. TD Insurance offers home, auto and travel insurance for alumni. Visit their website to get your rates. Manulife offers health, dental and life insurance for alumni. Visit their website to get your rates.


Career Services–Alumni can access SMU's Career Services for three years after graduating. Contact the Career Services office for career counselling, resume and cover letter support, and career development support. The Alumni Office also hosts professional development and networking events throughout the year.
Gym Membership Discount–The Homburg Centre for Health & Wellness offers all alumni a 25% membership discount. Visit the Homburg Centre on campus to get your membership.
---
Young Alumni Committee and Events
There is a committee dedicated to planning events and programs for Young Alumni, known as #SMUYA. A young alum is someone who has graduated within the past 10 years and is under 30 years of age. The Young Alumni Committee is comprised of young alumni volunteers who plan social and networking events throughout the year.
The Alumni Office hosts professional networking and fun social events for all alumni throughout the year. Keep up to date on our events page, and make sure to sign up for the monthly e-newsletter to learn about upcoming opportunities.
---
Update Your Contact Information
Have you changed your contact information recently?
Are you a recent grad transitioning from using your SMU e-mail address?
We want to stay connected to tell you about our alumni events, programs, contests and volunteer opportunities! If you're moving or changing your email or phone number, let us know so we can make sure to keep you updated with information on events and programs in your area.
---
Your Alumni Network
SMU alumni are showing their Husky pride across the globe! If you're moving and looking to get in touch with a fellow Santamarian, contact one of these alumni representatives:
Also check out the Facebook pages for our Alumni Chapters:
---
Follow Our Social Media
Don't forget to follow us on social media to keep up to date about alumni news and events. Reach alumni.assistant@smu.ca if you would be interested in being profiled on our social media.