Connecting With the Community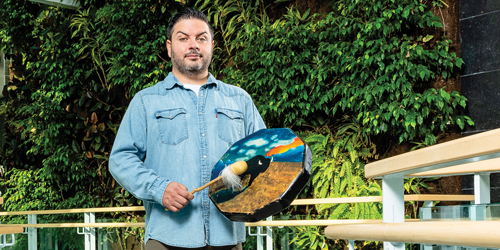 Raymond Sewell - Indigenous Student Advisor
Growing up in Pabineau First Nation, Raymond's worldview was shaped by his elders, life in the woods, and his supportive family. At home, education was always important to Raymond, and he credits his strength to the close-knit and academically-minded community he grew up in.
In university, Raymond began pursuing a liberal arts degree. Soon, he developed a strong interest in politics and Atlantic Canadian Studies and contemporary indigenous issues—a field he wanted to learn more about after completing his undergraduate degree. "I chose SMU because I wanted to pursue a career in Atlantic Canadian Studies. Faculty like Dr. Michael Vance were very supportive, and it is because of him I believe I am a confident person and writer".
For Raymond, undertaking a Masters in Atlantic Canadian Studies was definitely an adjustment from his undergrad, but the support he received at SMU helped him at every turn. "Like all students, there were times I was frustrated. However, the support I had made me comfortable discussing stress with my professors."
Today, Raymond is the Indigenous Student Advisor and Founder/Inaugural Chair, AACUSS Indigenous Services Division at Saint Mary's University, where he's able to pass along his passion for Atlantic Canadian Studies and contemporary indigenous issues to a wider audience. Here, Raymond learned that it's possible to earn a degree while holding onto and celebrating his traditional Mi'kmaq roots.
"I wanted to work with my community, and I found a beautiful one K'jipuktuk".