Making a Splash in the World of Small Business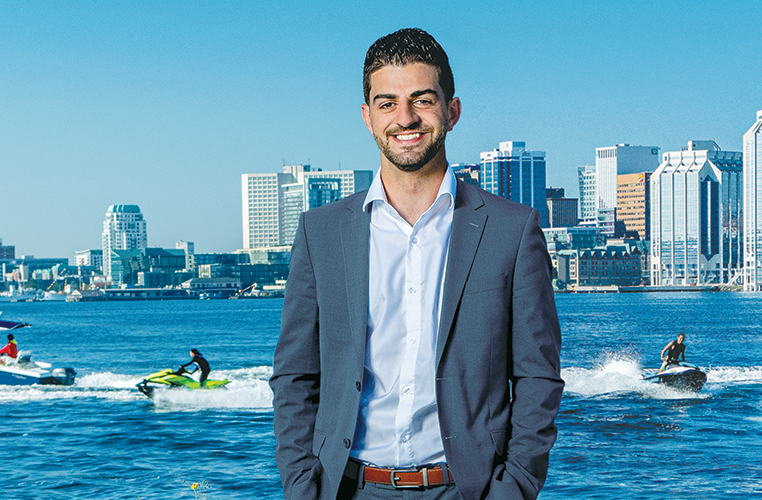 Ossama Nasrallah – Sobey School of Business
The youngest of six children, when Ossama left Lebanon for Halifax, he had a plan to study science with the hope of eventually becoming a doctor. But coming to a brand-new country, the adjustment was initially quite difficult. Learning to live so far from family was hard, but learning a new language was even harder.
Wasting no time, Ossama sought help from The Language Centre at Saint Mary's where he studied hard to improve his language skills. After spending a half year strengthening his English abilities, Ossama was ready to begin his full-time journey at SMU as a student in the Faculty of Science. But as the saying goes, even the best-laid plans can change.
In his second year, Ossama realized that science was more of an interest and less of a passion. Coming from a business-minded family in Lebanon, Ossama switched majors and fell in love with the Sobey School of Business, not only for its academics, but for its robust extracurricular opportunities. It was here that Ossama learned to focus his academic efforts, no matter the setbacks that he faced.
"From the time I arrived at Saint Mary's, I had an ambition to become someone who would create positive change. A friend mentioned the Saint Mary's University Students' Association, so I decided to run for president."
After two unsuccessful campaigns, Ossama's determination and perseverance paid off as he was finally elected president. "It was the best experience a student could ask for. I advocated for student needs every day and I tried to make their university experience the best one they could have."
Today, Ossama owns and operates the wildly popular Harbourfront Watercraft Rentals business—an endeavour he launched in his third year at Saint Mary's—on top of his full-time position at Scotiabank as a Professional Banking and Small Business Advisor.
For Ossama, helping a small business grow means treating it like it's your baby and relying on the support of the entrepreneurial community. "When I decided I wanted to pursue this business idea, I had a very big SMU community supporting me."
Recruitment & Marketing
902-496-8104
Mailing address:
923 Robie Street
Halifax, NS, Canada B3H 3C3