Videos and Brochures
Please select an item from the submenu on the right for more information on the Policy and Procedure.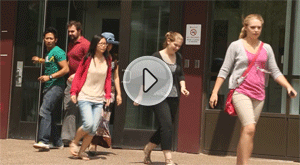 Ever wonder what to do when you hear an emergency message in a building? Please take four minutes to watch the video and find out.
Mass Notification System
Saint Mary's University is committed to the health and safety of all students, faculty and staff with campus security offering a variety of safety, security and crime prevention initiatives.
One of the security measures is a mass notification system that allows faculty, staff and students across campus to be notified on an emergency situation. Controlled from the security desk in the McNally basement, the system can play a dozen pre-recorded messages in individual building or at a series of different locations. The messages can be played both inside and outside of buildings.
Please view the video on the right to understand what you should do in the event you hear a mass notification message while on campus.