University President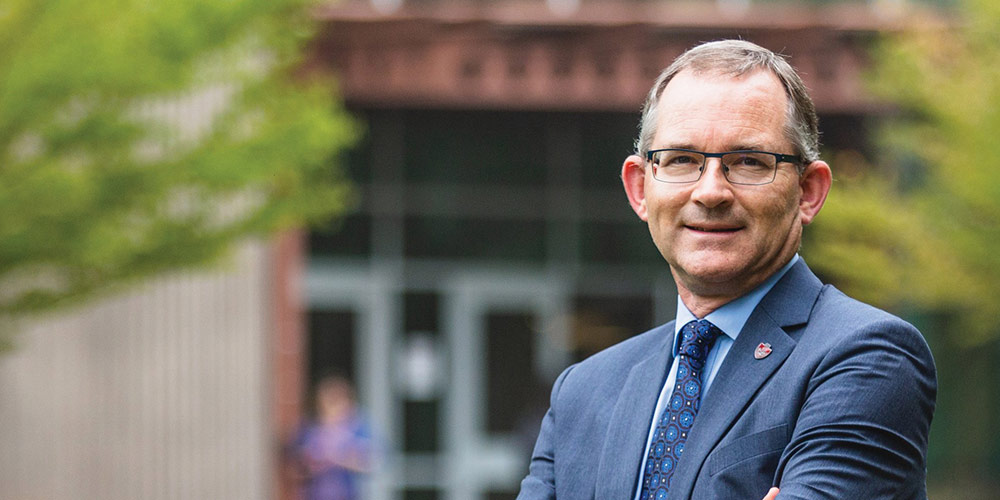 Dr. Robert Summerby-Murray
Born in Christchurch, New Zealand, Dr. Summerby-Murray has been in Canada since 1986, receiving his PhD in Geography from the University of Toronto in 1992. He has served in a number of senior academic roles, including the Dean of Social Sciences at Mount Allison University from 2003-2010 and as Dean of the Faculty of Arts and Social Sciences at Dalhousie University from 2010-2015.
Dr. Summerby-Murray became Saint Mary's University's 34th President on July 1st, 2015.
He is a respected educator, having received the Tucker Teaching Award, the AAU Distinguished Teacher Award and a 3M National Fellowship. His research areas include historical geography, environmental history, industrial heritage, archives and narratives, GIS and cartography, literary histories and the work of Charles G. D. Roberts, student mobility and internationalization.
Dr. Summerby-Murray serves a vibrant, diverse community of more than 7,500 faculty, students and staff and is an enthusiastic champion of Saint Mary's University. He spearheaded the development of the university's 2017-2022 strategic plan and currently leads initiatives to build on Saint Mary's strengths of entrepreneurship and innovation, accessibility, community engagement, research achievement, philanthropy and global connectedness. In 2018, he was named one of Atlantic Business Magazine's 'Top 50 CEOs' and in 2020 was renewed as Saint Mary's president for a second five-year term.
Dr. Summerby-Murray is active on the boards of Universities Canada, the Association of Atlantic Universities, the Council of Nova Scotia University Presidents, Atlantic University Sports, and the J.W. McConnell Family Foundation Presidents' Cohort Group on 'Universities and Social Infrastructure'. In the past year, he has focused on initiatives to support veteran-friendly campuses and to prevent racism on campus through participation in national initiatives such as the BlackNorth Initiative education committee and the Scarborough National Charter on Anti-Black Racism and Inclusion. He has just completed a two-year term as board chair of the Canadian Bureau of International Education and remains committed to international education and the global nature of the academy.
Related
General Inquiries: 902-420-5400
University Security:

Emergencies: 902-420-5000
Non-emergency line: 902-420-5577

Cancellation/Closure Hotlines:
For Students: 902-491-6263
For Faculty & Staff: 902-491-6264
Go to the Campus Directory for faculty, staff and departments.