Jr. Huskies Girls Hockey Summer Camp
5-Day Development Camp
Date
Time
Age
Cost

August 17 - 21

Monday - Friday

9:00am-4:00pm
Dauphinee Centre Registration Check-in opens at 8:00am on the first day!

2011-2013 born players

$395

(Register before February 29, 2020 and receive a 20% Early Bird Discount!)

2009-2010 born players
2006-2008 born players

Staff Discounts, Auction letters or 2nd discounts cannot be applied to the Early Bird Registration fee.
All sessions run by SMU coaching staff and players. A great opportunity to gety ready for the upcoming season! This is a week-long camp designed for players wanting to improve all apsects of their game. The daily schedule includes 2 on-ice sessions, off-ice fitness, off-ice puck skills session and an instructionsl classroom session. Players will be challenged in a fun learning environment, playing in small area games and other compete-type stations. The camp always sells out. Be sure to get your spot early!
Elite Development Sessions
Date
Time
Age
Cost

August 3 - 19




(Mondays and Wednesdays)




All sessions run by SMU coaching staff and players

7:00pm - 8:30pm


Dauphinee Centre

2002-2005 born players



Limited to first 25 players

$150

(Register before February 29, 2020 and receive a 20% Early Bird Discount!)

The perfect way to get ready for tryouts! These sessions are designed to work on players' skating, puck skills and hockey awareness, all the while challenging them in competitive settings such as battle drills and other small area games. These sessions are for players who want to be pushed and are planned to take players out of their comfort zone, allowing them to reach new heights! Spots are limited and will go fast!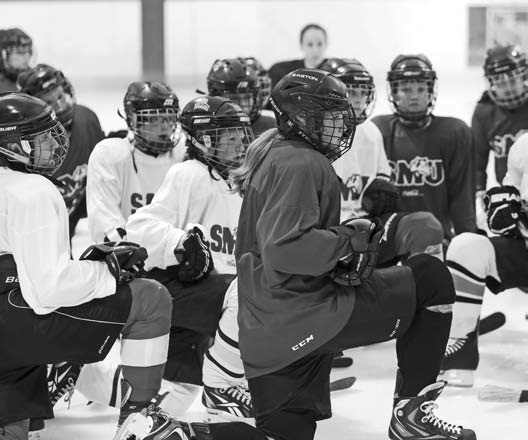 PLEASE NOTE: Lunch is included in all camps except for the Girls and Boys Hockey Camps held at the Dauphinee Centre on Saint Mary's University Campus.
View the camp menu 2020 Jr. Huskies Camps Menu
Steps to Register:
In person: at the Homburg Centre, 920 Tower Road using any payment method (cash, cheque, VISA, MasterCard, American Express)
Email: scanned completed registration form (including credit card payment information) to patsy.calbury@smu.ca
By Phone (credit card payment only): 902.420.5555 or 902.420.5429
FAX (including credit card payment information): 902.420.5844
Please note, if you do not want to provide your credit card on email or FAXed registrations, you must call in your registration over the phone to the Front Desk. Thank you.