Hockey (Girls)
Jr. Huskies Girls Hockey Summer Camp
2023 Summer Camps
Five-Day Development Camp (NOW CLOSED)
Date
Time
Age
Cost

August 14- 18

Monday-Friday

9 a.m.-4 p.m.
Dauphinee Centre Registration Check-in opens at 8 a.m. on the first day.

ALL CAMPS ARE NOW A WAITLIST EXCEPT THE 2015-17 FEMALE GOALES

Goalies - $350 - ONLY 2015

---

2015-2017 born players

$435

2013-2014 born players
2011-2012 born players-

All sessions run by SMU coaching staff and players. A great opportunity to get ready for the upcoming season! This is a week-long camp designed for players wanting to improve all aspects of their game. The daily schedule includes two on-ice sessions, off-ice fitness, off-ice puck skills session and an instructional classroom session. Players will be challenged in a fun learning environment, playing in small area games and other compete-type stations. The camp always sells out. Be sure to get your spot early!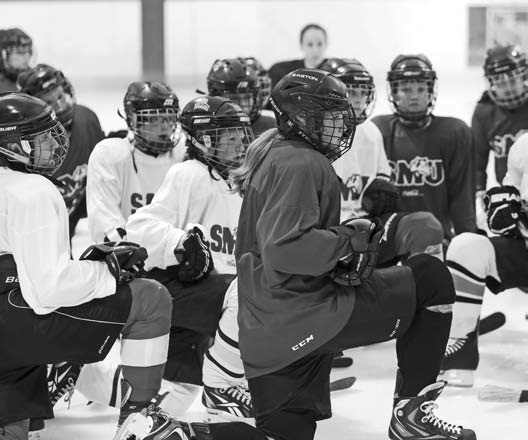 Important Info:
Lunches are NOT included in camps this summer, all campers must bring their own lunches and snacks and come with a water bottle filled
Steps to Register:
In person: at the Homburg Centre, 920 Tower Road using any payment method (cheque, VISA, MasterCard, American Express) No cash payments.
Registration is now open. CLICK HERE TO REGISTER
If you have further questions please email smufit@smu.ca or call 902-420-5555.
Contact us
Athletics & Recreation
The Homburg Centre for Health & Wellness
920 Tower Road
Mailing address:
The Homburg Centre for Health & Wellness
923 Robie Street
Halifax, Nova Scotia
B3H 3C3
Social media