Doing it for herself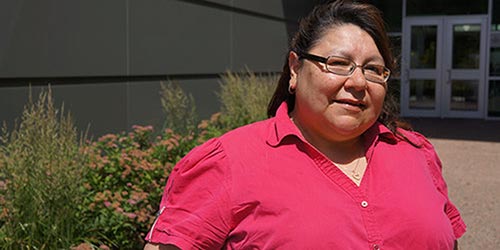 Entrepreneurial journalist Maureen Googoo reflects on how her Saint Mary's education has kept providing value for more than 20-years.
Raised in Indian Brook First Nation, Maureen Googoo's life and career have taken her to Halifax, Saskatchewan, Toronto, New York City, and back to Nova Scotia again. Through it all, her Saint Mary's education has been part of the bedrock of her career and life.
The journalist and entrepreneur has long been one of Canadian journalism's leading Indigenous voices, as a founding staffer who helped shape the original vision behind the Aboriginal People's Television Network (APTN), and as a reporter with CBC and the Halifax Chronicle-Herald. Her career began, however, at Saint Mary's, studying political science from 1987 to 1992.
"I wanted to be a journalist even then," says Googoo, "but I had a deep interest in politics and the issues we were studying...and the courses I took here have always played a role in what I've covered, from court to politics to crime, and how I covered them. What I learned [at Saint Mary's] helped me become a better storyteller, because I understood background and issues and context."
After taking a year off from her studies to complete a one-year internship with CBC in Halifax, Googoo graduated in 1992, and later earned a degree in journalism from Ryerson University; spent time reporting in La Ronge, Saskatchewan; and worked with APTN, the Chronicle-Herald, and CBC.
Today Googoo is in business for herself, as the owner/editor of Kukukwes.com, an independent news source focused on eastern-Canadian Indigenous news. It launched in August 2015, joining Nova Scotia start-ups such as the Halifax Examiner and AllNovaScotia that are figuring out how to thrive online.
"Around 1999 or 2000 I started getting interested in the web," she says, "and I was always starting up little personal websites, and I had thought of creating a news site. But with APTN I was so busy." Six years later, Googoo was weary of criss-crossing Atlantic Canada on a weekly basis on the hunt for stories. She applied to a master's program at Columbia Journalism School in New York, and was accepted, studying in the program's "new media stream." There, she was inspired by the way online news outlets were already starting to redefine what a news publication could be.
"What I learned [at Saint Mary's] helped me become a better storyteller, because I understood background and issues and context."
Critically, she was inspired by some of the guest speakers the university brought in, particularly one who had made a living focusing entirely on reporting about patents. Though it would take another decade for Kukukwes to come together, it was then that Googoo decide that the future was in niche reporting.
And whether covering a land-right issues, crime, politics, or as with a recent ambitious experiment, a lengthy fraud trial, her first degree has kept proving its worth. "When I'm covering aboriginal rights issues," she says, "that analysis and background on the judiciary and court decisions that started at Saint Mary's has helped me to understand issues in court, and explain it back to readers in writing, quickly and accurately, and on deadline. You've got to understand these things as a journalist very quickly...my love of journalism and need to understand more of the world constantly overlap, and Saint Mary's was where that began."