Teaching Faculty
If you are interested in teaching for CSSG, please contact the CSSG director.
Dr. John L. Plews (CSSG Director)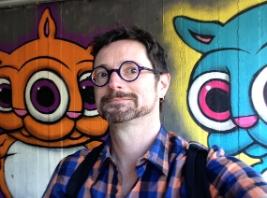 Dr. John L. Plews is Professor of German at Saint Mary's University, Halifax, Canada, and recipient of the Father Stewart Medal for Excellence in Teaching (2021). He is a former President of the Canadian Association of University Teachers of German and a former President and current Treasurer of the Halifax Languages Consortium. He studied German and French at the University of Manchester and completed a MA in German Literature at the University of Alberta, Edmonton. He earned a PhD in German Literatures, Languages, & Linguistics and a PhD in Secondary Education, both from the University of Alberta. He is co-editor of several books and journal issues. He researches second language curriculum and teaching, second language learner identities, and study abroad for language learners and language teachers. He is also a DAAD Research Ambassador. He taught at the CSSG from 2009-2012 and became Director in 2016 and has taught there each year since.
Dr. Christine Korte
Christine Korte holds a Ph.D. in Communications and Culture from York University in Toronto. Her current research interests include contemporary German theatre, the West Berlin post-punk scene, as well as the diversification initiatives currently underway on the stages of Berlin. Christine is a passionate instructor devoted to bringing creativity into the undergraduate classroom and sharing her enthusiasm for German language and culture with students. She has taught at the University of Toronto, York University, Memorial University of Newfoundland, and most recently for NYU Berlin. In addition to her teaching and scholarship, Christine is an epic dancer, performer, and synth-pop enthusiast.
Dr. Daniela Roth

Dr. Daniela Roth is currently a Limited-Term Assistant Professor of German at the Modern Languages Department at Saint Mary's University in Halifax. She has a degree in German and English from the University of Bamberg, Germany, and completed an M.A. in German at the University of Waterloo, ON. In 2017, she earned her PhD in a cotutelle program at the University of Waterloo and the University of Mannheim, Germany, focusing on transnational literature, migration, and adolescence. Daniela taught German language and culture courses at the University of Waterloo and German as a second language, including integration courses for immigrants, at several community colleges in Germany. She taught students from the levels A1-B2, preparing them for the official language and culture test of the German Federal Office for Migration and Refugees. In 2013, she completed the Certificate in University Language Teaching (CULT) and the Instructional Skills Workshop offered by the Centre of Teaching Excellence at the University of Waterloo.
Hr. Miguel Moreno

Magister in Germanistik, Romanistik und Pädagogik an der Universität Köln. Zusatzstudium Deutsch als Fremdsprache an der Universität Kassel. Zertifiziert in Methodik und Didaktik für Deutsch als Frendsprache durch das Goethe Institut. Seit 1999 Mitarbeiter der Volkswagen Gruppe als Deutschlehrer in Puebla, Mexiko und Wolfsburg, Deutschland. Koordinator der Deutschabteilung am Sprachenzentrum VW, Kulturbeauftragter und Interkultureller Trainer. Bereits 6mal Dozent der CSSG in Kassel. Ausbuldung zum Internationalen Systemischen Coach und Diplom in Kunsttherapie. Für ihn gibt es nichts aufregenderes als andere Kulturen und neue Menschen kennenzulernen, CSSG bietet beides. Er freut sich auf Euch!
Fr. Lisa Suessenbach

Lisa is a doctoral student of applied linguistics, a teaching and research assistant at the University of Calgary, and specializes in second language acquisition and pedagogy and is particularly interested in foreign accent and comprehensibility. She grew up in Germany and obtained her bachelor's degree from the University of Göttingen in English and American Studies. Being raised in an environment that encouraged multilingualism, she developed a passion for English, French, Danish and Dutch. Ultimately, she settled down in Victoria, BC, Canada and became a German language instructor at the University of Victoria while simultaneously working on her master's degree in applied linguistics. Lisa is a diehard soccer and biathlon fan, a singer/songwriter, and likes to spend her spare time exploring nature in the beautiful Rocky Mountains for skiing and hiking. Her strong attachment to her family and friends with whom she loves to explore the vibrant cities of Europe makes her visit Germany 2-3 times a year.
Some of our former instructors:
Dr. Kim Misfeldt (Past-Director of the CSSG)


Dr. Kim Misfeldt is Professor of German and Vice Dean of the Augustana Campus, University of Alberta. ‌She completed her BA (Double Hons) and MA at the University of Saskatchewan and her PhD at Queen's University. She has been with CSSG since 2002 – 2003 and was Director of the program from 2003 – 2016. Kim teaches courses in language, literature, translation, and Gender Studies. She has presented and published on second language pedagogy, drama pedagogy, Heinrich von Kleist, and Mariella Mehr. Kim has been recognized with three teaching awards: 2013: The 3M National Teaching Fellowship, 2011: The Rutherford Award for Excellence in Undergraduate Teaching, and 2000: The Augustana University College Distinguished Teaching Award.
Dr. Lars Richter
Dr. Lars Richter is currently an Assistant Professor of German language and culture at the University of Manitoba. He earned his PhD in German Languages, Literatures, and Linguistics at the University of Alberta in 2016. He studied German and English at the Freie Universität Berlin and received his MA in German Languages and Literatures from Washington University in St. Louis. In 2011, he was awarded the "Faculty of Arts Graduate Student Teaching Award" from the University of Alberta. Lars joined the CSSG-team in 2011 and has taught courses at all levels in the program. He's not as mean as he looks in his picture. In fact, he's pretty cool.
Hr. Feisal Kirumira
Feisal Kirumira studied German Literature, French, and English at Makerere University. He earned two Master's degrees in German Language and Literatures from the Universität des Saarlandesand and in Applied Linguistics from the University of Alberta. Feisal taught German language courses at Dortmund Universität from 2000-2005, and was a sessional instructor at Augustana Faculty, University of Alberta, until 2020. Feisal was awarded the Augustana Faculty Sessional Teaching Award in 2010-11 and the Betty Ostenrud Award for Student Engagement in 2015-2016.
Fr. Katrin Jacob

Katrin Jacob was born and raised in the former East German Republic, the GDR. She earned her Teaching Diploma in English and Russian at Leipzig University. After spending one year as a Teaching Assistant for German on a Fulbright Scholarship at Clemson University (South Carolina), she went back to Germany to continue teaching there. Katrin then earned her Master's in German Studies at the University of Georgia. After moving to Halifax in 2002, she taught English as a Second Language and, since 2004, she has taught German language and culture at Saint Mary's University, including language courses at all levels as well as courses on, for example, fairy tales or life in the former GDR before and after the "Wende." In her free time, Katrin paints, hikes, and knits.
Fr. Allison Bajt

Allison Bajt is currently a sessional instructor, teaching assistant and graduate student at the University of Calgary. She is in her final year of an MA in Applied Linguistics with a specialization in German. Her research interests include second language pedagogy, the connection between identity and language learning, and the development of culturally sensitive and transformative teaching practices for diverse language learners. Allison has been recognized with two teaching awards: the U of C Graduate Students' Association Excellence in Teaching Award and the Students' Union Teaching Excellence Award (2018). She first took part in CSSG in 2011 and came back again in 2017 to complete a Community Service Learning course. She was also lucky enough to catch the Freundeskreis' reunion tour in München last summer and made multiple visits to the Hamburger Kunsthalle. When she is not working on her thesis you will find her practicing yoga, organizing Stammtisch and other German-related events, or running the bike path along the Bow River.
Hr. Adam Franzke
Adam Franzke is a two-time alumnus of CSSG (2008 & 2010), an advocate for second language learning, and an aspiring quadrilingual. In the years since CSSG, Adam has spent time living and working in Berlin and Leipzig, ultimately completing the fluency exam, "Goethe-Zertifikat C2: Großes Deutsches Sprachdiplom." From 2013-2014, Adam worked as a Foreign Language Assistant for English at two vocational colleges (Henriette Goldschmidt Schule & Ruth-Pfau BSZ für Gesundheit und Sozialwesen) in Leipzig. While at home, he has taught with the German Language School of Edmonton. He also holds a TESOL certificate and has led ESL conversation classes with the Learning and Community Enrichment Program in Edmonton. Adam sure plays a mean trumpet!
Fr. Maike Baumgärtner

Maike Baumgärtner is a doctoral candidate at Kassel University. She finished her Master's degree in English and American Studies in 2017, after completing her first Bachelor's degree in Political Science and her second Bachelor's degree in English and American Studies. In 2015, Maike spent an exchange term at the University of Alberta (Augustana) and returned for further research in 2017. Currently, she is part of the organizing team of the Emerging Scholars' Forum of the Association for Canadian Studies in German-speaking Countries. Maike joined the CSSG-team as program assistant in 2019.
Canadian Summer School in Germany
Modern Languages and Classics
Dr. John L. Plews
Mailing address:
923 Robie Street
Halifax, NS B3H 3C3
Canada