Mission & Strategy
---
Our Vision
To lead in discovery and learning for global impact.


Our Mission
The Sobey School of Business, through active learning and the creation and mobilization of scholarship, prepares citizens of the world to lead sustainable, entrepreneurial businesses and communities.


Elevating Impact
Strategic Plan, 2020-2025
Download Elevating Impact: Sobey School Strategic Plan 2020-2025
Our strategy statement, Elevating Impact, is intended to communicate the Sobey School's strategy to everyone within our organization. Elevating Impact summarizes our strategic purpose and conveys our shared ambition. It encapsulates our brand, our purpose, our strategic goals and objectives.
Consider Elevating Impact to be the strategic directive to our entire organization—our students, faculty, staff, alumni and community partners. This directive includes focusing our organization's attention on the need to make an impact; inspiring our people by demonstrating that their efforts are meaningful; encouraging individual and group participation and contribution; and directing resources to the fulfilment of our key strategic objective.
Elevating Impact­—it is why we exist and why we will thrive in an increasingly complex and competitive landscape.


Goals
ADVANCE
Enable greater student engagement and success through transformative learning experiences that incorporate social responsibility, leverage intercultural perspectives and develop creative and entrepreneurial mindsets.
DISCOVER
Foster an environment of intellectual discovery that inspires research excellence, encourages collaboration, and serves society.
CONNECT
Engage with the broader community to enrich learning and discovery, and address issues of local and global significance.


Our Strategy Weave
This image visually demonstrates the guiding principles that are foundational to our strategic plan.
Our unique value proposition—the transversal themes of Innovation & Entrepreneurship, Global & Intercultural Perspectives and Social & Ethical Responsibility—weave through the traditional pillars of business education: teaching & learning, research and community engagement. The framework of a 'weave' is intentional: it is strong and flexible, multi-dimensional and integrated.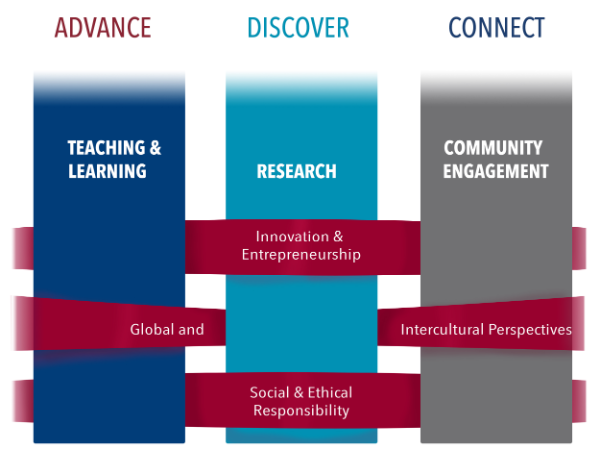 ---
Dean's Reports
Dean's Community Report 2021-2022 (PDF Version)
Dean's Community Report 2021-2022 (website version)
Dean's Community Report 2019-2020
Dean's Community Report 2018-2019

Research Bulletin
Download the 2021 Sobey School of Business Research Bulletin

Impact Reports
Sharing Information on Progress (SIP) 2022 PRME Report
Building a More Resilient Community: The Sobey School of Business COVID-19 Pandemic Response (September 2021)
Education for Values-Based Business: The Co-operative Difference (November 2018)
Download now: Creating Impact With Purpose (2016 BSIS Report) (October 2016)

Archived Reports
Download the Sobey School of Business 2019-2020 Research Bulletin

Download the 2018-2019 Research Bulletin (released June 2020)
Final report on the 2013-2018 Strategic Plan (2018): http://sobeyschoolreport.smu.ca
Progress Report on the Strategic Plan (2016)
Sobey School of Business Strategic Plan 2013-2018 (Summary PDF)
Read this Report from the Dean: Exemplifying Internationalization (June 2016)
Read this Report from the Dean: Entrepreneurial Excellence (February 2016)
Read this Report from the Dean: Partnering for Prosperity (Fall 2015)
Download and read our Update to Community (Fall 2014)