Philanthropic History
Philanthropic History & Impact - Sobey Family, The Sobey Foundation, Sobeys Inc. & Empire Company Limited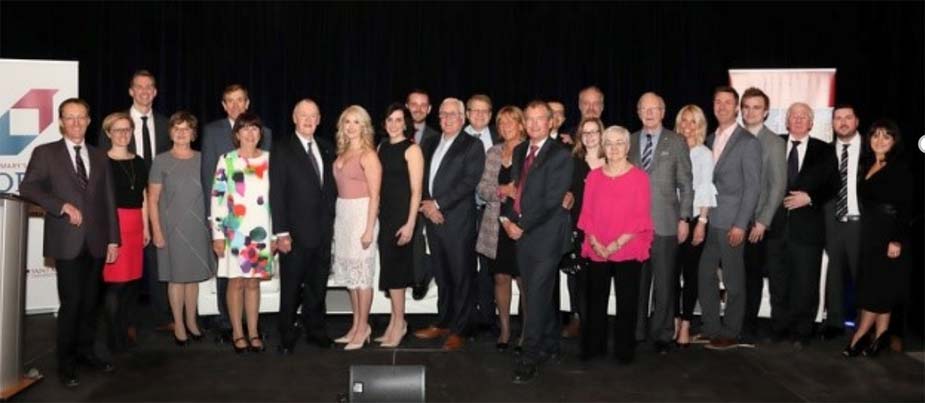 James Dickson, Chair of Empire Company Limited, and Michael Medline, President & Chief Executive Officer of Empire Company Limited and its wholly-owned subsidiary Sobeys Inc., join members of the Sobey family at the announcement of their $18 million investment in the Sobey School of Business.


Generations of Giving
By Kate Elliot and Suzanne Robicheau
The story of the Sobey family connection to Saint Mary's University is a remarkable one. Spanning decades and crossing generations, it is a relationship that grew over time.
The Sobey family connection and generosity to Saint Mary's University began in 1975 with Frank H. Sobey, the entrepreneurial visionary who built a grocery empire from a meat delivery service established in Stellarton, Nova Scotia by his father, John William (J.W.) Sobey. After a request from Robert Burns (R.B.) Cameron Sr., philanthropist, industrialist, and good friend of Saint Mary's, Frank made the first donation from Sobeys stores to the university. He later went on to sit on a campaign advisory board and serve on Saint Mary's University's Board of Governors. The university acknowledged his many accomplishments, business innovation, and community service by awarding Frank an Honorary Doctor of Laws in 1979. The Faculty of Commerce was renamed the Frank H. Sobey Faculty of Commerce in the early 1990s.

The Frank H. Sobey Awards for Excellence in Business Studies were established in 1989 as another tribute to this important relationship and as a compelling way to encourage entrepreneurship. Now valued at $25,000 each, these prestigious awards recognize top business students from all universities in Atlantic Canada. Eight awards are presented each year and competition for the scholarships is fierce. The Sobey School of Business is proud to have had 26 of their students claim these prizes since 1989.
When Frank passed away in 1985, Saint Mary's received a generous bequest through his estate. The greater gift, however, was the encouragement Frank gave his children and his grandchildren to connect with and support Saint Mary's. Many members of the Sobey family are graduates of Saint Mary's, and over the years, the family's volunteer commitments and charitable contributions have made an enduring mark on the University, with transformative gifts for academic programs, student financial aid, and infrastructure.
The University has also benefitted from the long-standing support of Empire Company Limited, Sobeys Inc., and the Sobey Foundation, founded in 1982 by Frank and his three sons, David, Bill, and Donald. The Atrium and Global Learning Commons, for example, received $400,000 through a $2 million gift to the Hearts & Minds Capital Campaign from Sobeys Inc., Empire Company Limited, and the Sobey Foundation. The remaining $1.6 million of the gift went to establish two major endowed student awards: Sobeys Leadership Awards and Sobeys Scholar Awards. Since their inception in 2006 and 2007, respectively, these awards have disbursed a combined total of more than $570,000 to deserving students in the Sobey School of Business. Continue reading the full story here.


Learn more about the transformational gift and the story of the Sobey family connection to Saint Mary's University:
Elevating The Sobey School of Business Through Transformational Philanthropy
Through the years: 2000-Now
Transformational gift announcement from the March 21, 2019 news page
President's remarks from the March 2019 gift announcement