Margaret MacDonald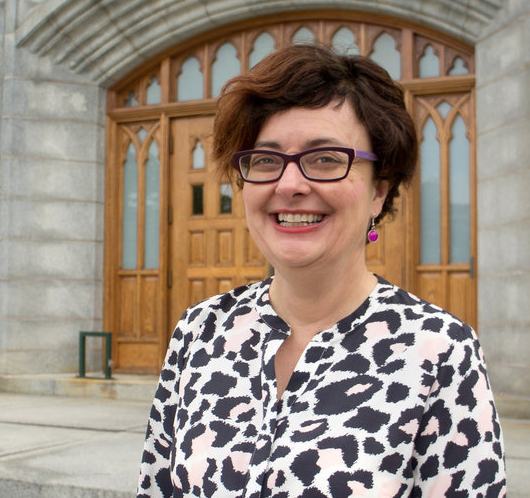 Dr. Margaret Y. MacDonald, Professor

Email: Margaret.MacDonald@smu.ca
Primary Field of Study
Early Christianity; New Testament
Secondary Fields of Study
Women and Christianity; family and religion; gender and religion; childhood and religion



Education
DPhil in New Testament Studies, Oxford University

B.A. (Hon), Religious Studies, Saint Mary's University



Publications (recent)
"The Religious Lives of Women in the Early Church," in Carol A. Newsom, Sharon H. Ringe, and Jacqueline E. Lapsey (eds.), The Women's Bible Commentary: Revised and Updated (Twentieth Anniversary Edition). Louisville, Kentucky: Westminster John Knox, 2012, 640-647.

"Reading the New Testament Household Codes in Light of New Research on Children and Childhood in the Roman World," Studies in Religion/Sciences Religieuses 41/3 (2012): 376-87.

"Reading 1 Corinthians 7 through the eyes of families," in Carolyn Osiek and Aliou C. Niang (eds.), Text, Image and Christians in the Graeco-Roman World: A Festschrift in Honor of David Lee Balch. Eugene, Oregon: Wipf and Stock Publishers, 2012, 38-52.

"A Response to Elizabeth A. Clark's Essay 'Status Feminae: Tertullian and the Uses of Paul'," in Todd D. Still and David E. White (eds.), Tertullian and Paul, The Reception of Paul in the Early Church. New York and London: T&T Clark, 2013, 156-64.

"Editorial Introduction: Special Issue on Children and Childhood in Early Judaism and Early Christianity," Studies in Religion/Sciences Religieuses 41/3 (2012): 341-49.

"Portraits of Paul in Colossians and Ephesians," The Bible Today September/October 2013: 289-94.

"The Deutero-Pauline Letters in Contemporary Research" in R. Barry Matlock (ed.), Oxford Handbook of Pauline Studies. Oxford: Oxford University Press, 2014. Oxford Handbooks online, 2014. DOI:10.1093/oxfordhb/9780199600489.013008.

The Power of Children: The Construction of Christian Families in the Greco-Roman world, Waco Texas: Baylor University Press, 2014.

"Like Father Like Son: Reassessing Constructions of Fatherhood in Ephesians in Light of Cultural Interests in Family Continutiy, in Anne Hegge Grung, Marianne Bjelland Kartzow and Anna Rebecca Soleväg (eds.), Bodies, Borders, Believers: Ancient Texts and Present Conversations: Essays in Honor of Turid Karlsen Seim on her 70th birthday. Eugene, Or: Wipf and Stock, Pickwick Publications, 2015, 125-143.


"Paul and Family Life," in J. Paul Sampley (ed.), Paul in the Greco-Roman World: A Handbook, Second Edition, 2 vols, London: Bloomsbury, T&T Clark, 2016, 254-81.

"The Problem of Christian Identities in Ephesians: Inspiration from the work of Nils Alstrup Dahl," Studia Theologica – Nordic Journal of Theology 70 (2016): 1-19.

"Re-envisioning Ekklesia Space: Evidence of the Flexible Use of Household Space for Religious Instruction and Practice in the Pastoral Epistles," in Marcus Őhler and Norbert Zimmerman (eds.), Sacra Privata: Domestic Religion in Greco-Roman Antiquity and Early Christianity, Archiv für Religionsgeschichte, 18-19 (2017): 91-104 DOI: Berlin: De Gruyter, 2017.

"Always be Steady and Endure Suffering (2 Tim 4,1-22): Advising the Teacher in the Roman Imperial World", in Reimund Bieringer (ed.), 2 Timothy and Titus Reconsidered Der 2. Timotheus und Der Titusbrieft in Neuen Licht, Colloquium Oecumenicum Paulinum, Leuven: Peeters Publishers, 2018, 87-109.

"God's Gift in Ephesians: Dwelling in the Space of Divine Transcendence in the Face of Hopelessness and Dislocation", Horizons in Biblical Theology 41.2 (2019): 209-223.

"The Thessalonian and Corinthians Letters," in Bruce W. Longenecker (ed.), The New Cambridge Companion to St. Paul (Cambridge: Cambridge University Press, 2020), 69-91.
Contact us
Faculty of Arts
Department for the study of Religion
902-491-6286
Mailing address:
923 Robie Street
Halifax, Nova Scotia
B3H 3C3