Bob Warner Memorial Fund
In Memory of Bob Warner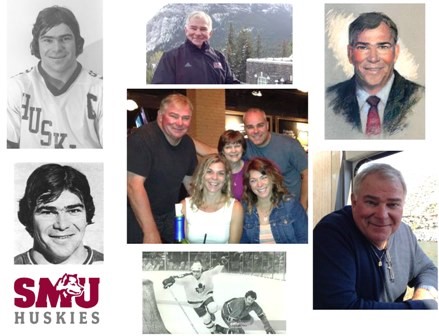 In lieu of flowers or other tribute, the family appreciates contributions in Bob's name to the Men's Hockey program at Saint Mary's University. To make a memorial gift for Bob Warner BA'75, click here.
Bob Warner and SMU Hockey will always be synonymous. As a player, he was a Hall of Fame defenseman under legendary Head Coach Bob Boucher. Four straight years he helped the Huskies reach the National Championship final, his last appearance as Team Captain. After graduation, Bob signed with the Toronto Maple Leafs and began a pro career that took him to Maple Leaf Gardens and across North America, ending in 1981 with the Moncton Hawks of the AHL, accumulating a total of 399 pro games.

Hockey was Warnie's sporting passion but his true love in life was his wife Rachelle whom he married while at Saint Mary's. A fiercely proud Hockey Huskies alumnus, Bob spent 5 decades relentlessly supporting his alma mater and the Huskies. A key figure in the Bob Boucher Hockey Assistance Fund and a leadership role in helping to shape the alumni engagement when SMU hosted the Hockey Nationals in 2015 are but two examples. Rarely did the Huskies play at home that Warnie was not on hand.