Marine Mammal Summer Camp
August 3-12, 2024
Think marine research and fieldwork might be in your future? This summer, take part in a 10-day Marine Mammal Summer Camp that will introduce you to the exciting world of marine mammal conservation and research.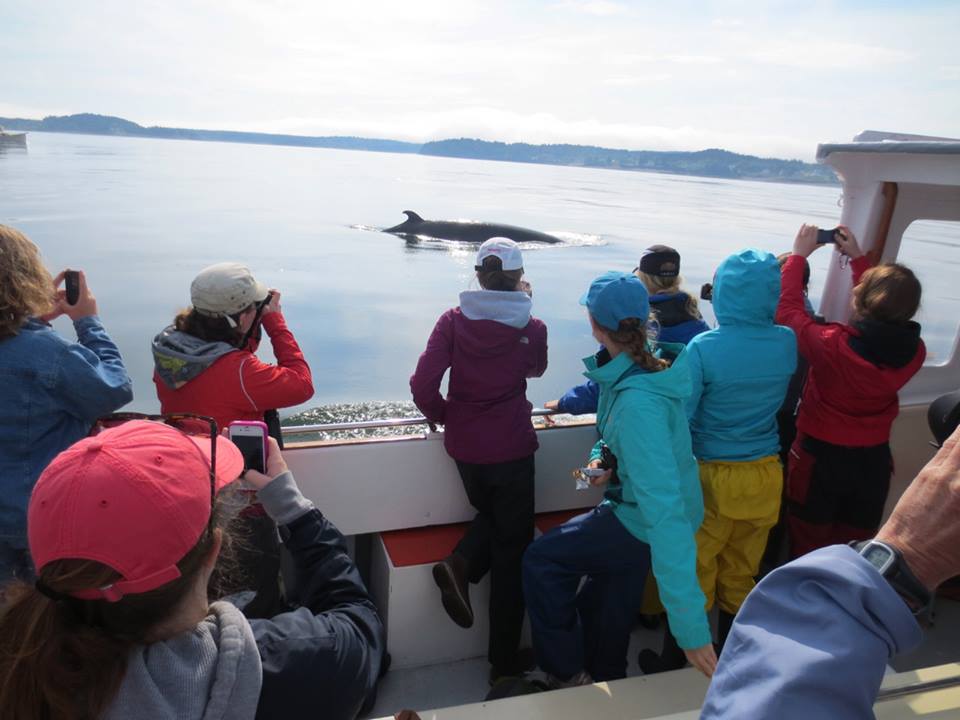 Beginning at Saint Mary's University in Halifax, Nova Scotia, campers ages 14 to 17 will work together to explore the biology and evolution of marine mammals using surveys, photo-identification, acoustic monitoring, DNA analysis, examination of marine mammal skeletons, and more!
A few days into camp, we'll move to Campobello Island, New Brunswick, where campers will participate in the daily operations of scientific fieldwork and field-camp life. There we'll meet with marine mammal scientists and local fishermen, and conduct ocean-based and on-shore surveys for marine mammals.
Marine Mammal Summer Camp is presented by the Faculty of Science at Saint Mary's University and the Canadian Whale Institute.
Is Marine Mammal Summer Camp right for you? Ask yourself the following questions:
Do you have a keen interest in marine mammals and the marine environment, and are you interested in their protection and conservation?
Do you want to gain hands-on experience conducting scientific research?
Are you motivated to learn, and are you responsible?
If you answered 'yes' to these questions, then the Marine Mammal Summer Camp seems like a good fit!
Questions? Email outreach.science@smu.ca
---
What We Provide
During the 10-day camp, campers will receive 24-hour supervision in addition to the following:
Accommodation and bedding
Nutritious meals and snacks
Transportation to and from all activities
Camp programming and admission to special events and activities
Supplies and materials for all research activities and experiments (with the exception of appropriate weather-related gear for rainy conditions)
---
How to Apply
Due to the nature of the camp and the travel involved, there are a limited number of spaces for campers. Because of this, interested students must apply and be accepted to Marine Mammal Camp before they can register. Regrettably, given the limited number of spaces, it may not be possible for all applicants to attend camp this year.
The Marine Mammal Summer Camp application has two parts:
2023 Marine Mammal Camp Application Form, including Academic Performance information*
Student Essay: In a 500- to 750-word essay, explain why you want to participate in the Marine Mammal Summer Camp and what you hope to gain from the experience. Please make sure your essay is clear and legible; typed essays are preferable, though not required.
*Please note that although academic performance is considered when evaluating applications, it is not a primary determinant of acceptance; considerable weight will be put on student essays as well.
We will begin taking applications in February, 2024 (date to be announced). Application deadine will be in April. Please note that each application received before the deadline will be considered equally, there is no rush to apply early. Due to high demand we are not able to take late applications.
Dates: August 3-12, 2024
Cost: $1,700 per camper.
A limited number of need-based bursaries are available. Please note that if you would like to apply for a bursary, you must submit the application at the same time as the Camp application form. Click here to request a Marine Mammal Camp - Bursary Application.
---
Okay, I've applied. What happens next?
Once we've received your application, we will send you a response by email. If you are accepted, we will then request that you complete your registration, which will require the following documents:
Registration Form
Parental Consent Form
Once your registration is complete, you will receive confirmation of enrolment - and we'll see you in August!
---
Instructors
Dr. Brenna McLeod Frasier, Ph.D. Researcher and Educator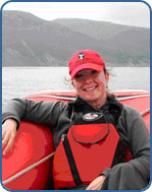 Brenna is interested in the use of genetic analyses to better understand species history, evolution, diversity, and status of a variety of marine mammals. Exploitation over the last few centuries has devastated many marine mammal stocks worldwide and the effects of population reductions, the extent to which species are now recovering, and the means to evaluate this recovery is only now beginning to be understood. Primarily, though not exclusively, her research involves the assessment of genetic diversity within historic (using ancient DNA) and contemporary marine mammal populations that have been reduced by hunting/whaling activities. In addition, her interests lie in the use of ancient DNA analysis to explore and elucidate species demographic history as it relate to historical climate change. With a clearer understanding of species history, current status, and recovery, we can better aim resources and strategies for conservation and management of marine mammals.
Brenna has a PhD. in Environment and Life Science from Trent University. She is currently a research associate with the Frasier Lab of Molecular Biology and Evolution at Saint Mary's University and the Nova Scoia Museum of Natural History.

‌Dr. Timothy Frasier, Department of Biology, Saint Mary's University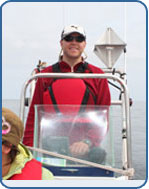 Tim is an Associate Professor at Saint Mary's University (Halifax, Nova Scotia) in the Department of Biology and the Forensic Science Program. He has been conducting genetic analyses on the North Atlantic right whale since 1999, when he began his graduate work in the laboratory of Dr. Brad White (then at McMaster University, now at Trent University). His Ph.D. focused on combining photo-identification and genetic data to better understand the reproductive biology of right whales. This work has led to several new insights into patterns of reproductive success in this species, as well as to a better understanding of the factors influencing reproductive performance. This work is ongoing, and Tim and Brad are currently working to continue the genetic analysis of the North Atlantic right whale. In addition to his work on right whales, Tim also conducts genetic analyses of several other whale species (including the St. Lawrence beluga, and eastern North Pacific gray whales), and he is involved in several other projects that focus on obtaining better understanding of the reproductive biology of small populations and/or endangered species.
Contact us
Faculty of Science
Mailing address:
Saint Mary's University
923 Robie Street
Halifax, Nova Scotia, B3H 3C3
Social media