Atlantic Provinces Place Names
Welcome to the Atlantic Provinces Sign Language Place Names map!
This map is the first of its kind to contain place names across Atlantic Canada in American Sign Language (ASL) and the regional dialect Maritime Sign Language (MSL).
Take a moment to view the introductory video on this page before moving onto the maps listed below.
There are many cities across the Atlantic Provinces that have unique sign names that demonstrate the languages used locally, both American Sign Language (ASL) and Maritime Sign Language (MSL). As well, many cities have no unique sign name for various reasons. These cities are fingerspelled and documented here to indicate that no sign name has been established yet.
If you are an ASL and / or MSL user, learner of the language, or interested in geography or languages this map will be of use to you. Communicating using correctly articulated and appropriate signs is critical for clear communication and respects the Deaf community and their culture.
All on-screen signers are local Deaf community members from Nova Scotia, New Brunswick, and Newfoundland & Labrador. The first phase of the project was funded by Atlantic Deaf and interpreting community organizations; the second phase was funded by the NS Department of Communities, Culture & Heritage - Diversity and Community Capacity Fund. Without this support that project would not have been successful. Thank you to everyone involved!
Maps
How to use the map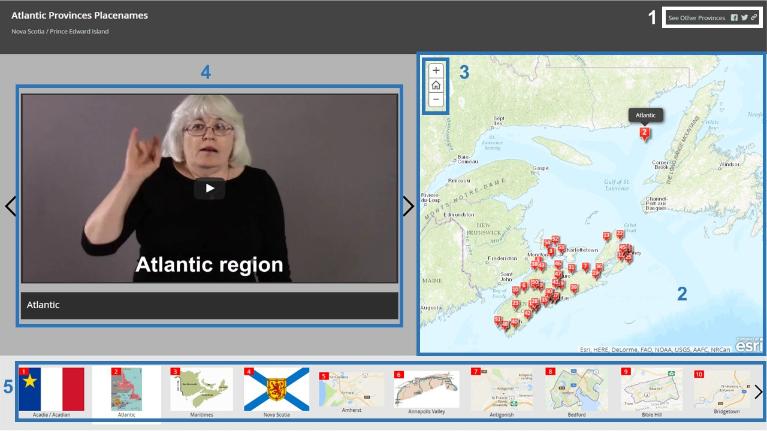 Click on "See Other Provinces" to go back to the main webpage to view other maps. Click on the Facebook, Twitter, or Link to share the map with your friends and colleagues.
The map area. You can scroll around the map, use your mouse or touchpad to zoom in and out, and select place names by selecting the red numbered flags.
The zoom in and out controls. The house icon will re-centre the map for you.
This is where the selected place name will automatically begin to play. If you hover over the video and select the zoom out icon at the top right corner the video will play full screen.
The list of place names included in the map. You can scroll left and right and select the desired place name.
In the Media
Saint Mary's University press release
CBC News: 120 Atlantic Canadian places now easier to name in sign language
News 95.7 The Sheldon MacLeod Show: 95.7 Interview Audio / 95.7 Interview Transcript
esri Canada: Saint Mary's University releases Sign Language Place Names Map
For more information about this project please contact:
and / or
Faculty of Science
Mailing address:
Saint Mary's University
923 Robie Street
Halifax, Nova Scotia, B3H 3C3