Faculty and Staff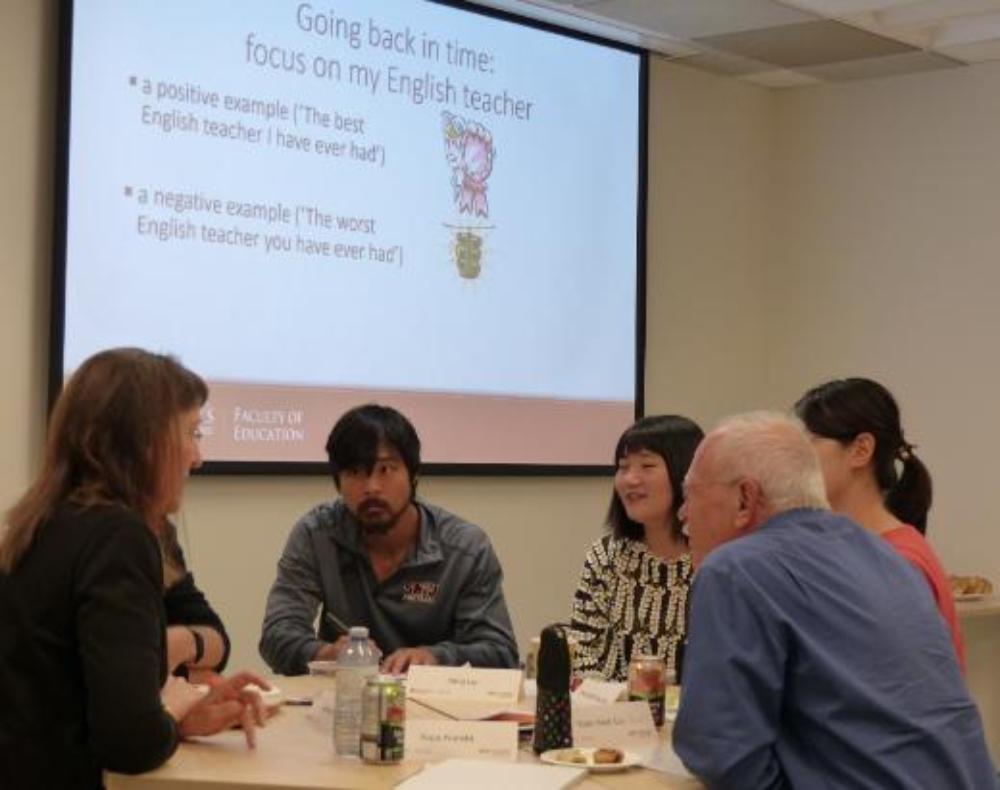 IMTE courses are taught by senior professors from Saint Mary's Faculty of Education, the Language Centre, and from visiting professors from partner universities abroad. Our faculty are leading experts in their respective fields, focused on student success and the development of new, evidence-based knowledge in language education.
Dr. Esther E. Enns
Dr. Esther E. Enns, Associate Vice-President for Teaching and Learning, leads the International Master of Teaching English program (IMTE) at Saint Mary's University in Halifax, Canada. As professor in the IMTE program, she teaches in the areas of experiential learning, reflective practice and action research for teacher development, second language acquisition principles for teaching, and cultural perspectives on second language education
Dr. Enns holds two degrees from the University of Toronto - a Ph.D. in Curriculum Studies/Foreign Language Education, and a Master of Education degree in educational linguistics. She completed an MA in German Literature at McMaster University after studying as a DAAD Fellow at the University of Erlangen in Germany, and holds a Bachelor of Science in Languages (Honours) degree in translation and interpretation from Laurentian University.
During the past eighteen years, Dr. Enns was Dean of Arts from 2002 to 2014, served as Acting Dean of Education, and was appointed Acting Vice-President, Academic and Research during 2016-2017. In her current role, she leads the University's centre for teaching and learning, and also serves as chair of numerous university committees including the strategic Intercultural Learning Team.
Before joining Saint Mary's, Dr. Enns was a Full Professor at the University of Calgary where she was on faculty for eighteen years. She taught in the Dept. of Germanic, Slavic and East Asian Studies in the areas of German language and culture, translation studies and foreign language teaching. Her scholarship pertains to foreign language pedagogy and teacher development. At Calgary she established the Language Research Centre for the advancement of language education. This project won a $1 million grant from the Canada Foundation for Innovation – the first such grant for a humanities project in Canada.
Dr. Enns is a native bilingual in German and English, is proficient in French, and has a working knowledge of Spanish. She is a nationally accredited translator and interpreter, and was selected as an official interpreter for the 1988 Olympic Winter Games in Calgary. Her lifelong commitment to language learning in support of global engagement has earned her numerous awards related to her teaching and her national and international professional service to the language teaching profession. These honours culminated in her being named a 3M National Teaching Fellow ('98) in recognition of her excellence in teaching and educational leadership.
Dr. June Ruivivar
Lecturer, IMTE
IMTE 5000: Professional Language Portfolio (PLP)
IMTE 5641: Principles of Language Acquisition for Education
IMTE 5658: Language Awareness for Teaching and Learning
Dr. June Ruivivar teaches in the areas of second language education, phonology, and grammar. She holds a PhD in Education and a master's degree in applied linguistics, both from Concordia University in Montreal. Before joining IMTE, Dr. Ruivivar taught in applied linguistics and teacher training programs at Concordia University, McGill University, Université du Québec à Montréal, Université de Sherbrooke, and Simon Fraser University. She has also worked in materials development, most recently collaborating with CBC on the French-English mobile learning app Mauril. Her research on teaching French and English as a second language, second language speaking, and sociolinguistic aspects of language acquisition has been published in leading applied linguistics journals, and her doctoral work on social networks and sociolinguistic competence won the 2019 Larry Vandergrift Best Graduate Paper prize awarded by the Canadian Modern Language Review.
Julian L'Enfant, M.Ed. (Plurilingual Education), Dip.RSA
Educational Developer – Teaching Support / Adjunct Professor, Faculty of Education
IMTE 5000 – Professional Language Portfolio
IMTE 5658 – Language Awareness for Teaching and Learning
IMTE 5625 – Practicum I
Julian L'Enfant has over 20 years' experience in language education in the private and public sectors and has been a Cambridge Assessment English teacher-trainer/assessor for 18 years working in many parts of the world. He completed the DTEFLA (now DELTA) in Poland, and has an M.Ed. in Plurilingual Education from the University of Aberdeen, UK. His research interests are focused around making space for learners' languages, culture and traditions, promoting plurilingual and pluricultural competences in second language and subject classrooms and developing subject-specific literacy in Higher Education.
Dr. Jennifer J. MacDonald
Director of English Language Studies at Dalhousie University
IMTE 5650, International Issues in English Language Education

Dr. MacDonald researches, publishes, and presents in English, French and Spanish on topics at the intersection between critical applied linguistics, internationalization of higher education, and the teaching of English to speakers of other languages (TESOL). Her research tackles the challenges of language policies, politics and pedagogy in the linguistically-diverse context of internationalized Canadian higher education. Her books include an EAP writing textbook, Academic Inquiry 1, Sentences and Paragraphs (with Marcia Kim, Oxford University Press, 2017) and New Perspectives on Pedagogies for English for Academic Purposes (co-edited with Carole MacDiarmid, Bloomsbury, 2021). Dr. MacDonald is also Director of English Language Studies at Dalhousie University, Halifax, where she leads a variety of programs in English for Academic Purposes (EAP) and professional development for educators. She contributes to institutional initiatives in support of international students, academic language and literacy, and internationalization.
Dr. Ayesha Mushtaq
Associate Director English Language Studies Program (Dalhousie University)
Adjunct Professor (Saint Mary's University)

IMTE 5000 - Professional Language Portfolio
IMTE 5658 - Language Awareness for Teaching and Learning
IMTE 5655 - Environments for Language Learning: Methods and Materials
IMTE 5710 - Course Design in Action

Dr. Mushtaq is a higher ed. Practitioner with a strong interest in language curriculum and pedagogy. She has worked in the field of English language studies for more than fifteen years and teaches a variety of teacher training courses in English language studies including ESL, EAP, CLIL and EMI. Her doctoral thesis focuses on Internationalization of Curriculum in Higher Education in the context of Educational Leadership. Her research interest is in Applied Sociolinguistics, University's Social Responsibility and Educational Leadership in global contexts. She is happy to chat with you and find more about your research interest.
International Partnerships and Visiting Scholars
Through our partnership with Justus Liebig University (Giessen), Giessen, Germany, a number of Professors have taught courses within the IMTE program and contributed to the overall program development and delivery.
Dr. Leonhard Krombach
Visiting Professor, Justus Liebig University (Giessen),
Dr Krombach teaches several TEFL courses at JLU, covering the spectrum of the didactics of literature and culture as well as the didactics of language and media. The concept of his courses links theoretical knowledge of teaching strategies to material analysis and evaluation with practical micro-teaching units in which prospective teachers can act out their ideas in a safe environment. Focus thus lies on critical analysis relying on competency-based frameworks of didactics and education policy.
His current research interest reflects the broad field of TEFL. His work includes funded projects focusing on the exploration of virtual reality for teaching, developing teaching scenarios and assisting colleagues in e-mentoring and e-teaching.
Dr. Leo Will
Adjunct Professor, Education & Linguistics
IMTE 5650, International Issues in English Language Education
Leo teaches TEFL (Teaching English as a Foreign Language) at the English Department of JLU. He has recently published the monograph "Authenticity in English language teaching" (2018) as his PhD thesis. Leo is closely connected with a number of researchers and teachers in Germany and Finland as he is engaged in the comparative study of education systems. Beside his primary projects, Mr. Will is currently working as a materials writer designing a book for English teachers in year 5 where they usually deal with highly heterogeneous groups of learners (German context).
Expertise:
Foreign Language Teacher Education
Authenticity
Vocabulary Learning
EFL Textbooks
Transculturality
Critical Discourse Analysis
Narrative Inquiry
Dr. Michael K. Legutke
Professor Emeritus, Department of English, University of Giessen, Germany
---
More information
If you have any questions about the IMTE program, please Email us: IMTE @smu.ca