Canadian Summer School in Germany
Courses
Our courses are intensive (equivalent to a full-year university course in 6 ½ weeks). They are designed to develop further comprehension, writing, reading, and speaking skills as well as cultural knowledge through interactive classroom instruction, assignments, and related activities outside the classroom. The courses are complemented by excursions and immersion experience - including living in a German home.
Improvement in overall fluency, enhanced knowledge of the culture of the German-speaking countries, introduction to literature study skills, and review of key grammatical concepts are integral to the courses. The language of instruction for these courses is German and all texts are in German.
Having the class conducted completely in German with textbooks that contain no English will be new for some of you, but we will support you and encourage you to work through the challenge this may present. On class days, one-on-one tutoring is offered by your professors. Students who may be frustrated at the beginning recognize the many benefits by the end of course.
These courses and their prerequisites are based on information gathered from national surveys of Canadian universities and colleges completed by the former CSSG Director Dr. Kim Misfeldt. (The surveys were conducted in 2004, 2007, and 2016).
These surveys are critical to ensure that students will not only be prepared for their CSSG course in Kassel but will also, upon successful completion of the program, have acquired the necessary German language skills for the next course level at their home university.

Course Content and Focus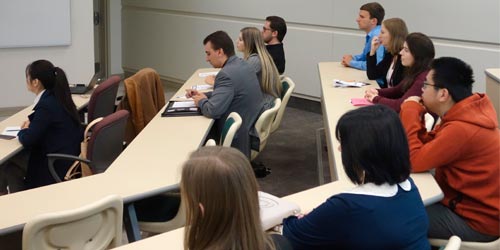 CSSG courses have as primary goal the continued and focused improvement of the students' language learning skills and overall speaking proficiency. Due to the fact that the CSSG placement test results demonstrate that the most common area needing improvement among students at all levels, besides grammar, is listening comprehension, we have chosen to highlight listening comprehension and speaking skills in our courses.
Interactive listening and speaking skills are improved through the following:
immersion experience, living with a host family, and communicating solely in German;

listening comprehension and group discussion tasks in class;

interview tasks with people in the community;

giving individual and group presentations.
Reading and literature study skills are greatly enhanced through the reading of a drama, a novel, or collecion of stories in each course.
Writing skills are improved through regular writing assignments as well as a weekly journal. This journal also encourages critical reflection on the student's integration into daily life in Germany and facilitates growth in intercultural awareness and competency.
CSSG courses also review and cover new key grammatical concepts. The selection of grammar content is partly based on the prerequisites derived from the national survey of Canadian universities and colleges by Dr. Kim Misfeldt.
Apart from the excursion days and public holidays, we have classes from 9:00 a.m. till 12:30 p.m. on Mondays through Fridays (totalling 77 hours). Assessment is both formative and summative: in addition to the assignments and activities mentioned above, you will be required to do vocabulary quizzes and up to two exams (mid-term and final). The CSSG instructors will help you with your assignments and to prepare for tests in the one-on-one tutorials offered in the afternoons. Please see the course syllabi for more details about each course.
Please remember that this is an intensive program (see: A Typical Day in the Program) that necessitates careful planning on your part. We want all our students to succeed academically and to enjoy their learning experiences with us in Germany. Our experience shows that you will benefit most from this program when you do the following:
Speak GERMAN all the time, even when CSSG faculty members are not around. Starting to speak German in the last week of the program will definitely not help you improve your speaking skills a great deal.

Do your homework immediately after the lunch break. Letting homework pile up leads to stress and frustration. Make use of the individual help sessions provided by CSSG faculty by appointment after lunch. Hand in your homework on time; this gives you a useful daily update on your learning progress.

In case you need help with any aspect of the course content; grammar, writing, giving presentations, etc., do not hesitate to ask for help from your course instructor or any of the other instructors.

Be active in class! You will benefit most from the activities in class when you actively participate.

Be OPEN-MINDED and INQUISITIVE about new ways of learning grammar, vocabulary, culture, etc. Do not hesitate to let your instructors know if you have any questions or need extra help.

Credits
The courses offered by CSSG are Saint Mary's University courses. The six credits are equivalent to the credits of two semesters everywhere in Canada and will be transferred to the participants' home institutions upon successful completion of the program. (Please note: GER 4847/5847 is a 3 credit course.) The following are examples of course syllabi (they are updated with the most recent syllabi each spring before the program):
First-year, second semester equivalent plus extra intercultural learning (six credit hours): GRMN 1846: Waystage German Immersion & Intercultural Learning (1000-level syllabus-2018)
Second-year equivalent (six credit hours): GRMN 2846: Intermediate German Immersion I & II outline (2000-level Syllabus-2018)‌

Third-year equivalent (six credit hours): GRMN 3846: Advanced German Immersion I & II outline (

3000-level Syllabus-2018)
Fourth-year equivalent (six credit hours): GRMN 4846: Advanced German Immersion III & IV outline (4000-level Syllabus-2018‌)
Community Service Learning (three credit hours): GRMN 4847/5847: German Immersion Community Service Learning outline (CSL Syllabus 2018‌)
Teacher Professional Development (six credit hours; blended online & immersion): GRMN 4848/5848: German Language Teaching and Learning (GRMN 4848 & 5848 CSSG Syllabus)
Community Service Learning (six credit hours): GRMN 4849/5849: German Intercultural Community Service Learnng (This is a new course; syllabus forthcoming)
---
Exciting course for teachers, graduate TAs, & student-teachers
For Education students specializing in teaching German, graduate student teaching assistants working in Master's and doctoral programs, and in-service German teachers looking for professional development opportunity or anyone intending to teach German someday, we are glad to offer a course on German Language Teaching and Learning.
B.Ed.- and senior undergraduate-level: GRMN 4848 German LanguageTeaching and Learning (six credit hours)
Graduate- and in-service-level: GRMN 5848 German Language Teaching and Learning (six credit hours)
This is an intensive blended course designed to improve students' understanding and application of second language acquisition theories and pedagogical content knowledge through online and classroom instruction as well as immersion experience.
This course examines approaches such as content and language integrated learning, drama pedagogy, intercultural ethnography, and task-based language teaching in an immersion setting. Students also enhance their own German language skills, specifically as relating to everyday interaction, classroom language, and language awareness. Further development of knowledge about German culture, society, and/or history for the purpose of instruction in Canada is also integral to this course. The course materials, instruction, and assignments are in English and German; the immersion component is entirely in German.
This 6-credit course is a blended course with 45% of the distribution of course final grade accumulated through online activities and 55% through immersion / study abroad experience at the CSSG in Kassel, Germany. The online component is split into 30% for pre-departure non-synchronous activities and 15% for post-sojourn synchronous activities. Pre-departure non-synchronous online activities may begin late April or early May. Two post-sojourn synchronous activities will occur one week and two weeks after the sojourn. The sojourn lasts two weeks, scheduled to coincide with the third and fourth week of the CSSG. The sojourn will include classroom observations of Canadian learners of German at the CSSG, supervised interventions in CSSG classes, individual and group consultations, a homestay with a German family for the full two weeks, cultural excursions with the CSSG, and interaction with members of DaF (German as a Foreign Language) programs at local educational institutions in Kassel.
The course focuses on materials development for teaching language through cultural content using various approaches. There are readings in German (and also some in English) on this topic and the approaches before an onsite immersion component, followed by applied project assignments to end the course. The first and last parts of the course will take place online, with some aspects being self-guided or self-timed and other aspects more time-sensitive with deadlines and for discussion with peers. The heart of the course will be the two-week stay in Kassel. That stay includes classroom observations, debriefings, professional site visits to schools or teacher education institutions, a working excursion to Bremen, realia collection and materials development, a team-taught demo class, and homestay. It will be quite intensive, but there will also be time to just be in Germany too. There will be plenty of opportunities to network with other Canadian and US teachers and/or student teachers as well as with colleagues from Germany. Overall, the focus is on second language teacher education in the target language and not the language per se, though specialist language will also be developed.
This course will be taught by the CSSG instructors.
Please note that the dates and cost of GRMN 4848/5848 are different from other CSSG courses. The online portion of the class will begin by the end of April. Students will spend two weeks in Kassel in May and will continue the online portion of the class until mid-June.