Ossama Nasrallah BComm'18 & Omar Hassan BComm'16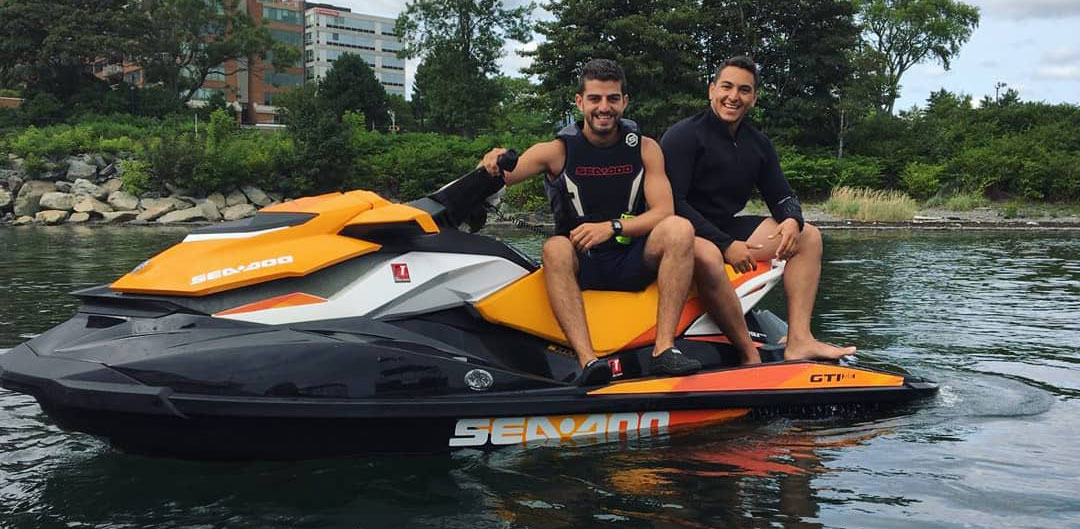 April 2020
Ossama Nasrallah BComm'18 and Omar Hassan BComm'16
Co-owners of Harbour Watercraft Tours & Adventures
Halifax, NS
What made you choose Saint Mary's University and the Commerce program?
The Sobey School of Business is one of the top business schools and we were on the hunt for a new educational home. Halifax also attracted us because of its natural beauty and its coastal lines, which helped us make the decision to come to Saint Mary's. We knew that intercultural learning was a big part of the university and we would be able to meet people from all around the world.
When did you meet each other and what prompted you to go into business together?
We met back in 2015 at Saint Mary's while working on a class project. In 2017, we were together in Vancouver at the Enactus National Exposition and that's when the idea came to our minds to launch Harbour Watercraft Tours & Adventures.
Could you tell us more about Harbour Watercraft Tours & Adventures?
The Harbour Watercraft Tours & Adventures began as a dream for us. The company provides a niche, fun and entertaining activity to the Halifax Harbour, offering Sea-Doo rentals and guided adventure tours. We have long shared a passion for the ocean, adventures and entertainment and turned that passion into a business idea. Our dream was to create a watersports company that has a vision of creating quality, one-of-a-kind entertainment, while simultaneously encouraging and proactively embedding safety, security and well-being, keeping both renter and public safety in mind as a top priority. In May 2018, we started to make our dream a reality. We combined our Sobey School of Business entrepreneurial mindsets, with our strong belief that there is a lot to explore in and around Halifax, and set out to make the city one of the most adventurous and recommended tourism destinations on the East Coast. We officially opened for business on July 1st, 2018 launching from King's Wharf in Dartmouth and in 2019 relocated to the "Salt Yard" area of the Halifax waterfront.
How has COVID-19 impacted your business?
​Unfortunately, COVID-19 affected our 2020 season significantly, leaving us with a lot of uncertainties and worries. In March, we had to defer our custom RHIB style vessel to season 2021, which we were extremely thrilled to introduce to the Halifax Harbour as a new line of niche experience. We were planning to double staff size this season to 12 employees; however, this plan was demolished due to the pandemic. We are still working with government officials to see if we will be able to operate in June this year while practicing social distancing.
What are the challenges and opportunities that have come out of the crises for you and/or Harbour Watercraft Tours & Adventures?
Aside from the challenge of uncertainty, the biggest step that we had to sadly take is letting our 2019 employees know they may not have the summer we initially promised them, if any summer at all for that matter, in 2020. Stressing on the fact that we are a small business, we wait nine months in order to try our best in the three months of the summer. Our biggest opportunity is that people after this pandemic will be out and excited for adventure. So, we will be there to put a smile on their faces. In terms of individual challenges, we both still have full-time jobs, which aids with financial challenges that the majority of people have been facing during these times.
How do you think small businesses will survive through the crisis?
Unfortunately, it will take acceptance from the small businesses that are affected. Accept the reality that we will be in this for the next few months, then move forward with an adjusted plan to try and survive as a small business. The hardest hit will be on businesses who were not able to continue sales, or were unable to cut costs, or were unable to try and keep sufficient cash flow for bare-bones operations. However, the government has been there for us to help us navigate and survive this.
Could you tell us about your initiative with Square Roots during the pandemic?
The Harbour Watercraft Tours & Adventures partnered with Square Roots, a vegetable bundle program, to deliver free food bundles to people in need. This month we have delivered more than 10,000 lbs of food to people who were most at risk all around the Halifax municipality. We do the deliveries in two steps. First, we deliver the vegetables from the farm to the Square Roots franchise locations for sorting and then we deliver the sorted bundles to people's doorsteps.
What was your experience like at Saint Mary's?
Ossama: I was able to get involved since day one on campus. In 2015, I became a Welcome Week pack leader and then went on to get appointed as the Vice-President of Student Affairs for the Students' Association. I joined multiple organizations and groups such as Model United Nations, Habitat for Humanity, as well as Enactus Saint Mary's and represented the university. Recently, I served as the President of the Students' Association for two terms, representing the 7000+ students and advocating on their behalf to the university, federal, and provincial government.
Omar: Since day one, Saint Mary's has welcomed me with a sense of community and encouragement. I was encouraged to work on my soft skills outside of my normal curriculum, and do more for the community. My biggest involvement with the community was when I lead an entrepreneurial project called the Startup 100 through Enactus Saint Mary's, where we helped 100 students launch businesses.
How do you feel Saint Mary's prepared you for your career?
Saint Mary's has supported us since day one of this journey, especially Saint Mary's University Entrepreneurship Centre, who guided us through our first proposal and later provided us with a wage subsidy to hire youth during the summer season. Omar and I were able to bring what we learned in the classroom to life through multiple community workplace options and that helped us shape and understand who we are, and what we want to do.
Do you have any advice for fellow alumni and students who want to start their own businesses?
Do not limit yourself to what is normal, work hard, be grateful and never settle! In Halifax, the sky is the limit. Being an entrepreneur might not be easy but it's rewarding. Seek help from others and never forget who supported you. Be part of the community and always give back.