Karl Coutinho BComm'04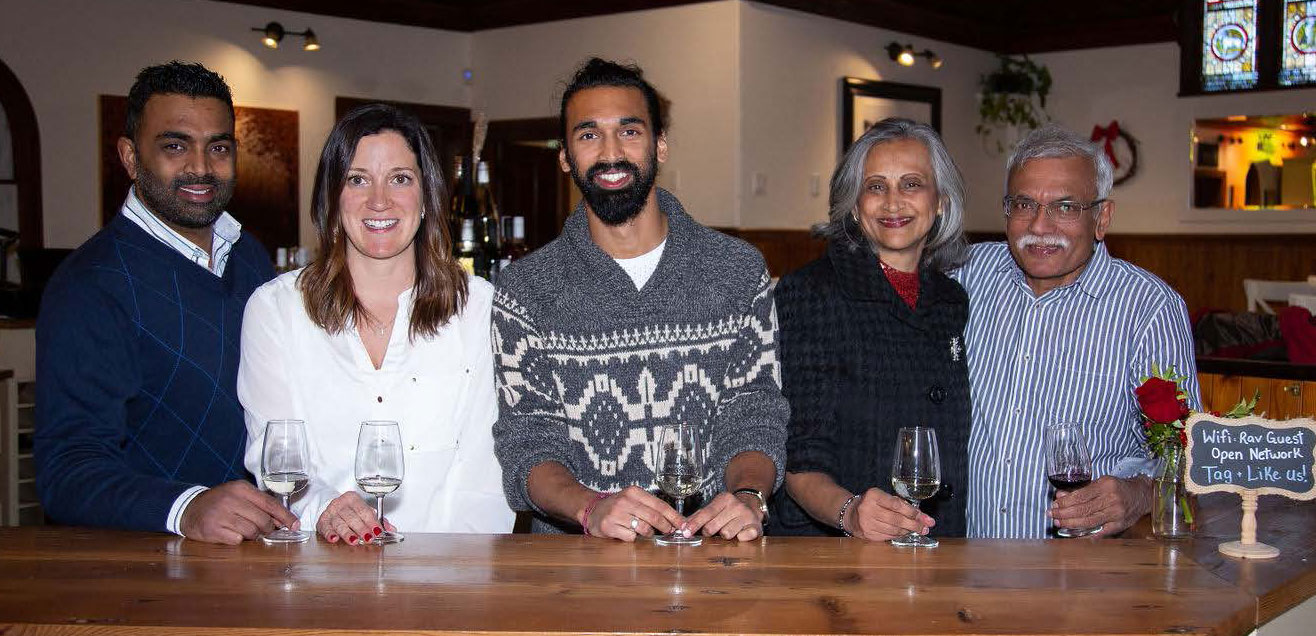 August 2020
Karl Coutinho BComm'04
President and Operations Manager at Avondale Sky Winery
Newport Landing, NS
"…anytime you can guarantee you will remain in Nova Scotia and help employ others to come and stay in our province; it is a good decision. We are thrilled that we followed through with the purchase of Avondale Sky Winery and would never look back."
What prompted you, and your family, to purchase Avondale Sky Winery?
My brother Sean BComm'14 and I had always had a drive to run our own business. When I had heard the winery was for sale through a business broker, I inquired, and as time would have it, both of my parents were retiring the same year and wanted "something to do" to stay busy and what better way to be busy than to own your own business. My wife married me for better or worse, so she loved the idea but certainly had some reservations about us taking on a business venture considering we had four young children aged four and under at the time. Even my parents were cautious and certainly had some valid concerns, but we worked through them together.
Ultimately it was an excellent opportunity with a lot of potential for growth, and anytime you can guarantee you will remain in Nova Scotia and help employ others to come and stay in our province; it is a good decision. We are thrilled that we followed through with the purchase of Avondale Sky Winery and would never look back.
What has surprised you about going into the wine industry?
The wine industry, especially in Nova Scotia, is so collaborative. You hear stories about various industries and I was so impressed by how well the wineries and their staff work together. We borrow each other's equipment to make wine, work on the Wine Association of Nova Scotia Board, and plan events together like the Ice Wine Festival. Yes, we are competitors, but more so, we view the Local Wine Industry as a team that we all want to see improve our overall market share and shift the habits from drinking wines of the world to enjoying those right here in our province.
How has COVID-19 impacted your business?
No one could plan for it in any industry, but we knew we had to pivot quickly to ensure our end goal was realized, which was getting our wines to our end consumers. Knowing the restaurant industry would be affected for an indefinite time, which would slow down sales to that area of our business model, not to mention our own restaurant and winery would be halted or delayed to open. We immediately ramped up our online presence, which historically was used for shipping wine to more of a Free Delivery Service to your door. We embraced the messaging to "Stay the Blazes Home" and to let us bring your wine to you. Knowing there were long lines at Liquor Stores in Nova Scotia, more and more people started to order online, and we also increased our social media promoting it and saw great success. The end goal, of course, is to have them become loyal customers and visit us at the winery once we were open.
Could you tell us a bit about your role as President and Operations Manager at Avondale Sky Winery?
I oversee all operations of the business. We have an experienced vineyard crew who works for our Vineyard Manager that reports to me. We are also very fortunate to have one of the best Winemakers in the industry, and he and I plan the wines we can make based on what is selling and what our grape production is. The restaurant and retail side of our business are managed by my brother Sean, who is the VP and General Manager. On the ground, as I still live in the Halifax area, my focus is to get more of our product on restaurant and bar menus around the city. I also work closely on our wholesale relationship with the NSLC, Bishops' Cellar, and Harvest Wines & Spirits. As an ownership team, in addition to what my brother and I do, my father manages the property and maintenance, my mother the payroll and benefits, and my wife the Marketing and Social Media presence and interaction with our customers.
What made you chose to study at Saint Mary's?
Being from Halifax and always loving the city, I knew I wanted to stay here versus leaving for university. From there, the business program at Saint Mary's was one of the best in the country, and it made the decision very easy. I had some good friends of mine that I grew up with who also attended SMU, so it was the right fit at the right time, and I could not be happier with that decision as I look back.
What was your experience like at SMU?
Those years were some of the best years of my life. I had some existing friends who went there and met many others who will be life-long friends. The education was top-notch, and I learned a lot from the many professors I had and my classmates in various group projects and assignments. During my time at SMU, it was officially recognized as The Sobey School of Business, which further proved what a great education and experience I was receiving. I had some friends who also played on the football team at the time, and that was during their Vanier Cup run, so who didn't like going to SMU weekly to watch a Championship Caliber team.
Do you feel Saint Mary's prepared you for your career? How?
Absolutely. When entering SMU, I was like most high school graduates; I really was not sure what I wanted to do for a career. I came in with no relevant job experience whatsoever, but SMU helped me understand what I liked and disliked and what I was good at and what I needed to improve. The ability to work with so many classmates from all over the globe and learn from some great professors helped me figure out what was important to me and shaped how I would take on the next steps on starting my career.
What moments in your career have been the most rewarding/exciting so far?
Hands down, I am now living the most rewarding and exciting part of my career. I have always been a family man and very close to my family. Well, you think you are close with your family, and then you run a business together – THAT IS CLOSE! Working with my brother, father, mother, and my wife each day, I consider myself to be in one of the world's luckiest positions. From a business perspective, the wine industry offers so much to learn, but the business fundamentals I learned at SMU still apply, as they would any sector.
Something I've learned along the way outside of the classroom, under what I'd call "street smarts", is how you treat other people. Anyone I have come in contact with in my career knows that I will do anything I can to help make the experience excellent when they are working with me. Whether that's with lawyers, accountants, suppliers, or buyers, everyone is important to running a successful business, and so they should be treated that way.
Do you have any career-building advice for students or alumni?
In short, leave no regrets and don't let yourself feel stagnant in any role. Try things outside your comfort zone because chances are you will learn the most. Leverage your interests and what you excel at and find a way to learn more about the things you do not yet know. You will come out on the other side more well-rounded with a stronger skillset as you move forward, and you will have a greater fulfillment from your own career regardless of which and how many job paths you may end up taking.