Ian MacLeod BA'08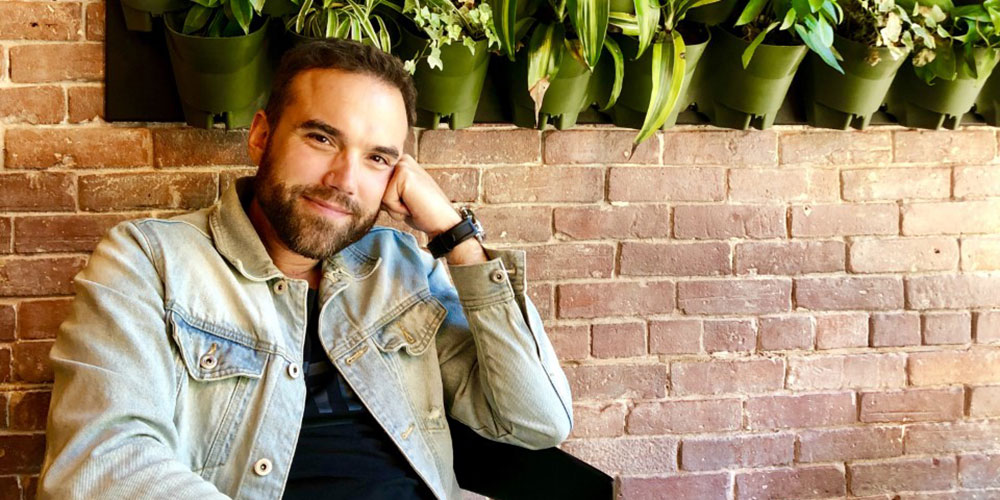 July 2020
Ian MacLeod BA'08
Hold Fast Cafe
Halifax, NS
"Being part of the LGBTQIA+ community, I want Hold Fast to be a safe place where people can feel like themselves."
What inspired you to open Hold Fast Cafe?
I had been in the corporate world for almost 20 years working for a few alcohol and tobacco companies, and I wanted to do something for myself. I wanted to use the skills that I learned during that time to try and create and run a business from the ground up. I chose the North End of Halifax because I enjoy the neighbourhood/community feeling in that area of the city. I noticed a new building going up with street-level commercial space and liked the idea of being the first established business on that section of Almon Street to slowly get my bearings and ease into things.
Being part of the LGBTQIA+ community, I want Hold Fast to be a safe place where people can feel like themselves. We live in strange times now where discrimination is at an all-time high and people don't feel like there are a lot of places to just exist. I want Hold Fast to be that.
How has COVID-19 impacted your business?
Having just opened December 1st and then closing was scary and disappointing. Business had just started to feel like it was picking up; people already knew the shop and seemed to enjoy what I was offering and bringing to the neighbourhood. When I closed mid-March because of COVID-19, I was sad and everything felt uncertain, but I tried not to panic. When I was dreaming up the café, I purposely tried not to have a lot of overhead. To be closed for two months didn't really cost me anything. I worked with my bank and my landlords early and took advantage of any government funding that I was eligible for.
When I reopened on May 8th, I was surprised to see quite an increase in business. I think factors like better weather and people just wanting to get out played a part in that. I also think people realized small, local businesses are an important part of the city's DNA and made an effort to support us.
What are the challenges or opportunities that have come from the crises in regards to your business?
The challenges that came with reopening were adapting to a business trying to operate during a pandemic. Big things like buying plexiglass, hand sanitizer, masks for myself and staff, changing the layout of the café for social distancing and making sure everyone follows strict rules, to little things like wiping everything down constantly and pouring customers cream and milk for them.
As for opportunities, it was nice to have almost two months to change things I didn't like or work on little projects for the café I wouldn't have had time for. I am looking at the time before COVID almost like a test-run. Now I have a second wind in a new reality and with an entirely different perspective on my business model, as most businesses probably now do. We now know that we need to adapt to rapid change should this happen again.
How do you think small businesses will survive through the crisis?
Every day is a new experience in this new normal. I worry for businesses who are not open at this point, and I also worry for businesses who may be open but also rely on eat-in service. Operating at half capacity is not what a restaurant has in mind when it opens. I think the next year or so will really tell the tale and I think you will see a lot of change in the coming months.
What made you choose Saint Mary's?
I chose Saint Mary's because I love Halifax and I wanted to be close to home and family. I never really had the itch or desire to leave Nova Scotia and SMU seemed like it had the culture I was looking for.
What was your experience like at SMU?
I really liked my professors at Saint Mary's. I felt comfortable and at home there. There is a long list of things I would have done differently personally, like be more involved and present on campus, but I did make a lot of great friends there, and I am always proud to say I graduated from SMU.
Could you tell us a bit about your career path after graduating from Saint Mary's?
During my tenure at Saint Mary's, I was a summer student at Imperial Tobacco, which launched my career in sales. I loved being on the road and traveling, seeing new clients everyday and making my own schedule. From there, I went on to work for a few wine and spirit companies and a few other tobacco companies, but overall, I never got to the point of my career where I felt completely fulfilled. There's a lot of uncertainty and stigma in those industries. Job security was never on the table and that's how I ended up starting my own business. It all boiled down to wanting control over my life.
If you could summarize what it's like to be an entrepreneur in a sentence, what would you say?
Be prepared for it to consume your life. You will never stop working and dreaming up ways to make it better. It is fun and rewarding but stressful and scary.
What advice would you give to students or fellow alumni who are thinking of starting their own business?
Mostly that it is ten times harder than you think it's going to be. I thought I would be able to build a coffee shop, sell some muffins, have instant success, and call it a day. The saying "if you build it, they will come" isn't true. People are careful about where they spend their money. They want to spend it at a business that reflects themselves, and as a business owner, you need to tap into that. But as an owner, be yourself, and I know that sounds like a cliché, but it's true. Just know that you will never please everyone, and if you try to do that, it will not work. Being yourself will attract the customers you want. Your repeat customers are 80% of your business, and you will get to know them, appreciate them, and they will become a part of your day, and you will be excited to see them. You want to attract like-minded people to whatever business you're in.