Henry Annan BSc'14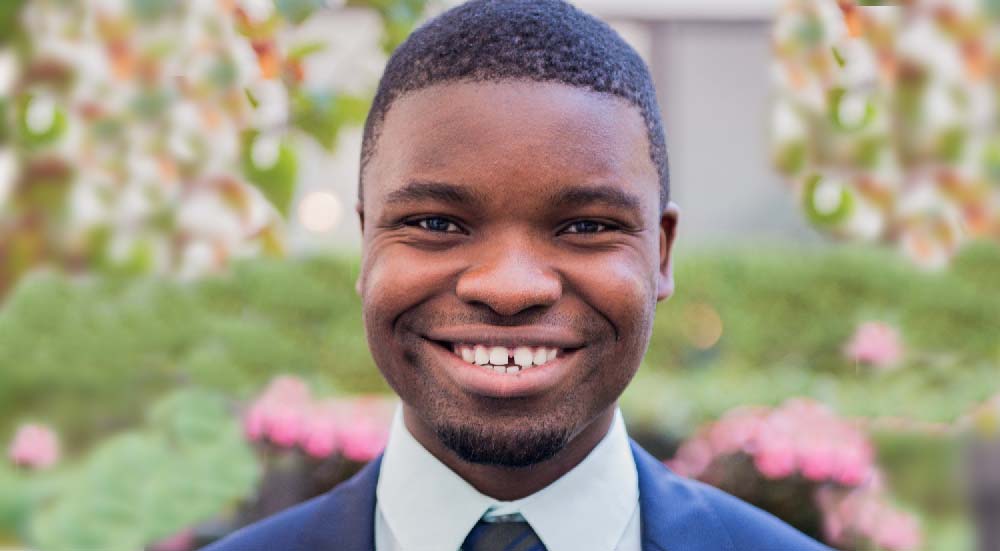 November 2019
Henry Annan BSc'14
In residency at IWK Health Centre
Halifax, NS
"What I like people to take away from my journey to medicine is the importance of diversity in medicine and other professions. It is really important for our young people to see someone that looks like them so that they too can imagine a world where they could be like that person. You cannot be what you cannot see."
What made you choose to study at Saint Mary's?
As a prospective science student, I was quite impressed by the science building that had only recently been built at that time. I looked forward the opportunity to train in such a start-of-the-art facility. I also greatly appreciated the university's focus on undergraduate teaching. I have always felt that having a strong foundation is essential for future growth, especially in academia. Finally, I was honoured to have received a Saint Mary's University Presidential scholarship which helped me immensely in terms of financing my studies.
Why did you decide to get your Bachelor of Science degree here?
In high school, I was drawn to the sciences especially biology and chemistry. For this reason, I decided to pursue a degree in these subjects. I must say, however, that I did also complete a few courses in the Humanities, which ended up being some of my favourite courses during my undergraduate study. They were an important way to complement my science degree and achieve a more holistic perspective on the world.
What was your experience like at Saint Mary's?
I had an extremely positive experience at Saint Mary's. I made valuable friendships and relationships—both personal and professional. It was also during my time at Saint Mary's where I authored my first publication. Finally, I greatly appreciated the opportunity Saint Mary's provided me to learn from my peers who came from a variety of ethnocultural and religious backgrounds.
What prompted you to become a doctor?
I wish I had an interesting story, but when I was young, we had a family friend that was a doctor and I wanted to be like him when I grew up. Thankfully, my life experiences and interests very much confirmed this decision for me and as a physician now, I know that this was absolutely the right career path for me. What I like people to take away from my journey to medicine is the importance of diversity in medicine and other professions. It is really important for our young people to see someone that looks like them so that they too can imagine a world where they could be like that person. You cannot be what you cannot see. So now, I do try to find ways to promote diversity in the medicine, especially by encouraging youth who may not have otherwise thought about it to consider medicine as a potential career for them.
Where are you currently practicing and what is your area of speciality? What led you to working in this particular area?
One of the things that drew me to paediatrics was the creativity that is often involved in making clinical diagnoses. A two-month old cannot tell you that they have abdominal pain and that is why they are crying so much. You have to find unique ways of eliciting that piece of information out of your interaction with them. I find that creativity very intellectually stimulating. Paediatrics is also inherently about advocating for a vulnerable population, which is something I am passionate about. Regardless of where a child comes from, whatever adverse childhood experiences they may have had, or what diagnosis they may have been given, paediatrics is all about doing everything you can to make sure you are giving your patients the best shot at living a healthy and fulfilling life well into adulthood.
What moments in your career have been the most rewarding/exciting so far?
One of the most rewarding and exhilarating experiences I have had in medicine so far is my involvement with the Canadian Federation of Medical Students (CFMS). I was involved with the CFMS Global Health program only a few months into first year and was part of advocacy efforts at the federal level for a Universal Pharmacare program. I also served as the CFMS National Officer of Human Rights and Peace, where we took on issues such as climate change and the national opioids crisis. I eventually became the president of the CFMS and was blessed to be involved with such a great organization which has had such a positive impact at the grassroots level as well as nationally and internationally.
You recently received the Young Alumni of the Year award at the One World Alumni Awards Gala, what does this recognition mean to you?
It meant so much to me. I was actually quite surprised as I didn't even know I was nominated. What was so touching too was the fact that it was an award that recognized alumni that contribute to community in meaningful ways. I think this is what I'm trying to do as a physician. It's not just about what I do in the hospital or clinic. There is a real opportunity for a physician's work to go beyond the healthcare setting and into communities, where it matters most.
Could you tell us more about your advocacy and volunteer work?
I think my work with the CFMS, has defined my career so far. I also served on the Boards of the Canadian Medical Association and of the Health Association of African Canadians. Through my involvement with the Health Association of African Canadians, I lead educational sessions with youth on healthy lifestyle practices and dealing with microaggressions on campus. Currently, I'm on the Board of Réseau Santé Nouvelle-Écosse, which is an organization focused on increasing services for francophone communities in Nova Scotia.
Do you have any advice for students who are considering pursuing a career in the medical field?
That medicine is not just about science, it is ultimately about people. Like the Hippocratic Oath states, "remember that there is art to medicine as well as science, and that warmth, sympathy, and understanding may outweigh the surgeon's knife or the chemist's drug." Spend time getting to know yourself and your community. Then think deeply about how medicine is going to help you address those social determinants that ultimately make the biggest difference in people's health.