Chris Flynn BA'97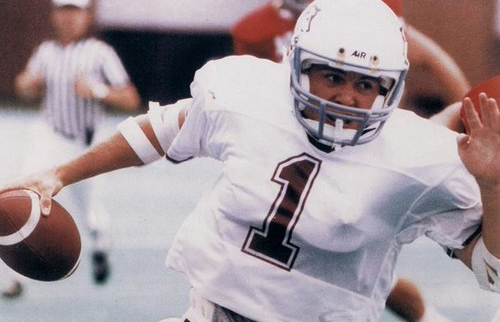 October 2019
Chris Flynn BA'97
Vice-President of Sales, Axon Sport
Ottawa
"To be the first player to have their jersey retired by Saint Mary's University, the place where I have made so many memories, is truly an honour. I am incredibly proud of what we were able to accomplish as a team during my time at Saint Mary's."
What is your fondest memory of your time at SMU?
My fondest memory was my teammates, the success we had together, the team that we had and all working together to be a part of a positive change for the university. The football program was experiencing some challenging times the years before I arrived. I was in the right place, with the right group of players, coaches and staff to do something special, and we did.
What is the first thing you think of when you hear Saint Mary's?
The people. I had great coaches and teammates; our team felt like a family. This went beyond the football team to the whole Saint Mary's community. We were like the Halifax Huskies. We knew we had the support of everyone there, and they showed that support at every game. The atmosphere at Huskies Stadium is something that I will remember for the rest of my life.
Why did you choose SMU?
I was leaning on going to Bishop's University because I had already spent two years at Champlain College on the same campus as Bishop's, but over the winter I thought maybe I wanted to experience somewhere else. I had visits to several universities, including Boise State in the US. Finally, later in the spring, I was approached to come to visit SMU, and the visit went really well. I'd always gone to teams that were already powerhouses. When I visited Saint Mary's, the players felt like they had a group that could really surprise people and were just missing a few key parts. I just decided I wanted to try and help the team turn things around. It was very exciting at that time, especially for those players that had been there thru the lean years and hadn't won before. I even took a job at the Tower that summer before school started so I wouldn't change my mind, and never looked back.
What is the biggest highlight of your career?
Probably the 1990 Atlantic Bowl. We were up against the defending Champs Western who were ranked #1 and had won 20 games in a row over the past two seasons. I played with a partially separated shoulder, didn't practice all week, didn't even do the pre-game warmup. I got my shoulder shot up just before the game and was able to play. The way in which we won, on the last second drive and the fact it was my last game at SMU in front of 10,000 fans, made it very memorable.

What did you think when you found out you would be the first person ever to have their jersey retired?
To be the first player to have their jersey retired by Saint Mary's University, the place where I have made so many memories, is truly an honour. I am incredibly proud of what we were able to accomplish as a team during my time at Saint Mary's. Looking back, I want to thank all my teammates, coaches, trainers, students, and professors, really the whole Huskies community, for their support. We wouldn't be celebrating this today without you.
Could you tell us about your current position at Axon Sport Performance Ottawa? What factors/experience led you to work there?
We are a distributor for two concussion testing manufacturers. We are currently working with universities and clinics across Canada who are interested in using our ground-breaking CAP Brain Repair and RAM concussion testing technology.
Do you feel SMU prepared you for your career? How?

Well, I did have a few of my own concussions including the one that kept me out of the 1988 Vanier Cup, so I am familiar with concussions in sport. Also being part of our SMU team, learning to work together to achieve a common goal, being disciplined, being mentored by great coaches, all these things helped me to be ready for the real world.
What was the most beneficial thing you learned or experienced while attending Saint Mary's?
The atmosphere at Saint Mary's was so close-knit, almost like a family. I just thought it was a great place to go to school. I even got to know the President, Dr. Ozmon, and Registrar Mrs. Chard on a personal level. And the city of Halifax was a great city, very welcoming and friendly, and still is today. I just feel very fortunate that Saint Mary's was where I ultimately decided to go to school and I have nothing but fond memories of my time at SMU and all the lifelong friendships that I made there.