Caroline Hossein BA'93
Dr. Caroline Shenaz Hossein BA'93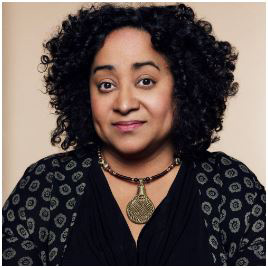 Thrilled to share life-long passion where it all started
For Dr. Caroline Shenaz Hossein BA'93, a family friend connection from the Trinidad as well as a Saint Mary's University course on collective organizing and politics sparked a life-long passion for learning—and now teaching others—about co-operativism.
As part of Homecoming 2022 events at Saint Mary's, Hossein will be sharing that passion through her talk People-centred development: The value of mutual aid financial groups by Africana women in this 2022 Hopper Lecture.
Through her research, Hossein hopes to open up an understanding of alternative financing through the values of community wellbeing, reciprocity and mutual aid. The concept of community wellbeing is something that Hossein saw a lot of while attending Saint Mary's University as a student. Encouraged to participate in the community, she volunteered as a Big Sister and with the elderly at Victoria Hospital during her undergraduate degree.
"My work examines bottom-up solutions for community development with an emphasis on informal cooperative institution, and this interest started at Saint Mary's," she says. "Taking classes in political science, commerce, economics, philosophy and development shaped the kind of thinker that I am today."
It was in an Irish politics course at Saint Mary's where Hossein first learned about the Antigonish Movement, a cooperative movement that helped improve economic circumstances for small resource-based communities around the Maritimes. Hossein made the connection of the Antigonish Movement to a concept she knew about, "Susu" and "Boxhand"—systems of mutual aid financing that are formally referred to as Rotating Savings and Credit Associations (ROSCAs). This connection helped foster her curiosity about how these systems work and why they are so important.
Hossein is particularly excited to return to Saint Mary's to speak about this research. "I am coming back home where I grew so much," she says, reminiscing about the welcoming way and support she felt during her time as an undergrad.
After a university tour of the Maritimes with her mother back in 1990, Hossein felt an immediate connection to Halifax and to Saint Mary's University, and she knew it was where she would feel like she belonged for the next three years. Her sister Laurie-Ann Hossein '94 also went to SMU and both wanted to leave Toronto after high school. The sense of inclusion on the Saint Mary's campus, especially with students from all over the Caribbean, resonated with her most.
"Both my mother and I were blown away by the importance Saint Mary's gave to international students—particularly those coming from the Caribbean," says Hossein. As a child of immigrants, Hossein noted it was encouraging to see the university's effort to ensure other cultures belonged.
Event Details
The Hopper Lecture
People-centred development: The value of mutual aid financial groups by Africana women
Thursday, October 13, 2022
5:30–7:30 p.m.
Student Meet and Greet
The day after the Hopper Lecture, the Department of Political Science invites students to come and chat with Dr. Hossein. Feel free to bring questions about her lecture, graduate studies and other topics! A light lunch will be available.
Friday, October 14, 2022 1–2:30 p.m.
The Arts Commons (MM 214)
To learn more and register, click here. The Hopper Lecture is part of 2022 Homecoming, a weekend of activities from varsity athletic games to reunions to a tour of the Burke-Gaffney Observatory. Learn more about those events here.