Alex Kyriacopulos BA'06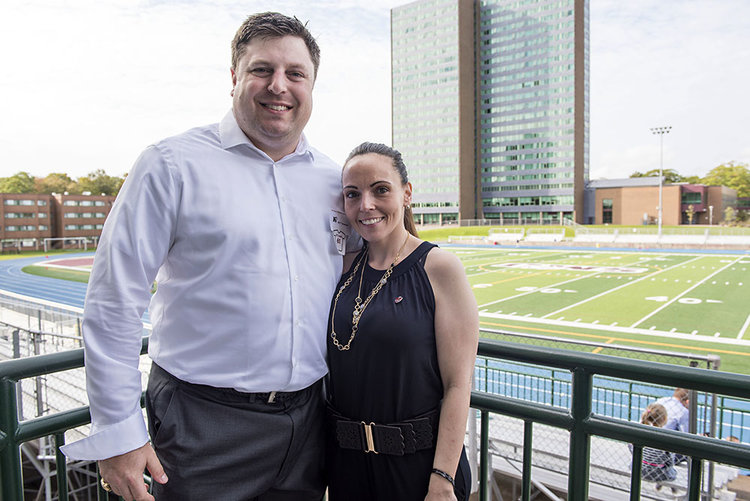 May 2019
Alex Kyriacopulos BA
Co-founder and Client Program Manager
Reliant Life Sciences
Bedford, New Hampshire
Could you tell us about Reliant Life Sciences?
We're a staffing firm that connects clients with highly qualified, senior consultants. We partner closely with clients, VPs and Directors, to provide them with temporary expert consultants in their industry. Our experts help ensure product safety and legal compliance in the Biotechnology, Pharmaceutical, and Medical Device fields. What makes Reliant Life Sciences different is our consultant acquisition and management process. Our mission is to have a deep and robust database of available consultants we can provide clients access to.
What led you to pursue a career in the staffing and recruiting industry?
In the Boston area the staffing industry was becoming popular. I was working as a school teacher at the time and not making enough money to purchase my own home. Then one day, I found an ad in a local newspaper for a "technical recruiter" at Patriot Technical Consulting where I met my professional mentor, Steve Bene, a graduate of Boston
University. Steve took me under his wing and we worked together for the next several years prior to me branching out and taking the risk to help start Reliant Life Sciences.
Do you feel Saint Mary's University prepared you for your career? Tell us how.
Yes, academically as an English major and Political Science minor I was faced with autonomous assignments and stringent deadlines. I did take some business courses and the group work projects are very applicable to working in corporate North America.
What made you select Saint Mary's for your BA?
The Advanced English Major program and Political Science courses. Beyond that, I went to SMU to be a part of the football team. It all started on a family vacation to Halifax in 2000. It was the summer before my senior year. Prior to that trip, SMU Alum and 1960s Huskies basketball star, Buzz McHale kept talking about Saint Mary's and its strengths. When I arrived for the campus visit, I met Barry Gallant at the alumni house and did a tour of the University. I had a chance to witness first-hand the city, the campus, and the courses. Meeting Blake Nill was the deciding factor. After I learned about the team and opportunity to become a National Champion, that sealed it for me. I wanted to play big time college football, on TV and with a crowd behind me, and I was able to at SMU.
While at SMU, you were very involved in sports. How do you feel those experiences impacted your career?
The best education was learned practicing and preparing as a student athlete for Coach Blake Nill. His dedication to hard work and the game planning we did helped me earn a spot on the four-time conference and two-time national championship Huskies. Our team was the most athletic team in Canada my first year and we continued to win after that because of our hard work. Preparation in business is vital to any organization's growth and playing football for Blake Nill taught me that the most.
Would you recommend a career in the staffing industry to students? Why?
Yes, it allows you the ability to utilize many different educational foundations while doing business for corporations that greatly impact society. During that process, you build strong relationships with candidates and clients as you match them together. The profitability in staffing is tremendous; most staffing professionals that place engineers, doctors, lawyers, or other higher end professionals earn a very good salary and commissions.
Do you have any career building advice to offer fellow alumni?
Listen to the people that do things well and mold yourself to their process. Understand that you must have strong emotional intelligence in today's world and have a good sense of humor. Don't take things personally and keep in the model, don't deviate away from the plan. If the plan doesn't work, figure out why and implement change on the fly. Show up a little early, work the whole day, and stay a little late.
Have you used Saint Mary's alumni network as a student or an alumnus? How?
Yes, I keep in touch with my old team mates regularly. They inspire me and lend support; they know who they are. SMU's international presence is amazing, and I cherish that. I keep in touch with several SMU team mates who are very successful in their own lives. I'm proud of my Huskie brothers. I would also like to credit my mentors during my time at SMU such Donald Keleher, Pierre Lefebvre, Dr. David Murphy, Barry Gallant, Chuck Bridges, Steve Sumarah, Blake Nill, Dr. Michael Larsen, Dr. Guy Chauvin, Ron Gomes, and fellow teammate Ian Ferguson. These people were instrumental in my mature development and should be recognized.
Looking back at your time at SMU, what makes you nostalgic about your time on campus?
The work. I think about the library, computer lab, and football practice most of all. I remember playing in the Vanier Cup and at Laval and how much of an experience that was. I remember holding the AUS championship knowing that I made an impact to win it and how great that felt. I remember my friends and most of all my coaches, professors, and mentors.