Leah Skerry BComm'09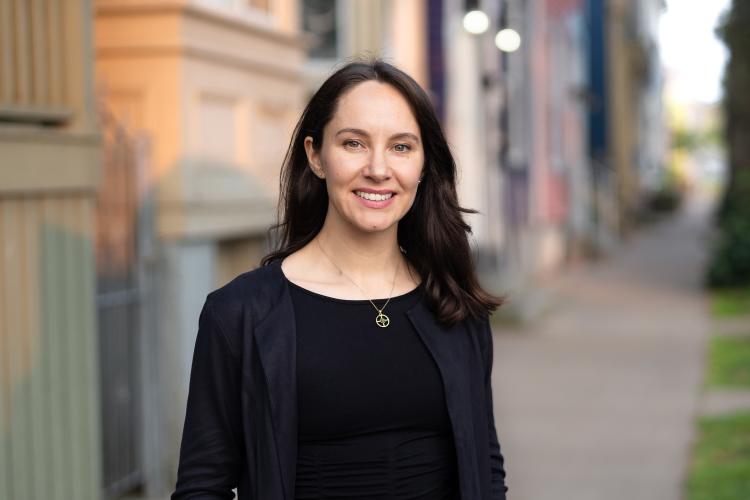 September 2021
Leah Skerry BComm'09
Entrepreneur-in-Residence, Saint Mary's University Entrepreneurship Centre
(SMUEC)
Halifax, NS
"For me, it's critical that the businesses I am working on are both personally fulfilling and have a positive social impact on the world. Knowing that makes it really easy to navigate choices now and in the future."
Could you tell us about your role as Entrepreneur-in-Residence (EIR) at SMUEC and what motivated you to accept the position?
I will be one of three EIRs available to students and the community to act as a mentor in areas such as forming a business, identifying personal values in business, to fundraising, or exiting a company.
While completing my BComm at Saint Mary's University, I met SMUEC's Michael Sanderson, Jason Turner and professor and Director of the Master of Technology Entrepreneurship and Innovation program, Ellen Farrell - they were all instrumental in my entrepreneurial journey. When I caught up with Jason and Michael after recently moving back to Halifax and selling Squiggle Park, it seemed like a perfect fit.
As an artist, producer, and entrepreneur, what are some of your current projects?
I recently signed a contract as an aerialist and dancer of Princeton's Associate Director of Dance and Julliard graduate Rebecca Lazier's production called Everywhere the Edges. Its premiere is planned in Halifax in February 2022 and its world premiere tour is set for later in 2022. I am also producing my first show funded by Canada Council for the Arts and the National Circus School called Shoebox of Almost Loves. And of course, as a technology entrepreneur, I have an incredible group of friends I meet with regularly to discuss new ideas and businesses - nothing to speak of just yet, however, we are onto something!
What advice would you give to students or fellow alumni who are thinking of starting their own business?
There are two things that come to mind. First, understand why you are starting a company. As Simon Sinek coined, "why" is the one constant that will guide a person toward fulfillment in work and life. For me, it's critical that the businesses I am working on are both personally fulfilling and have a positive social impact on the world. Knowing that makes it really easy to navigate choices now and in the future. This can be applied personally and in business. For me, I'm a creator and I love being my own boss. For the company, to help every child read with confidence.
Second, take part in an accelerator or other startup incubators, locally like Volta or in the US like Y Combinator. There are so many incredible resources in the form of startup capital and mentorship for those willing to put in the work.
What made you choose Saint Mary's to obtain your BComm?
I hadn't considered business school. My friend's mom helped me with the application, and I received a bursary so I went! I took the majority of my electives at NSCAD for fine art and design and participated in what's now called Enactus, which at the time was maybe five people. I started my first company in Ellen Farrell's class called Structuring the Startup, which required students to invest $10 to start a company. I was able to pay for a full semester of school through the design company I started! And a year later, I was named student entrepreneur of the year for Nova Scotia. I was also a part of AIESAC, which is where I met friends from all around the world all with the common goal of progressive social impact. I worked non-stop, and it made my time at SMU a rich and fulfilling experience in my life.
On your Linkedin profile, you state, "through my work in technology and social ventures, I'm making the world a better place," could you explain what you mean by this?
That's my "why." I believe in the power of technology and the impact it can have on the world and will continue to support and build organizations that believe in business as a force for good. I love the work B Corp has done - allowing businesses to legally and publicly commit to considering the impact of their decisions on their workers, customers, suppliers, community and the environment.
Is there any community, volunteer, or advocacy work you're involved in and passionate about?
I'm passionate about helping others be creative and find spaces to be vulnerable to do so. I host small dinners for entrepreneurs that are safe spaces to discuss "Rose, Bud, Thorns," which is a format for helping each other work through challenges by asking thoughtful questions, as most of us already know the answer with enough reflection.
Are you involved in any philanthropic work, and if yes, what inspires you to do so?
I'm in the process of creating a small bursary for business students to participate in activities such as comedy improv, NSCAD courses and other creative endeavours that I believe are critical to being great in business. I strongly believe in interdisciplinary learning throughout our whole lives and see the impact of this type of creative thinking at schools such as Stanford and Harvard business school. Otherwise, it's mostly working with children in learning - especially in acquiring reading skills. With the pandemic, it's been hard to continue my one-on-one work, but I do look forward to getting back to it. I'm a big believer in Montessori, and locally, a big fan of the work Michelle Cleary does at Maple Montessori.