Dr. MacIntosh Ross MA'08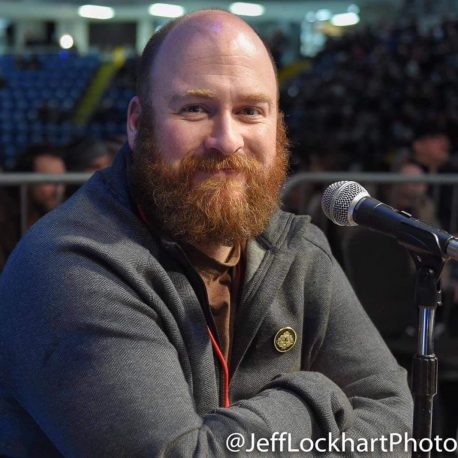 July 2021
MacIntosh Ross MA'08
London, Ontario
"Going forward, I think we all need to throw ourselves into as much community-oriented work as we can. That looks different for everyone. For me, it's choosing to focus much of my academic work on social injustice, giving to local Indigenous charities and – when the pandemic permits – volunteering with at-risk youth at a local boxing club."
What was your involvement in the 2021 Hockey Conference?
I was asked to say a few words about Professor Emeritus Colin Howell, as part of the inaugural Howell Lecture. I was Colin's last graduate student. I had attended the hockey conference in the past, in Buffalo, London and Halifax. Colin means a lot to me, both professionally and personally, so I was very excited to share a few stories. Colin and his wife Sandy basically welcomed me into their home – gave me a room, fed me – so I could finish my MA in time to attend Western University for my PhD. It's not hyperbolic to say that Colin mentored me into a historian at his kitchen table. I've met very few professors that are so dedicated to their students. He saw something in me that I couldn't see myself. I'm convinced I wouldn't have seen it, without Colin.
What did it mean to you to be the last graduate student under Dr. Colin Howell?
It's a bit of strange because Colin continues to support so many of us. It never really felt like he stopped being my supervisor, if that makes sense. We still connect to chat about my work and what the future might hold. Being the last, I also try to carry on his tradition of caring and dedicated mentorship. He always said he was "fiercely protective of his graduate students." I think I owe it to him, and to my own students, to be the same way.
What made you choose Saint Mary's University to obtain your MA in History?
We have a bit of a family connection to the university. No one had gone to Saint Mary's, but my grandfather, Gerald Arnold, was a foreman at the Shipyards way back when. He and his team constructed the mace currently used by SMU for various ceremonies. I have many family connections in Halifax and area. Even though I was coming from Cape Breton, it felt like home. My great grandparents were poor Irish folks in the North End. My grandparents and an aunt lived nearby. I knew I had lots of support in the area and that the city was a sort of home away from home.
Other than the familial connections, I already knew of many of the historians working at SMU. Folks like Colin Howell, John Reid and Peter Twohig came up in my Atlantic Canadian history classes at Mount Allison. I didn't know Rosana Barbosa or Bill Sewell when I applied to SMU, as they aren't Canadianists, but they became important figures in my development as a historian as well, expanding my horizons and challenging me to view the world from different perspectives.
Could you tell us about your current role as Assistant Professor of Kinesiology at Western University? What are your research areas of focus?
I teach both the history and management of sport. I teach a wide range of courses, but some of my favourites are Sport Marketing, Sport for Development and Peace, Sport and the Law and Canadian Sport History. My research interests, at the moment, focus on the various ways that sport can be harnessed for social change. I'm in the process of leading a study about local, southwestern Ontario Uyghur perceptions of the 2022 Beijing Olympics. How does hosting such an event in the People's Republic of China impact the quest for improved human rights for their relatives back home?
Is there any community, volunteer, or philanthropy work you're involved in and passionate about?
In the past, I have tried to help professional boxers get their footing in the sport by volunteering my services as a manager, helping to negotiate contracts and secure opponents. At the lowest levels, pro boxing pays hundreds, not thousands, of dollars. I owned my own boxing PR company up until last year and made similar pro bono deals with boxers to help get their name out in the media. These days, I mostly try to help via activist-scholarship – that's what my team and our Uyghur partners are focused on right now at Western University.
What inspires you to give back to the community?
I don't get to give back as much as I would like. I just think, when you see someone in need of help, and you're able to spare time, money, advice, knowledge, whatever it might be, you should jump at the opportunity. So many people have helped me over the years. As a straight, white, middle-class man, I was born into a privileged position in Canadian society. So many doors were open to me just because of those adjectives. It's important to be aware of that and work to make sure the more people, regardless who they are or where they were born, get the same opportunities I did.
Obviously, with the discovery of hundreds of unmarked graves at former Residential Schools; a lack of clean drinking water on many reservations and spikes in racism in various parts of the country, we've got a lot of work to do. Going forward, I think we all need to throw ourselves into as much community-oriented work as we can. That looks different for everyone. For me, it's choosing to focus much of my academic work on social injustice, giving to local Indigenous charities and – when the pandemic permits – volunteering with at risk youth at a local boxing club. For others, it might be joining a march, or supporting a local lecture about racial injustice. If we all get out there and do a little bit, it snowballs into something more significant.
Do you keep in touch with fellow alumni?
I do! I used to fish off the container pier near Point Pleasant with Mark Sweeney, who now teaches history at SMU. We still occasionally chat by email, mostly about fishing. We were officemates at SMU, along with Daryl Leeworthy. Daryl and I have done quite a good job of staying in touch over the years. He's become quite an author back in the United Kingdom, published three books. His A Little Gay History of Wales was very well received. Since I stayed in academic circles, I've got to see Colin and John Reid quite often on the conference circuit, for which I'm grateful.