Bronson Beaton BComm'19 MBA'21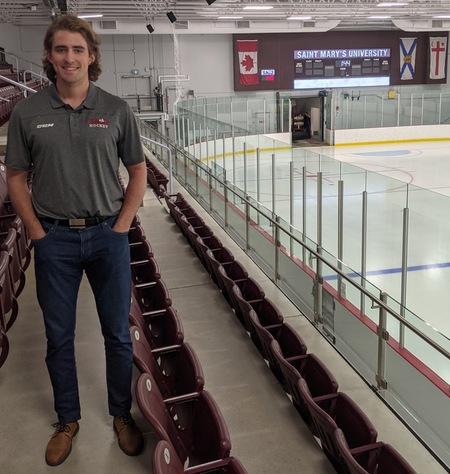 August 2021
Bronson Beaton BComm'19 MBA'21
Halifax, NS
"As a former student-athlete, I can say first-hand that a little support goes a long way. We were strongly supported by alumni my whole time as a Husky, and their presence was always felt at games or other events. Having conversations or engagements with alumni who have been in your shoes is an irreplaceable part of being a Husky."
Tell us about your role as Marketing and Revenue Generation Coordinator with Athletics & Recreation at Saint Mary's.
As the Marketing and Revenue Generation Coordinator, I am tasked with a variety of different jobs. Currently, I am working on turning over existing sponsorships and partnerships while also seeking out new ones, installing a new ticketing system and preparing marketing plans for the upcoming return to AUS Sports in the fall.
Are you looking forward to the return of AUS games this fall?
Here in the Department of Athletics and Recreation, we are extremely excited for the return to AUS Sports. It has been a long, tough year for many people, and we are hoping that the community is just as excited as we are to attend live sporting events safely once again.
How can alumni support our student-athletes?
Alumni can support in any way they choose, whether it be a note of support, a donation, or just coming to games to cheer on the players.
As a former student-athlete, I can say first-hand that a little support goes a long way. We were strongly supported by alumni my whole time as a Husky, and their presence was always felt at games or other events. Having conversations or engagements with alumni who have been in your shoes is an irreplaceable part of being a Husky.
What made you choose Saint Mary's to obtain your Bachelor of Commerce and MBA?
A few different things, I love the Saint Mary's campus and community. I am from a small town and I think the campus here really gives you that "everybody knows everybody feel". Academically, the Sobey School of Business is highly reputable, so I felt confident that coming to Saint Mary's would provide me with a quality educational experience as well.
Athletically, SMU is one of the most well-regarded programs in Canada; getting the chance to play for the Huskies was also a big reason I ended up at Saint Mary's.
What was your experience like at Saint Mary's? Do you feel Saint Mary's prepared you for your career?
My experience at Saint Mary's couldn't have been better, hence staying around for five years as a student and then beginning my professional career here. I guess they can't get rid of me.
How do you give back to your community?
At Saint Mary's, I was lucky enough to participate in the Huskies Move for Inclusion, a program led by a fellow alumnus and student-athlete, Hannah Stienburg BComm'19. We would play sports on Sunday mornings during the Fall and Winter semesters with children living with physical and/or mental exceptionalities. It was an awesome program; both the students and the kids had a lot of fun with it.
A few of us often volunteered at the Ronald McDonald House as well and spent time either in the IWK unit or in the house here in the city. Similar to the Move for Inclusion, we would play sports or just hang out with the kids who were staying there at the time. This was an extremely fulfilling experience, and I'm thankful that the Saint Mary's Department of Athletics & Recreation and the Ronald McDonald House allowed us to take part.
What inspires you to give back to the community?
It is recognizing the impact that it can make. The schedule of a student-athlete can be hectic, but you have to remind yourself that you are lucky to be in that position. Finding time to make that small commitment on your end can make a big difference for someone else.