Grad Bios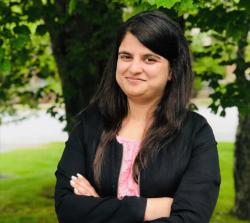 Kanngi Mahajan
IT Specialist, IBM
"Transitioning from my Bachelors from India to a Masters program in Canada, I felt very nervous at first but within the first few steps into the program, I was comforted by the environment at SMU. Right from the very beginning the program laid down the course structure and extended open and flexible schedules."

Within the sixteen months, I got exposure to hackathons, open data contests, and industrial tours. The projects and assignments made me stronger, not only in field of data science but also as a business analyst and a developer. Even before I graduated, I had a job waiting at IBM.
At IBM I am working as an IT Specialist to help find solutions to contemporary challenges. IBM provides me with new learning opportunities every day, where I work with experienced team members and amazing new technologies.