Enterprise Information Technology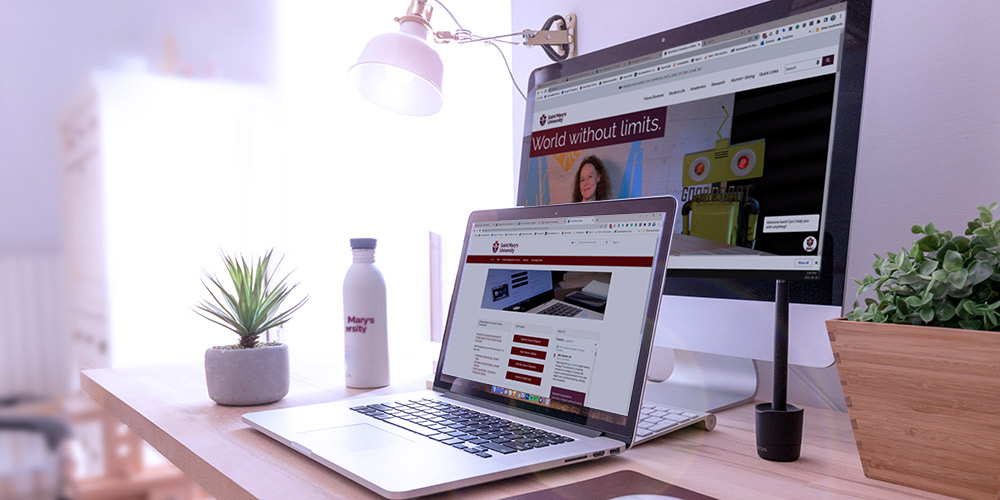 Enterprise Information Technology (EIT) staff are on-campus information technology consultants, and experts in a variety of areas, including:
Information systems
Software
Hardware
Tech support and maintenance
Web development
Phones and other telecommunication systems
Audio/video systems
Servers and databases
Computer security
Come to us first for your information technology requirements. Our expertise can help you find the best deal on technology purchases, get answers to your tech-related questions, and access to the university's reliable networks and systems.
What we do
We advance and support teaching, research and learning at Saint Mary's by helping the campus community solve technology's challenges and harness its solutions. We make sure the University's information systems are easily accessed — from anywhere.
We provide prompt and responsive service to faculty, staff and students, as well as advice and guidance on technology requirements and projects. We embrace innovation and promote the ethical and secure use of technology. We develop our IT strategies through a collaborative process with campus stakeholders.
Get in touch
Contact the help desk through helpdesk@smu.ca or 902-496-8111.
Who we are
Saint Mary's EIT department consists of nearly 50 staff members, responsible for a wide range of comprehensive IT supports, systems and services. Meet our people:
Todd Williams, Chief Information Officer
The Chief Information Officer(CIO) plans, organizes, directs, and controls the information technology of the University.
Todd as the CIO is responsible to:
Instantiate information technology as an integral element of the University's Strategic Value of Institutional Sustainability to "enhance learning and working environments".
Foster collaboration across institutional stakeholders and the University community in the identification, selection and implementation of new technology in support of improved process and services.
Motivate and lead a management team and staff in the operation of highly effective information technology and related services to the University's students, faculty and staff, championing a customer service excellence approach and culture.
Ensure that people, processes, and systems are in place to effectively manage, secure, and account for the University's IT resources and informational assets and data in a fiscally responsible manner.
Act as a resource to the Executive Management Group playing a leading role in the development and evolution of the University's IT strategy and budgets including data governance, information reporting, cyber security, and the enterprise architecture of Saint Mary's administrative and academic IT systems and infrastructure.
Identify critical issues and risks to the University related to information technology and cyber security and implement strategies to address them.
Tim Gill, Director, Business Operations
Tim is the primary interface with Financial Services, P2P (Procurement), Human Resources and Legal for all EIT business purposes. He supports the Project Roadmap and planning process for EIT including both the annual operating and capital project budgets for the department. Working with other members of the EIT Management Team, he leads the development of Vendor Statements of Work, Service Level Agreements and Memorandums of Understanding on behalf of EIT. As the department's Human Resource professional, Tim ensures adherence, within EIT, to all University Human Resource Management Policies and works with members of the EIT Management Team in developing talent management, succession planning, and training design/delivery for ongoing learning opportunities for departmental staff and management. Tim is a member of both the Admin Project Intake Committee (Chair) and the Academic Project Intake Committee (member) for new systems/initiatives brought forth by all university stakeholders. In collaboration with the other members of the EIT Management Team he helps lead the development, implementation, maintenance, and continuous improvement of EIT business processes.
Tracey MacDonald, Director, Institutional Data Analysis and Planning
Tracey is responsible for the provision of information, analysis and services that promote and support informed decision-making at Saint Mary's University. This includes providing analysis and recommendations that can be used to facilitate strategic planning, accountability, quality assurance, institutional assessment and policy formation. While collaborating with both internal and external stakeholders, her office will help build the university's analytical capability, data literacy and data governance.
Marian Stevens, Assistant Director, IT Applications
The Applications team is responsible for software evaluation, application development, integration, customization and maintenance services for many administrative and academic systems including the University's main ERP system (Banner).
They are responsible for university-wide application support, integration and development including administrative and academic areas. They oversee the university's enterprise application architecture and champion business solutions to meet the documented needs of the university's stakeholder community with the intent of continuous process improvement.
Kieran Gillett, Director, Project Management Office
The Project Management Office (PMO) sets and maintains standards for portfolio and project management and change management. The PMO is responsible for creating procedures and best practices that assist operations in the delivery of projects across the institution, supporting project managers by providing resources and guidance where necessary to enhance the probability of success for Enterprise Information Technology (EIT) projects and those undertaken across the broader campus community.
The PMO's purpose is to promote best practices and to assist University stakeholders in identifying, prioritizing, and successfully executing a portfolio of IT projects. The current focus is the ERP Project Community portfolio, which supports Saint Mary's University Modernization Project over the next 3 to 4 years.
The PMO supports the University's projects with TeamDynamix, a leading IT service management and project portfolio management application designed specifically for Higher Education.
Melanie More Duckworth, Assistant Director, Client Technology Services
The Client Technology Services team is the first point of contact for EIT help at Saint Mary's. The Help Desk is available to answer inquiries and to troubleshoot technical issues. End-user support technologists provide support for computer hardware, as well as the Computer Evergreen program which provides laptops for staff and faculty, and computer lab and classroom computers. The instructional technology team focuses on support for classrooms and meeting rooms on campus, as well as web conferencing technology. The Client Technology Team also is responsible for the cell phone program.
Anthony Fear, Assistant Director, Technology and Cloud Infrastructure Operations
The Technology & Cloud Infrastructure Operations team is responsible for the administration and maintenance of the institution's shared services along with server and network infrastructures.
Whether in the private or public cloud, this group is responsible for the maintenance, operation and security of every critical IT point of presence. From phone systems to wifi, from email to VPN the TCIO team ensures the services you need to study and work are accessible and secure.
EIT Office Services
Office Services provides administrative support and services to EIT, students, faculty and staff, and is responsible for the campus directory.
Contact us
Enterprise Information Technology (EIT)
EIT Help Desk
Loyola, 2nd floor and Atrium, Ground floor
Mailing address:
Saint Mary's University
923 Robie Street
Halifax, N.S., Canada
B3H 3C3