Profile Stories
Faculty Profile: Dr. Somayeh Kafaie, Mathematics and Computing Science
Faculty of Science
Additional Departments: Computing Science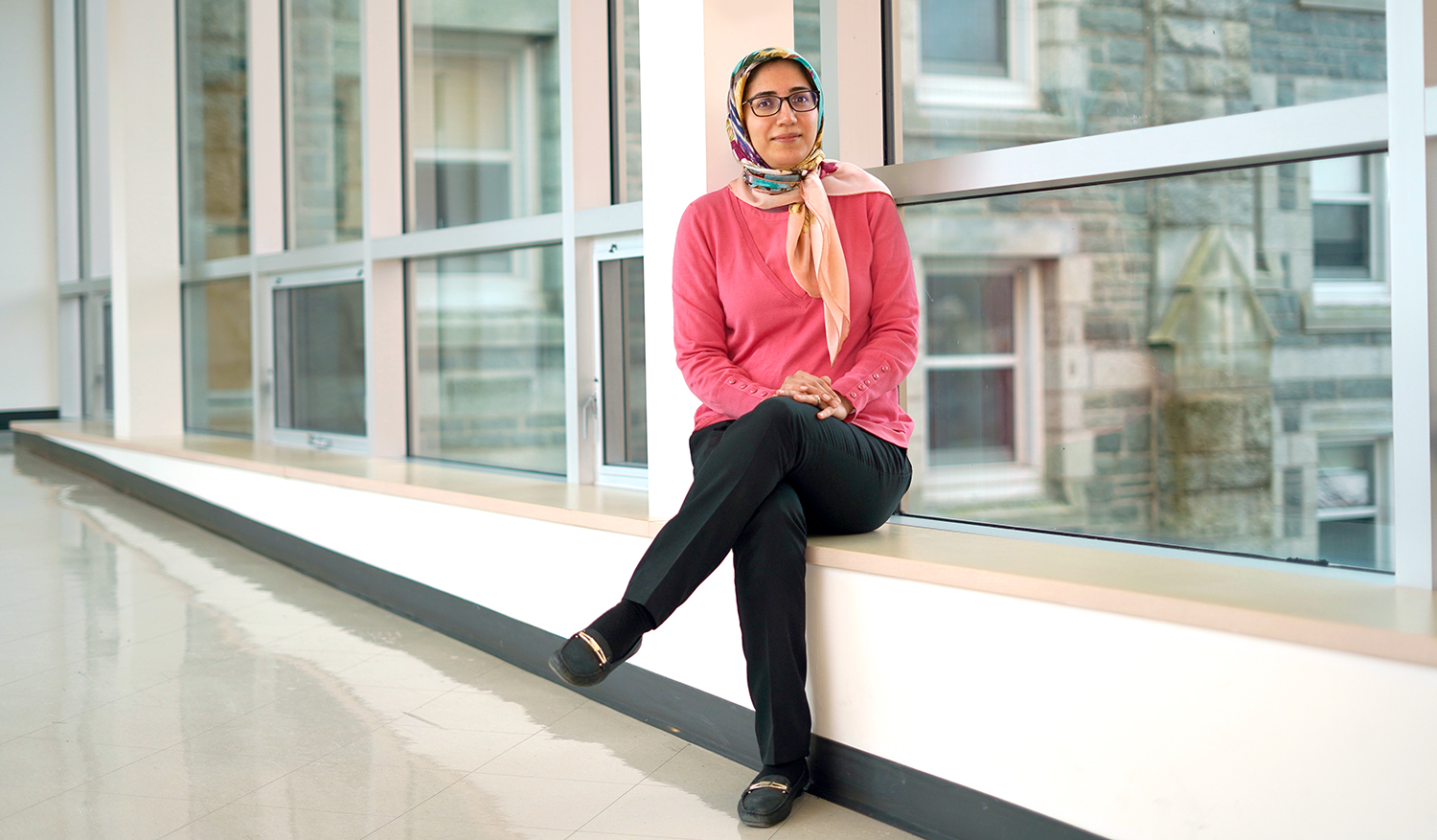 Photo: Danielle Boudreau
Saint Mary's is pleased to introduce Dr. Somayeh Kafaie, the newest member of the Department of Mathematics and Computing Science at Saint Mary's.
Originally from Iran, Dr. Kafaie moved to St. John's, NL to complete her PhD at Memorial University after completing her undergraduate and graduate studies at home.
Her PhD thesis focused on wireless mesh communication networks, which are used by relatively stationary devices such as laptops and computers. This work has the potential to address the challenges of current communication networks and make improvements especially in networks with dynamic topology and intermittent connectivity, but it was a class about complex networks that she attended during her PhD work that changed the course of her career.
"It's the concept of a network in more general terms," says Dr. Kafaie. It's very similar to the concept of graphs, but when we talk about complex networks, we actually are talking about giant graphs and the statistics and mathematics behind these networks representing real systems."
She explains that complex networks are found in many different applications. One example is the World Wide Web; the way that different genes in our bodies interact is also network, and air route network representing planes' flight paths around the world is another.
"These subjects are different, it can be about humans, or the economy, or travel, but they have common characteristics that complex network science tries to study," said Dr. Kafaie.
For her first postdoc she studied a network of genomes in the human body, specifically finding genes that are related to colorectal cancer.
"My focus was mostly on medicine and... bioinformatic and computer applications in biology and medicine," she said. "I am really passionate about that because you can see a direct impact on human life."
After moving to Halifax her second postdoc also looked at complex networks but this time creating DNA of different bacterium and studying antimicrobial resistance genes.
"That was our focus, how to find antimicrobial resistance genes and their neighborhood, their context, and how they move from one bacteria to another one," said Dr. Kafaie. "This is one of the crucial challenges that we are facing right now."
Working on anti-microbial resistance genes and looking forward to working with colleagues in Ontario on a study of genome-wide association studies about cancer, Dr. Kafaie finds it fascinating to be able to pull together expertise from different fields to solve problems.
"I have the set of tools that I can apply to social studies, to economy, to even communication networks, to maybe networks of people, to disease spread," she says. "I know about this set of tools, but you need to have great contributors from all these fields."
"You need to be able to collaborate with people that know those areas, because I'm not an expert, for example, in social studies. Or let's say, in biology or medicine, I'm not an expert in those areas. So, I need to have very great collaborators there. And then, I know one piece, they know another piece, and together we can complete this puzzle."
Dr. Kafaie currently teaches data communication and networks, introduction to programming and labs for advanced programming. She is also planning to teach a new course on complex networks that she is designing at Saint Mary's.
Explaining her decision to shift the focus of her research to complex networks after that career-changing course, Dr. Kafaie says "sometimes, you feel like you've been made to do something."
Contact us
Faculty of Science
Mailing address:
Saint Mary's University
923 Robie Street
Halifax, Nova Scotia, B3H 3C3
Social media