Salt-Glazed Stoneware
Salt-glazed Stoneware (Plates)
Type: Fine stoneware
Date range: c.1720-1805
Median date: 1763
Place of origin: England
The fabric of this ware is white. The glaze is clear, allowing the white fabric to show through.
White salt-glazed stoneware was the typical tableware of the mid-18th century. In the late 1730s, block moulds were developed to shape salt-glaze plates, teapots, tankards, caddies, etc., often with high relief. A general date range for moulded white salt-glaze is 1740-1765.
Common plate rim motifs were: "dot, diaper and basket"; "bead and reel"; and "barley" pattern.
See Noel Hume 1976: 114-117, and South 1977: 210-211.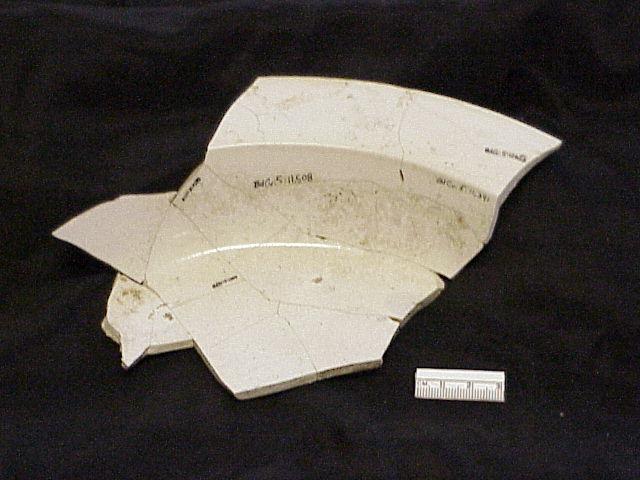 Top photo: Plain salt-glaze stoneware plate
Bottom photo: Top left: "bead and reel" pattern rim sherd; bottom left: "dot, diaper and basket" pattern rim sherd; right: plain stoneware plate. (The "diaper" refers to the diamond element of the pattern.)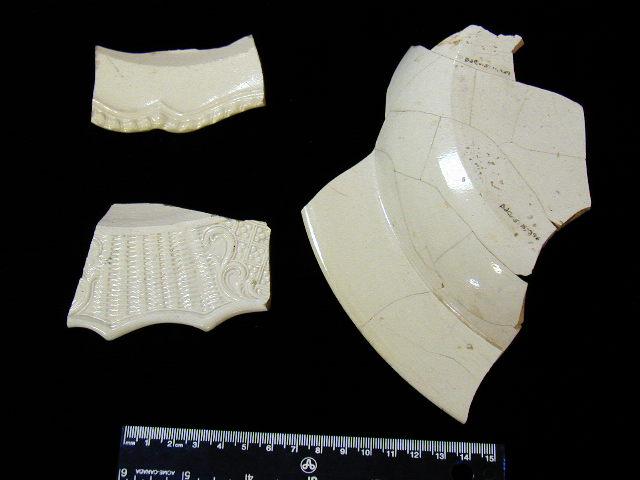 Faculty of Arts
Department of Anthropology
902-496-8109
Mailing address:
McNally South 218
923 Robie Street
Halifax, NS B3H 3C3