Rockingham Ware
"Rockingham" Type Ware
Type: Refined earthenware
Date range: c.1850-present
Place of origin: England, North America
The bodies of these wares were usually yellow (same as Yellow Ware). The main difference between Yellow Ware and Rockingham ware is that the latter is splattered with a brown manganese glaze applied to a piece already covered with a clear glaze. A mottled, or drip effect results from melting the two glazes together.
Sometimes the pieces were directly dipped into the Rockingham glaze, to give a reddish brown or brown finish.
Rockingham ware was often produced with moulded decorative elements.
See also Yellow Ware
See Gallo 1985: 39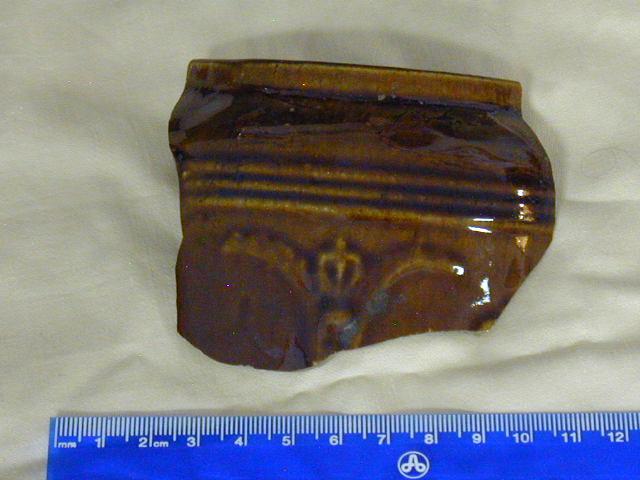 Photo: Rockingham ware sherd, with moulded design
Faculty of Arts
Department of Anthropology
902-496-8109
Mailing address:
McNally South 218
923 Robie Street
Halifax, NS B3H 3C3